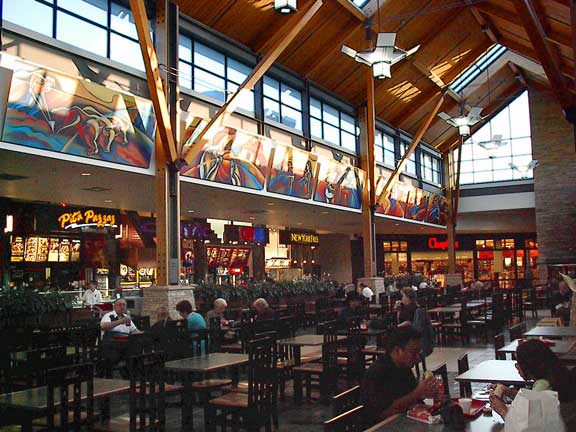 St. Vital Mall
FTLComm - Winnipeg - Friday, April 24, 2003
The urban shopping mall is definitely a fixture in the way retail marketing is carried out in Canada today and there has been for some time that the "mall" itself has been turned into a kind of recreational area as consumerism, the purchasing of good has been altered from filling a need to providing a outlet for activity. This is an interesting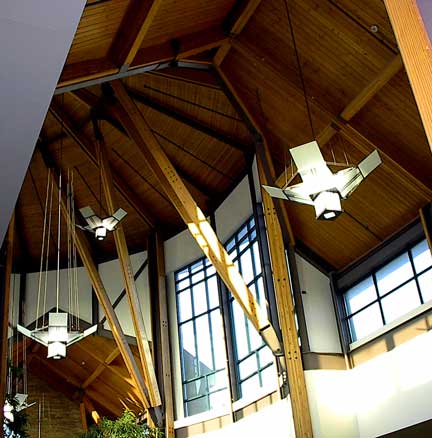 reconfiguration of society and no one has been dragged kicking and scratching into this seductive realm of consumerism.

When it comes to shopping Malls the West Edmonton Mall is the one to which all mall experiences are compared, with its skating rink, circus, water world and all of its numerous attractions the idea of shopping is somehow lost in the activity.

Winnipeg has its share of malls and the Polo Park one is perhaps the big one with its grand open spaces and ease of movement but its rival is the St. Vital Mall located in the South East corner of the city. Polo Park is a two layer affair with its anchors almost stacked up on top of one another but at St. Vital the mall is from the ground level pretty unassuming.
Constructed as hub and spoke mall the St. Vital mall spralls over a huge space of land surrounded on all sides with parking lots. At the end of each spoke are the Bay, Wal-Mart, Chapters, and a host of other stores I simply did not get a chance to explore. The mall walk ways are narrow and when we visited the place on Tuesday night it was not full of shoppers.

But the play aspect of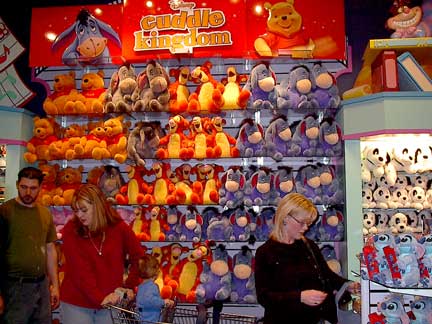 this mall is really in its stores rather than in the environment. I saw several novelty stores and had to go into the totally sappy and inane Disney store. I was told that people come from all over the province of Manitoba to visit the Disney store. Clearly advertising does pay off when you have a company set up entirely to produce money based on the concept of "cute". It isn't hard to tell that I have no affection for the Walt Disney following, in fact I consider the company and what it does to literature and childhood to be revolting and pure unadulterated American cultural propoganda. But I did get in and out without insulting to many people or losing the contents of my stomach.

As for malls the St. Vital mall seems to have a very middle class nature to it with some upscale as well as stuff for everybody types of stores.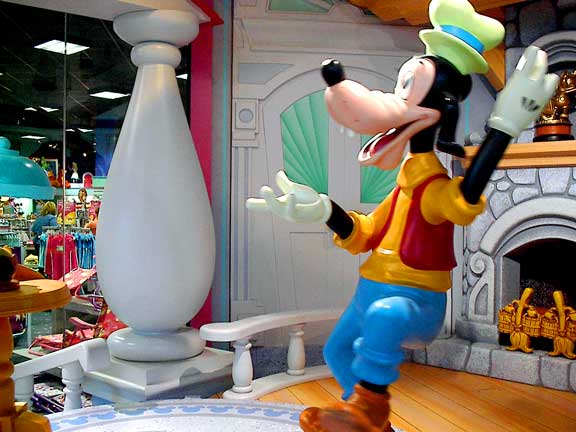 ---
Return to Ensign - Return to Saskatchewan News
This page is a story posted on Ensign and/or Saskatchewan News, both of which are daily web sites offering a variety of material from scenic images, political commentary, information and news. These publications are the work of Faster Than Light Communications . If you would like to comment on this story or you wish to contact the editor of these sites please send us email.
Editor : Timothy W. Shire
Faster Than Light Communication
Box 1776, Tisdale, Saskatchewan, Canada, S0E 1T0
306 873 2004