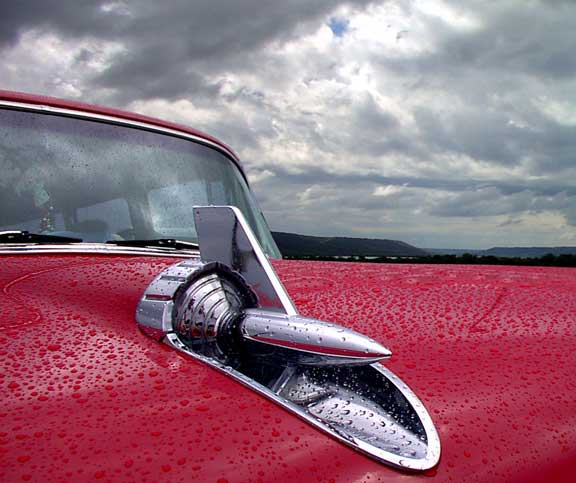 In Praise of the 57 Chevy
FTLComm - Verdon, Manitoba - Thursday, July 11, 2002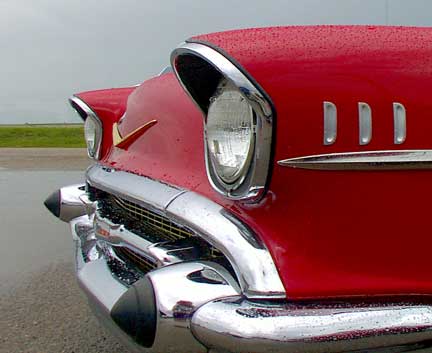 The first examples of the 1957 Chevy began appearing in the fall of 1956 without much fan fare. The "55" had been the major design change for General Motors and the "56" was a refinement of that design. The new "57" was overshadowed by the just plain weird designs from Chrysler with their tail fins up to your shoulder and bodies that flapped in the breeze. Ford had a very tidy Ford and Meteor with its reversed hood and very stylish interiors, but the Chevy was sort of ho-hum, nothing really spectacular.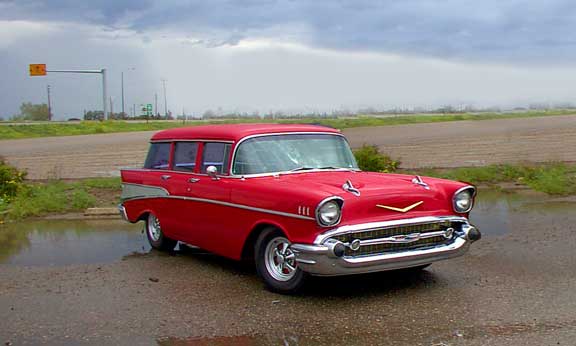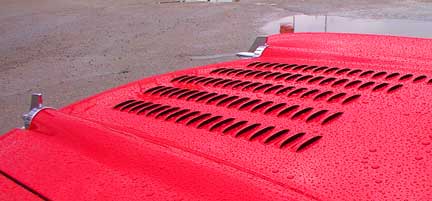 It wasn't until these cars began rolling up and down the streets that the "ho-humness" was gone. The "57" Chevy was light in comparison to its competitors and balanced, sitting nicely on its coil springs it handled well for a car of its era and all models with all engines offered more performance than either Ford or Chrysler.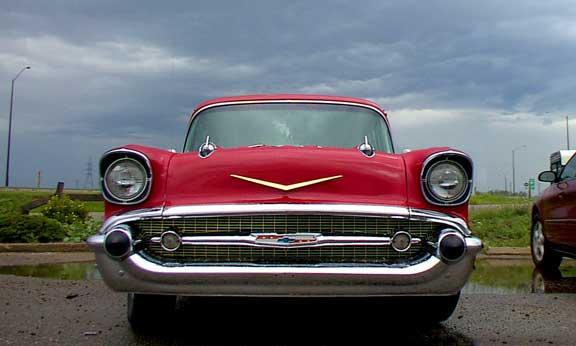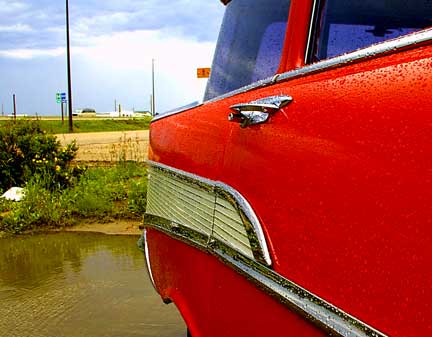 This outstanding example was photographed at Verdon on Tuesday afternoon and has had a few additions. The louvered hood, a stick shift transmission and the mag wheels are after market additions to an already interesting machine. However, they do not detract from a car that was intended as a family station wagon that is a collectors classic of today.

The coloured panel inside the side lines indicates the deluxe version which in 1957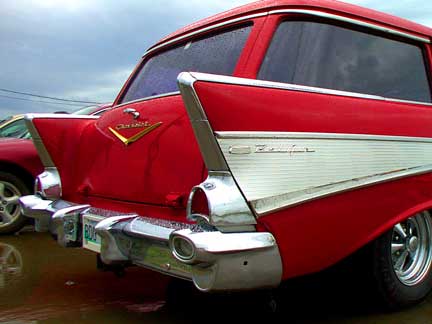 was given the name "Bel-Aire".

The generous chrome trim of all cars from this era is one of the elements that keep these cars looking fine today.

As we mentioned the fins on the "57" were modest when compared with Chrysler and yet more pronounced than the four inch ones on Fords. But designers had fun with this and hid the gas filler in the fin just above the right rear tail light. The smoked glass on this car is a definite after market addition but to a car without air conditioning a very positive addition. Since the back door on this car is a split up and down affair it was not unusual to see these cruising down the highway on a hot day with the window portion up.

This car not only had exceptional performance but General Motors built excellent bodies during this period so that the doors opened and closed with a resounding sigh. Chrysler vehicles of the mid fifties seemed to reaction to a door closing as the body had to accommodate and reform itself upon such an experience. Fords needed plenty of force for some reason they had solid bodies but the door closing mechanism seemed to have been an after thought.

Great to see a car like this one forty-six years after it first appeared.