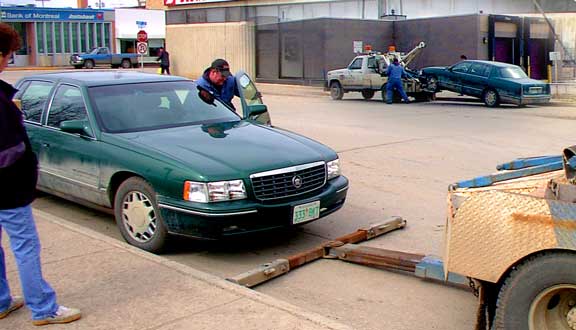 Shakes one's confidence in things
FTLComm - Tisdale - Friday, April 11, 2003
There are about five or six Cadillacs in Tisdale just as there are a similar number of Lincolns. We all understand the complexity of selecting a car that both offers you what you want in transportation and what you think best represents your personality. The kind of car a person buys and drives is an important matter.
One of the reasons a person might select a Cadillac is simply that it is the best that General Motors makes, it is the top of the line.
Now we all know a car, any car can break down sometime but of the few Cadillacs in Tisdale it would be a pretty rare occasion for one to give up on its owner. In fact I can only remember seeing a few cars ever being towed in Tisdale since we moved here in 1995, perhaps six or seven, so the fact that of those few cars that are Cadillacs one has broken down is shattering to the whole concept of best is better than others.
I asked the definitely displeased owner what happened and she said she had no idea it was simply dead, it wouldn't do anything.
References:
Cadillace Web site
Cadillac - LaSalle Club web site
Thanks Tina Turner for the song
---
Return to Ensign - Return to Saskatchewan News
This page is a story posted on Ensign and/or Saskatchewan News, both of which are daily web sites offering a variety of material from scenic images, political commentary, information and news. These publications are the work of Faster Than Light Communications . If you would like to comment on this story or you wish to contact the editor of these sites please send us email.
Editor : Timothy W. Shire
Faster Than Light Communication
Box 1776, Tisdale, Saskatchewan, Canada, S0E 1T0
306 873 2004