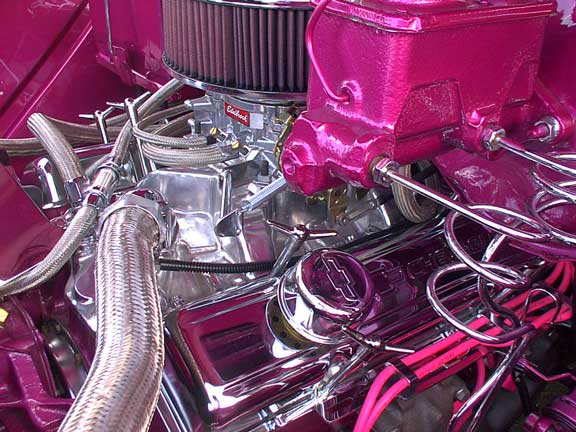 Swift Current Motor Madness Weekend
FTLComm - Swift Current - Sunday, June 16, 2002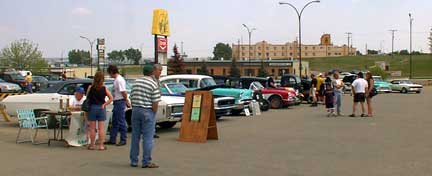 In Melfort its "Back to the 50s" weekend but in Tisdale and Swift Current it is "motor madness" weekend.

Tisdale's celebration last year was an enormous success and I regret not being there to be able to show you this year's festivities.

For Swift Current pretty much the same events are on with a fly-in at the airport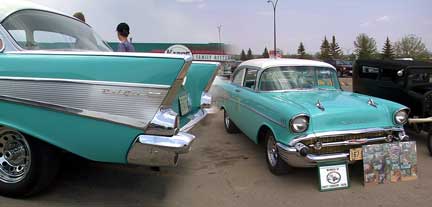 A car show at the Wheatland Mall and Swift Current inaugerates its new stock car track this weekend.

On Saturday afternoon we took in the car show and thought you would enjoy having a look at the pictures.

Swift Current has a hot rod club who hosted the event and though a few of the cars were in their vintage livery most were customised rots.

This impeccable 1957 Chev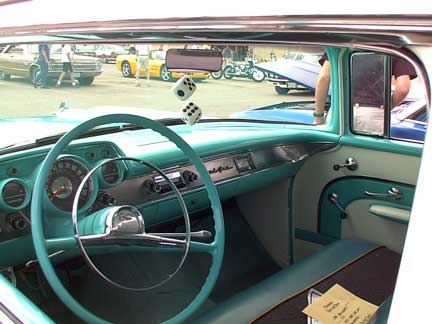 is a remarkable example of the car that is one of the most prized collector cars of all time. This one is in the tourquois paint scheme GM introduced in 1955 and was one of the favourites of people when they bought their 1957 Chevy. I suspect that almost no one realised that this car would become such a popular collectors item in the decades to come.

Bob Ransom who was a GM car dealer in Kipling and Davidson had nine in his collection at one time.

The style of the 57 Chevy was not over the top as with Chrysler nor was it the remarkable change in design introduce by Ford that year but it was one of those "just right" combinations.



The Swift Current folks seem to be partial to pickup and the show had some outstanding examples. But tucked in was this great Corvette and the perfectly preserved 1957 Savoy Plymouth looking pretty much just as it did when it was purchased, This one dose not have the clever push button transmission that was one of the big features of the car that year.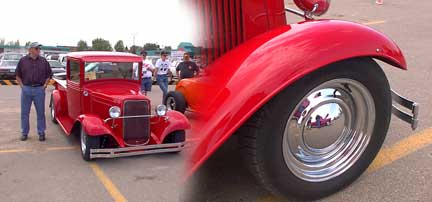 The great thing about this show was being able to talk to the owners of each machine and they were so friendly and willing to tell you all about their creations.

There was no shortage of lookers like me with their cameras and questions pouring over the gleaming chrome and lacquered finishes.

The two roadsters below caught the attention of most



folks as they looked over these souped up machines of another era.

There was no shortage of muscle cars like this great GTO , several great Mustangs and a few of Chryslers contraptions from that noisy era.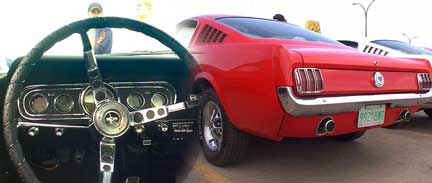 There was no question that this purple Chevy (above and at the top of the page) was truly amazing from the cleverly painted interior to the fabulous furniture look of the box floor.

There were several Harleys on display and sitting by them a cute little scooter.

All in all a great display for owners and observers.