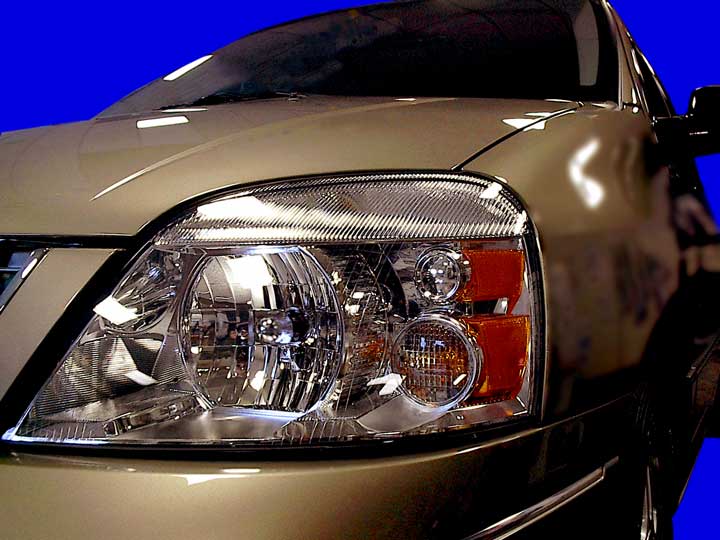 Freestar
FTLComm - Naicam - Thursday, October 30, 2003
The automobile has been steadily evolving since Henry and his competitors began mass producing the things just before World War I. The nineteen-fifties saw the emergence of a mix of car, bus, pickup and utility vehicle with the introduction of the station wagon. I remember Hubert Porter in 1952 bought a Chrysler product called the Suberban and in the little village of Kelso it was a serious departure from what everyone consider a car.

There were trucks with enclosed backs going back into the thirties, often called "panels" but in the early 1960s all three auto makers produced something they called a "van. " The first ones were small utility vehicles, largely based on compact cars of the time, but complete unique desiigns. Most of these were used by service companies and few were family vehicles. It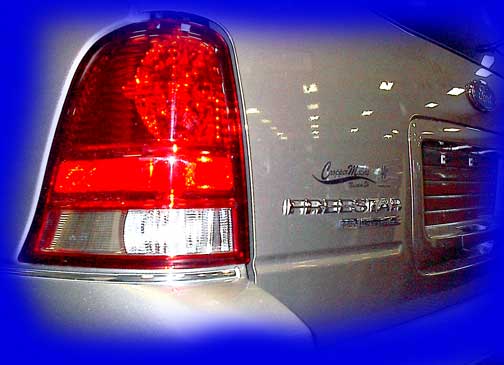 wasn't until the seventies that the auto makers put together similar designs and mounted them on a truck chassis and these monsters were very popular with families, especially in rural areas. Custom versions of these big rigs were created in the thousands and of those machines, it is the customised ones that still rumble around sucking up gas at a rate of about 14 miles to the gallon.

In the early 1980s Chrysler spotted a trend, or perhaps even developed one, and turned out as revolutionary a vehicle as their 1952 Suburban. Like the Suburban the new "mini-van" was based on a car power train. Chrysler's "K" car, front wheel drive system was proving to be durable and the new vehicle was a hit from the beginning with people living in suburban areas. The ultimate family vehicle.

It is hard to explain why General Motors and Ford seemed to take so long to respond to producing vehicles that would compete in what had become, much more than a niche market. Both companies turned out small versions of the full size vans which were based on rear wheel drive, smaller version pickups, General Motors S-10 series and Ford's Ranger. These vehicles were not competitors at all for the Chrysler mini vans which were all made here in Canada and continue to be outstanding vehicles. The General Motors and Ford truck based mini-vans created a market for themselves as these machines could tow a trailer and though they used more fuel, they were also upscale and more pricey, both to operate and buy, than the Caravan by Chrysler.

In 1986 Ford moved to the clean designed Taurus with a similar power train as the Chyrsler "K" car only larger. General Motors had already pumped out a series of useable front wheel drive cars, but in 1988 their Lumina was meant to take on the Ford Taurus. Ford's truck based Aerostar was doing well and continues to be an outstanding used vehicle providing extremely long service life. But the work was underway to built something that would dip into Chrysler's mini-van market and in 1995 they rolled out the Windstar. Slightly larger than the Caravan and like the Taurus loaded with standard options, extremely durable and crashworthy.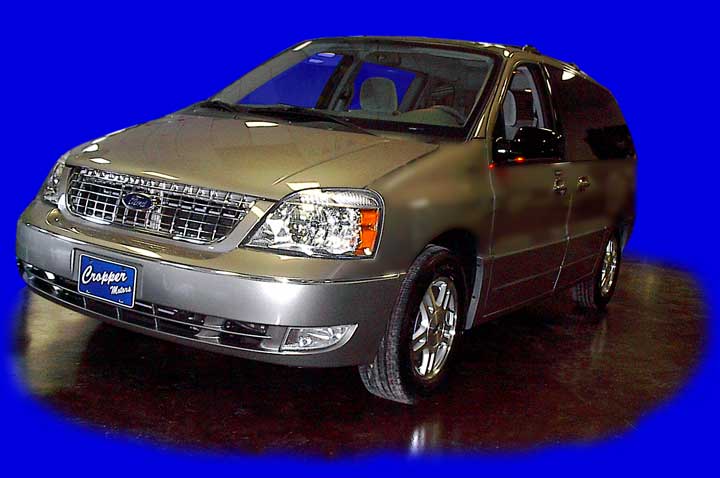 General Motors first true mini-van was based on the Lumina and was a substantial departure from Ford and Chrysler. Its exterior body work was plastic. Inexpensive to operate and a bit on the quirky side, there are thousands of loyal drivers of these plastic long slooped nosed machines on the road and holding their own on the used market as well.

Chrysler's decade long head start was not really that much of an advantage and the urban, suburban families had three vehicles to choose from. I chose a 1996 Windstar as our business vehicle and in its four years, I truly loved the thing, because of its solid construction, great seats and good design. However, most Chrysler van owners loved their mini-vans for the same reasons.

General Motors was disappointed with the sales of its plastic bodied van and produced a knock off that combined the some of the features of the Windstar and some of the classic design of the Chrysler vans. In general when looked at a replacement for the 1996 Windstar I rejected the more expensive General Motors machines and their just plain cheap interiors. But, I also rejected the newer designed Windstar with its second row buckets and left hand back door, I felt that there was more room in the 1996 and bought a low milage 1996 replacement.

But the North American market has been changing since the development of the Windstar as the family car of today is more likely to be an Sport Utility Vehicle, a large cab pickup or indeed a mini-van. Certainly, sedans are still made and sold but they, not the SUV, Pickup and mini-van, are now the niche market. The real pressure has come from off shore as the Asian vans are as big, or bigger than the three North American manufactured machines and their market share seems to grow steadily each year.

The Asian machines are outstanding engineering products, innovative and assembled to a standard that pushes North American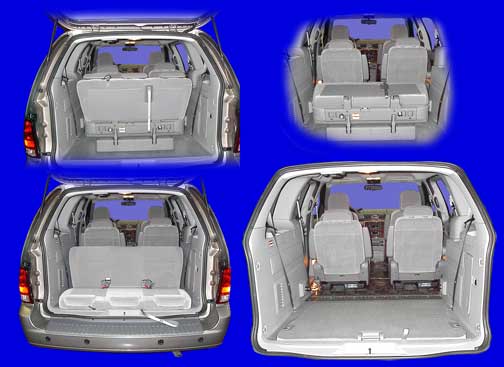 manufactures far beyond what they have ever made in the past.

Ford's decision to meet this challenge was to take the popular and safe Windstar and upgrade it to be as good or better than their off-shore competitors. The result is the 2004 Freestar, the innovations and redesign of the machine simply need t have it renamed.

But the objective Ford set for itself was a tall order, because the existing Windstar was already the safest mini-van and already had a solid history on which to build. Sherlyn Green, of Cropper Motors in Naicam explained that Ford realised that most Windstars were being driven by women and a growing number of senior citizens and their design team was almost entirely made up of women engineers.

This decision seems to be far more than just cosmetic, as the Freestar is user friendly, especially if that user is five foot four and weighs one hundred twenty pounds.

One of the things they wanted was smart seats. Several Japanese vans have light weight highly flexible seating, but the cool one is a product by Honda with a rear seat that disappears. That nice Honda back seat requires a force of 80 pounds to fold down, or bring out of the floor. Sherlyn moved the seat in the new Freestar from up right, then folded but in place, then flipped backward to provide a back of the van event, or tailgate seat, to no seat at all, as it slipped effortlessly into the floor. She did it all with about the same force necessary to lift a four litre jug of milk.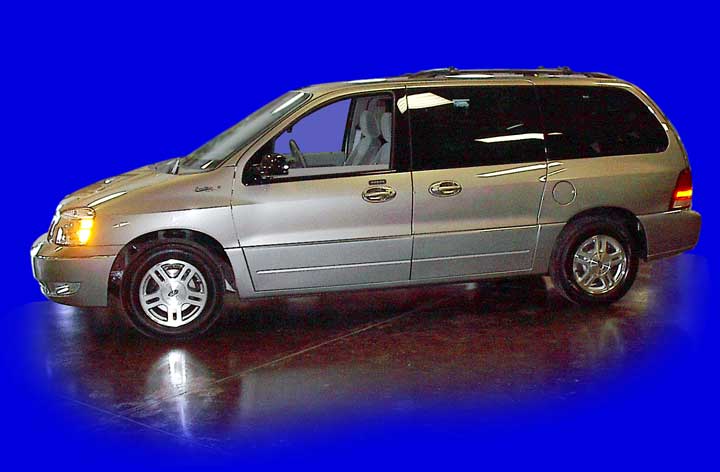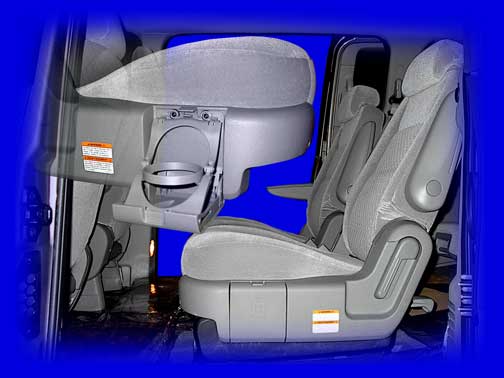 This example is a middle priced SEL version with powered side doors and an electric driver's seat. With its host of standard equipment and options, this is a $39,000 vehicle before taxes.

The second row seats are buckets that fold forward easily to permit entry into the back bench and in the super-imposed image here (right) you see the right hand side's cup hold in its down position as it folds out of the molded base of the seat.

These flexible middle row buckets are substantially better than those in the Windstar and fully recline. However, they are not light, if you want to remove them its not difficult, but they are heavy.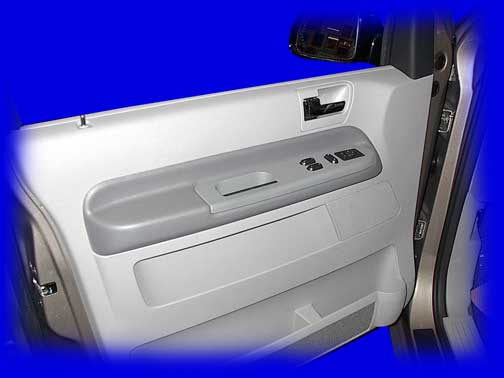 A vehicle like this can have a lot of features and its hard to show them to you. There are a lot of fancy electronics involved, including signal lights in the mirrors and a micro glove box on top of the dash. A heating system that automatically allows you to create one temperature and heat flow on the driver's side and a completely different setting on the passenger's side.

Anti-theft system is standard equipment and accessories function perfectly without the key in the ignition and turn themselves off when you leave the vehicle.

This one is fitted with a radar system in the back bumper that uses sound to warn you of

rear proximity to any object.

The sound system functions so that the driver can listen to the radio and rear seat passengers can listen to a CD at the same time on a head set.

Electrical outlets are distributed so that there are two in the front one on the left hand back doorway and one at the back hatch.

The roof console includes the switches for the power side doors and a switch to deactivate them. A mirror to monitor the passengers and an outside thermometer. The passenger side front door has a flip-down entry and exit handle.

This Freestar has a limited slip traction system and a switch to de-active this feature.

One of the changes from the Windstar has been to upgrade the power from the 3.8 litre to a 4.2 litre. Our first 1996 version had a 3.0 litre and I considered it more than adequate for all driving conditions. No doubt Ford realises that one of the competitors for the Freestar is Fords own line of Sport Utility Vehicles.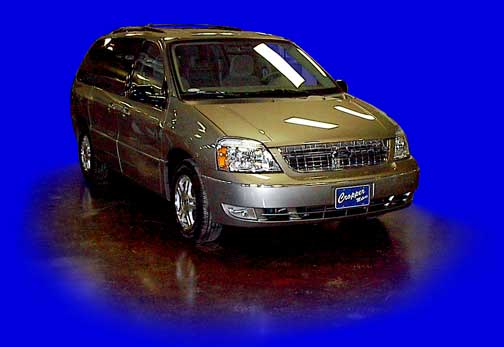 But after you look over the new Freestar and all of its host of new fangled features, the one thing about the vehicle that Ford has achieved with such complete success is the fit and finish. The 1996 Windstar I drive now has doors on it that close effortlessly and like our four Taurus in the past, we suffer as does the vehicle, when some passenger boards our Taurus or Van who is used to riding in a General Motors vehicle. They slam the doors with the kind of force needed to close the poorly made vehicles they are used to, but the new Freestar's front doors close without any real effort and almost completely silent, while the sliding side doors are completely silent and close or open with the touch of a button.

This Freestar was made in Canada and bears a sticker saying that those who made it are proud of their work and well they should be, their attention to design, detail and perfect fitting panels, sets this product apart from its competitors and even other vehicles made by Ford.
---
Return to Ensign - Return to Saskatchewan News
This page is a story posted on Ensign and/or Saskatchewan News, both of which are daily web sites offering a variety of material from scenic images, political commentary, information and news. These publications are the work of Faster Than Light Communications . If you would like to comment on this story or you wish to contact the editor of these sites please send us email.
Editor : Timothy W. Shire
Faster Than Light Communication
Box 1776, Tisdale, Saskatchewan, Canada, S0E 1T0
306 873 2004