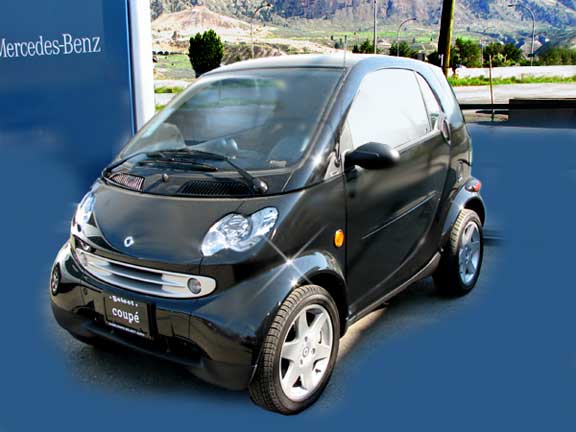 SmartCar
Kamloops - Tuesday, May 31, 2005 by: Mike Townsend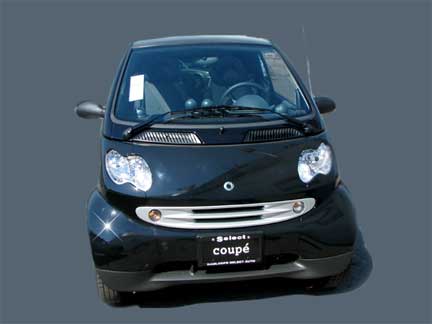 Well , I met the 'Smart Girl', and her job is to sell the 'Smart Car'. First, 'Smart' is a construct of Swatch and Mercedes-Benz, a car made in France, and in North America, only sold in Canada. (Can you say, 'Globalization'?) But nevertheless style and good design have resulted.

Today I decided to check out what this funky little car was all about. I took out the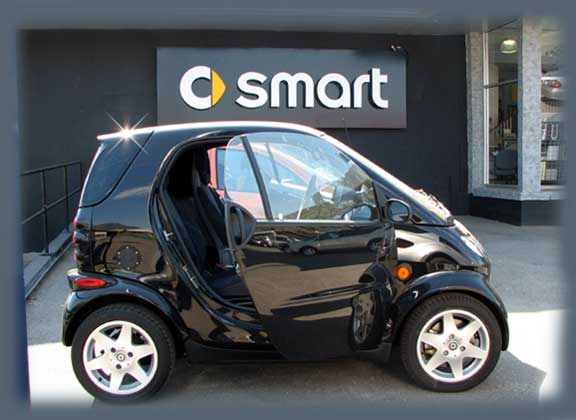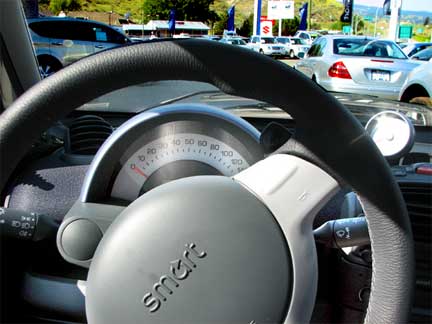 "Smart Pulse ForTwo Coupe", yes this is the name of it. It comes with an .8-liter diesel, half the size of my Harley LowRider and is supposed to get twice the mileage of my bike. Driving this thing became really cool as it has a wide variety shifting choices; one button gives you a 6 speed auto, or you can shift up by pushing the stick forward 6 times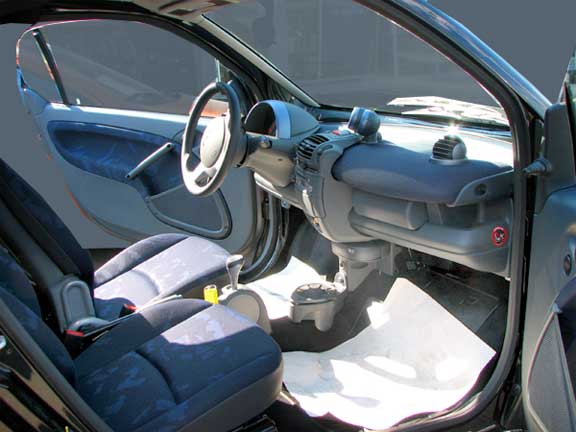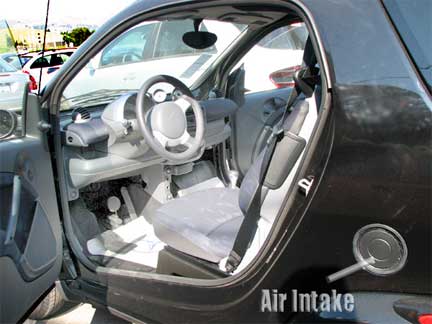 and then shift down by pushing the stick back, all without a clutch. Or, and I really liked this; you can shift with paddles on the steering wheel, shifting up with the right paddle and down with the left also with no clutch. Even little thumb slots on the steering wheel to aid in the shifting with the paddles. We climbed some hills and this little creature had all the power required. (My need for power when using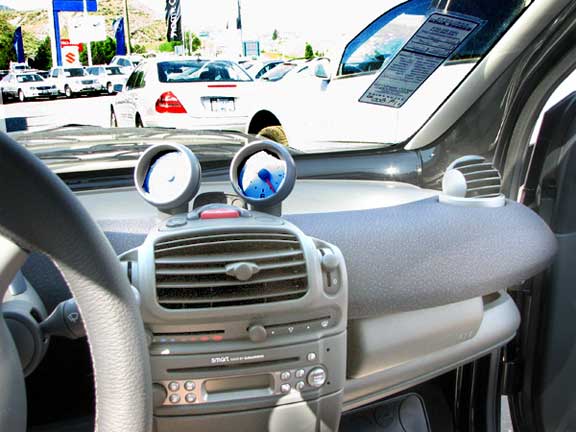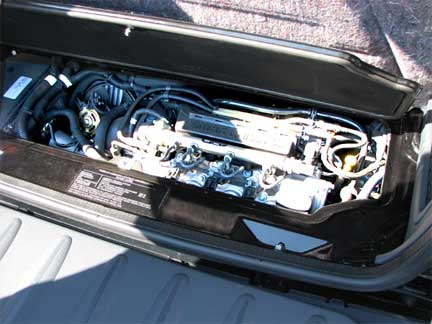 four wheels has been checked now that 'Hog' with the Screamin' Eagle package, can do 210 km/hr in a blink of an eye.)

The 'Smart Girl' said that the car would do 135 km/hr. I think it will but didn't get to try it. And while the 'Smart Girl' was very nice and all, I didn't feel we were crowded in the cockpit. For those that drive Toyota 'Echoes', there is that same illusion of lots of space. But as the car is very short, no room for skis. Golfers will be fine if the drivers are taken out of the bag.

Another little interesting feature is the 'Smart' radio/cd unit. When we moved to Germany in the late 50's, we bought a stereo called a Grundig. It worked exceptionally well for over 30 years. Well the 'Smart' radio is a Grundig and of course has a special little adapter for an iPod.

But there was a bit of a downside. Starting off in first is very rough. Whether I gave it lots of power or took it easy didn't seem to matter. The 'Smart Girl' said little about this. So that is the 'Smart Car'. It is priced like a HD Softail, around $20,000.00 and up with all the features, and if you need to go with four wheels, this just might be the way to go.
---
Return to Ensign - Return to Saskatchewan News
This page is a story posted on Ensign and/or Saskatchewan News, both of which are daily web sites offering a variety of material from scenic images, political commentary, information and news. These publications are the work of Faster Than Light Communications . If you would like to comment on this story or you wish to contact the editor of these sites please send us email.
Editor : Timothy W. Shire
Faster Than Light Communication
Box 1776, Tisdale, Saskatchewan, Canada, S0E 1T0
306 873 2004