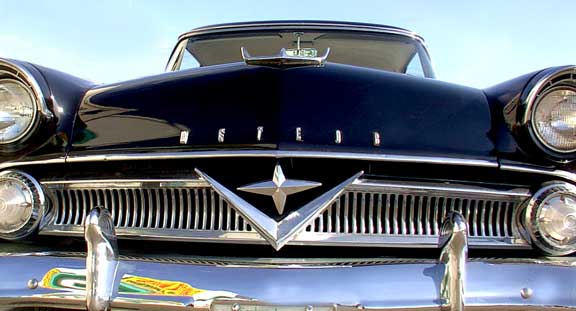 1955 Meteor Victoria Hard Top
FTLComm - Tisdale - Friday, August 24, 2001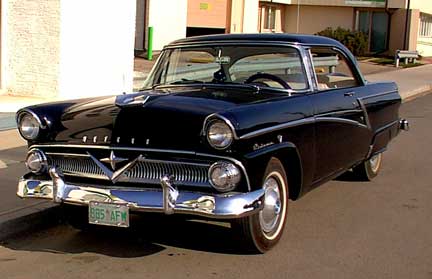 Ford made the transition to modern car design and construction with the 1949 model which actually was out in the fall of 1948. Each year there after the design was added to and improved until a whole new car came out in 1957.

The most durable and perhaps most interesting of this line of designs were the 1953 and 54 versions. They were light and the "L" head "V-8" they used was powerful and cheap though it had a life of less than 50,000 miles.

The 1955 and 56 versions were the most refined and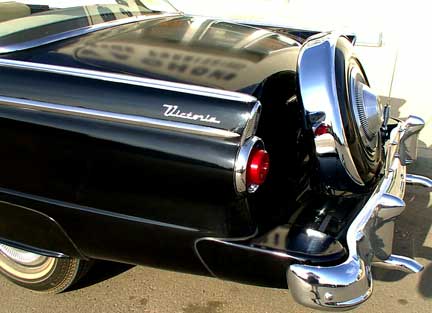 Complete years of the design with hints of what was to come. In 1952 or 53 we began seeing a slightly upscale Ford the Meteor which was being built in Canada. Having the same design elements as the Ford the Meteors were just a touch classier and carried a little more chrome.

This car seen on the street in Tisdale this morning has been fitted with a continental kit which was a favourite of the cruiser crowd and an after market add-on including the fake extended chrome tail pipes.

But this car did not need anything to turn heads it was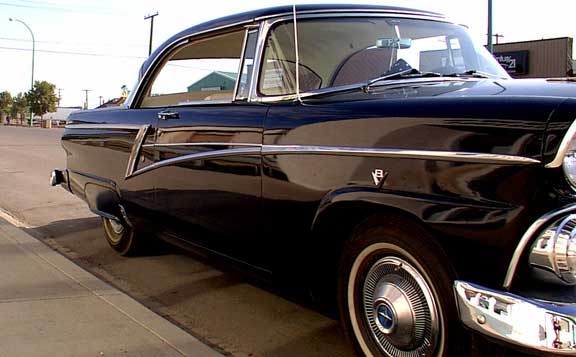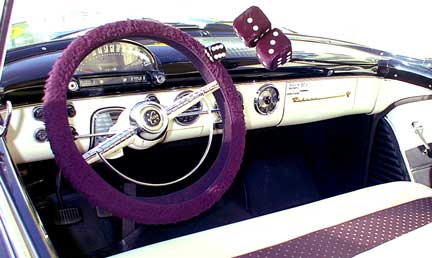 a classic from the day it was made.

The hard top had a beefed up frame and suspension to carry the added weight. Though the car was a great design it lagged slightly behind the GM design 1955 which had hydraulic lifters in both its six and eight cylinder engines. From the stop light the cars of this era were spectacular but GM ones were a little better.

These two pictures of the interior show some interesting features of the time. The clear backed speedometer display was a feature that was introduced in 1952 or 53. The round heater control panel was adopted from the new "Thunderbird" which had just made it debut. At the time Fords could be ordered with automatics but most were delivered with standard transmissions.

This car is fitted out in the Saturday night "cruiser" mode with obligatory foam dice and steering knob. Items like this were unlikely to have been seen on a typical 1955 car in the fall of 54 or summer of 55 they were more likely to be seen in the fall of 57 and summer of 58 or even on into 1960 when cars like this would have migrated to being second hand gems that young people were driving.