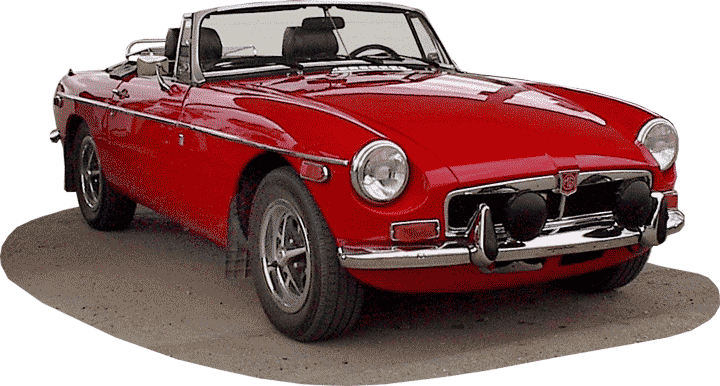 1973 MG top down
FTLComm - Tisdale - Wednesday, May 21, 2003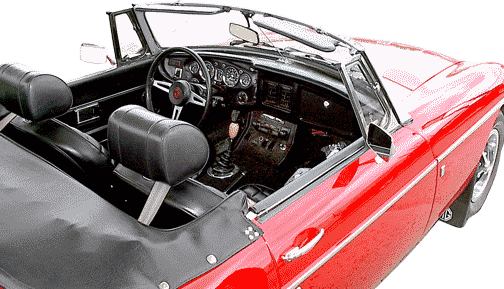 This car was featured on this site on Sunday May 12, 2002 and since then it has had some new lights added but otherwise looks just as great this past Sunday (May 18) when it was spotted at the Tisdale 7-11.

Last year it was about 20ºC in the afternoon when we took its pictures but this year it was 2ºC. Not exactly the kind of weather to hustling down the highway in a car without a roof.

This 1973 machine has a roof tucked into the boot behind the seats.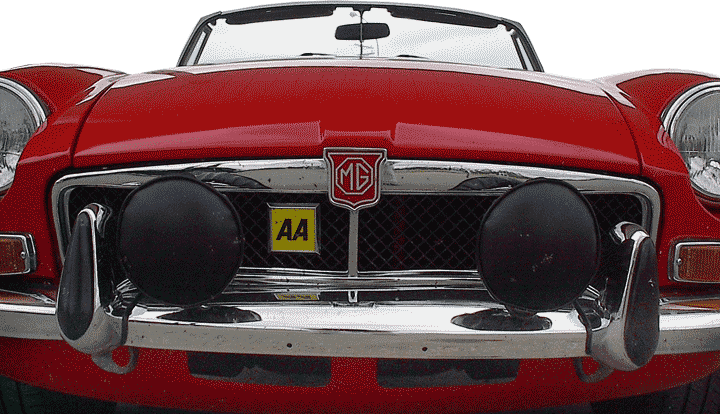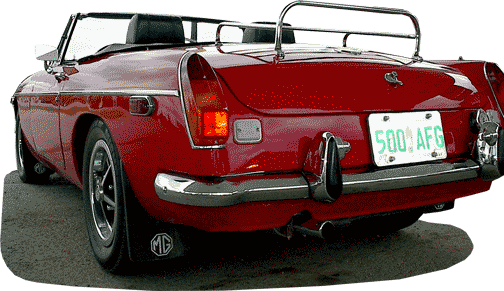 The driver was dressed in a heavy coat. After fueling up the car he meticulously recorded the amount in a MG log book. He then slipped on his tight fitting glasses and then a leather aviation helmet (W.W.II version).

We headed East down highway #3 and as we crossed the intersection the MG turned out and followed us.

Out on the highway it became abundantly clear just how small the MG is in comparison with other traffic.



It wasn't long as the little car was coming up behind us (this picture was taken through the mirror in our vehicle and is therefore reversed) Moments later he passed us (we were just below the speed limit) and though the image is a little blurred you can make out the glasses and helmet.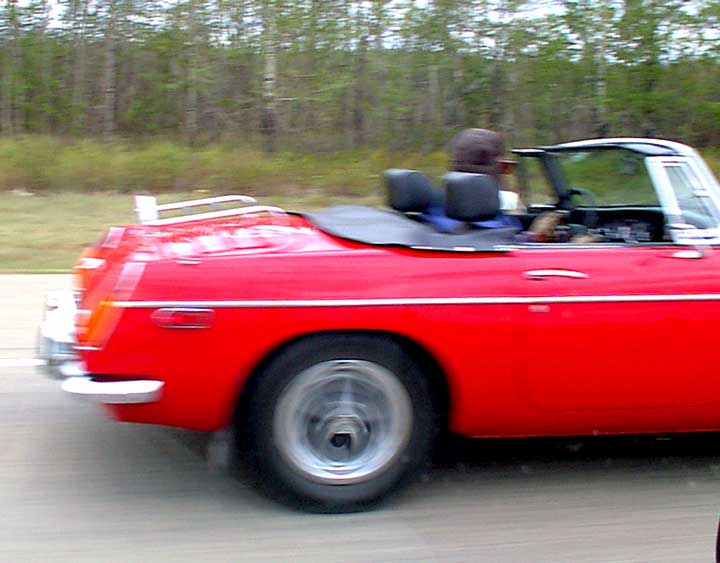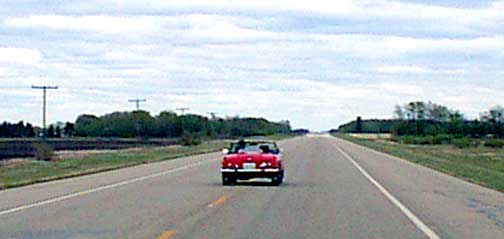 When I talked to the owner at the 7-11 he commented that he was indeed just a little crazy to be touring at this temperature with the top down. Both of us laughed but the passion and enthusiasm the man feels about his sharp little red car is infectious.

Just like motorcyclists develop such intense feelings about rumbling down the highway with bugs in their teeth.

"What a way to go!"
---
Return to Ensign - Return to Saskatchewan News
This page is a story posted on Ensign and/or Saskatchewan News, both of which are daily web sites offering a variety of material from scenic images, political commentary, information and news. These publications are the work of Faster Than Light Communications . If you would like to comment on this story or you wish to contact the editor of these sites please send us email.
Editor : Timothy W. Shire
Faster Than Light Communication
Box 1776, Tisdale, Saskatchewan, Canada, S0E 1T0
306 873 2004