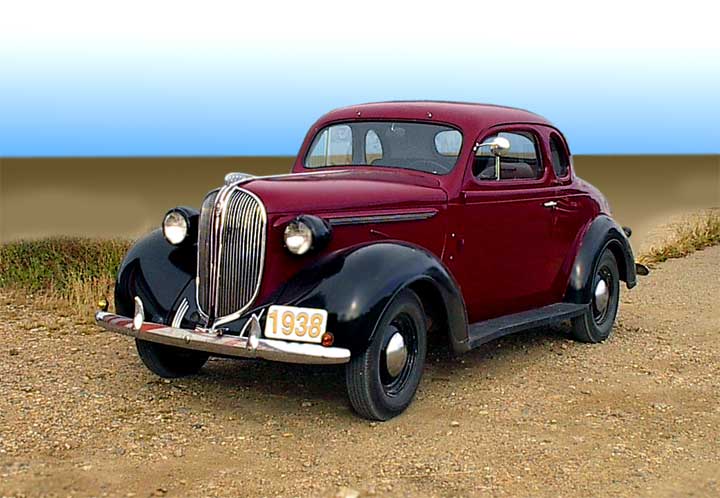 1938 Plymouth
FTLComm - Tisdale - Wednesday, October 19, 2005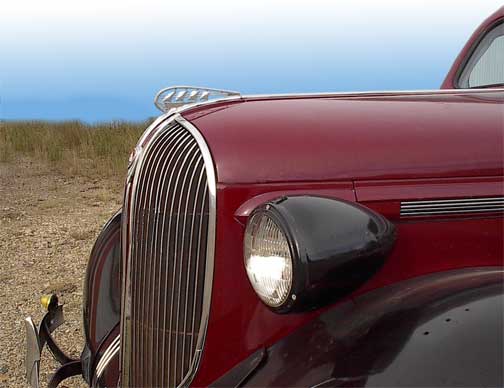 When this car arrived in the showrooms in the fall of 1937 a full sixty-eight years ago Canadians had suffered through the worst of the dirty thirties but crops were still poor and worthless which reminds us how some things just don't seem to change much. The depression was still gripping the country and unemployment was crippling. Clearly the demand for new cars was not high and the automotive industry was doing its best to keep improving the product even though the masses definitely could not afford what they were trying to make.

In Europe Adolph Hitler was firming in control of Germany and Italy was launching a war in Africa while the horrors of the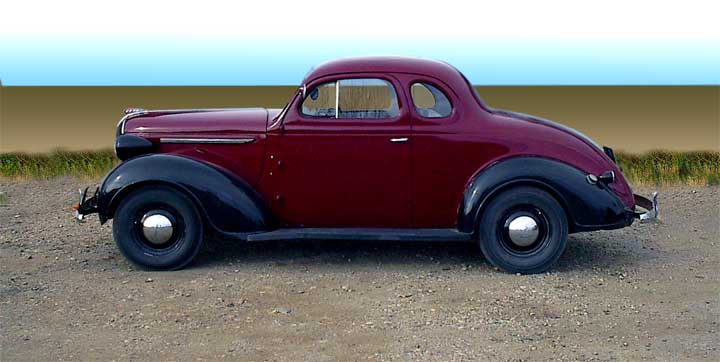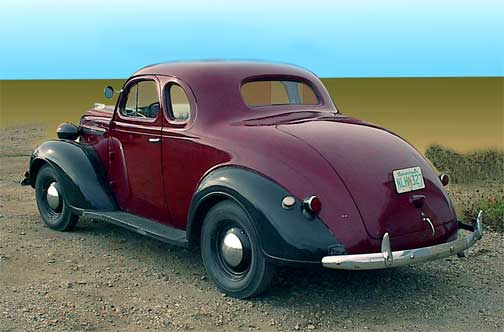 Spanish civil war were barely breaking into the news. In Asia Japan was in full war mode in China while the Chinese were divided between the old way, war lords and a nasty civil war.

Ford was building tall unstable V-8 powered vehicles that could rocket down the road but were seriously dangerous machines It was only bad roads, the high price of gas and few cars the prevented wholesale slaughter.

Everything was on 600 x 16 tube type tires and the big news in cars was the development of shock absorbers and all around the electric systems were getting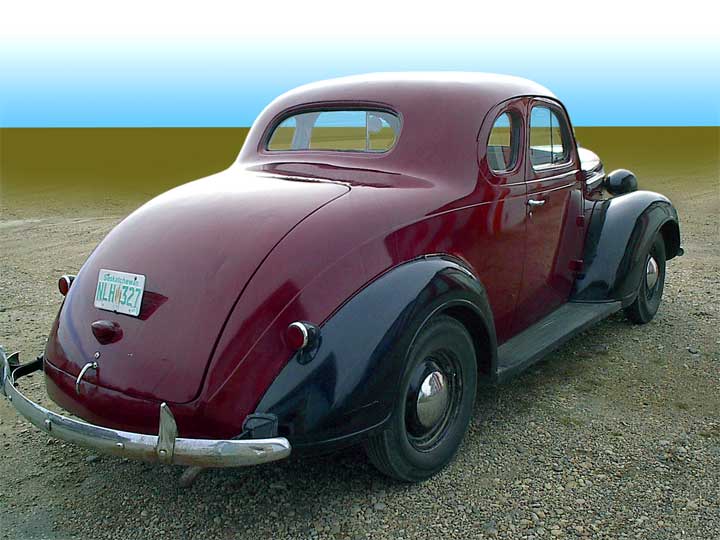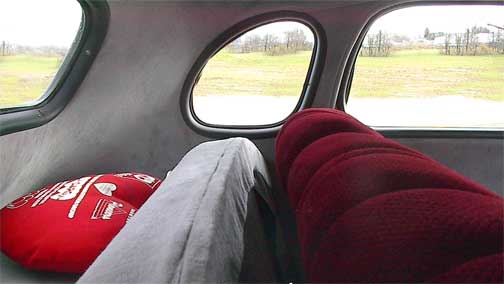 better. All three of the big three auto makers made sedans, two door coupes and light trucks. There were still are few luxury car companies turning out a few vehicles for the stinking rich but the thirties had taken a major toll on business just as it had on the public.

The coupe is pretty much standard. It was originally all black and a couple of decades ago someone turned the body dark red but at the time of manufacture two tone paint may have been available.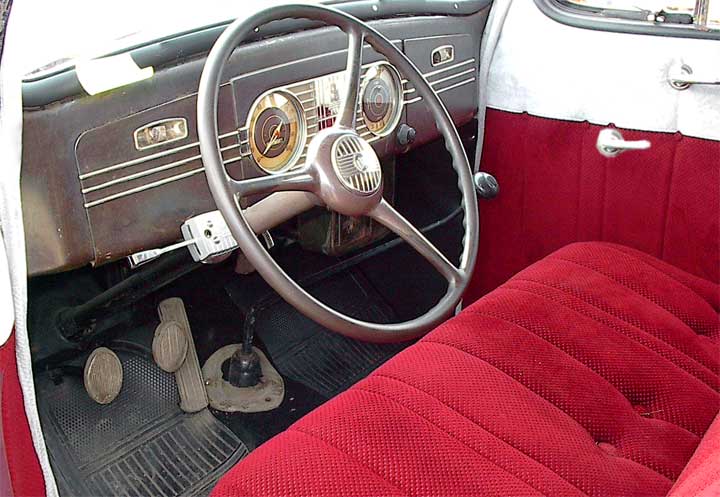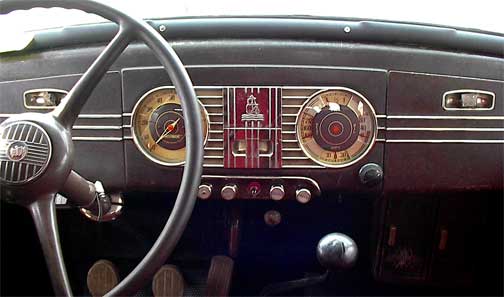 This car was reupholster but its original interior would have been gray

The heater was an option at that time and if you look below you can see an extra foot peddle, that was the starter which was a Chrysler feature until the early 50s.

This car had Chrysler's standard "L" head six cylinder engine that was really hard to start on a warm day but this one came with a crank. The batter is under the floor in behind the seat and so is the spare tire.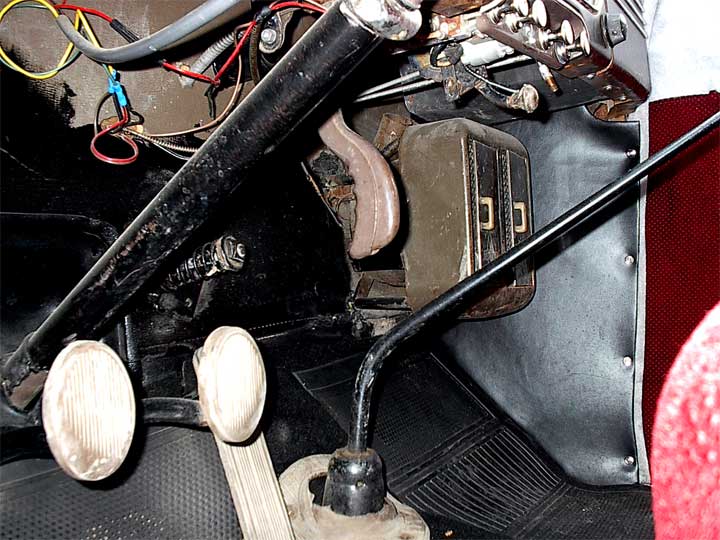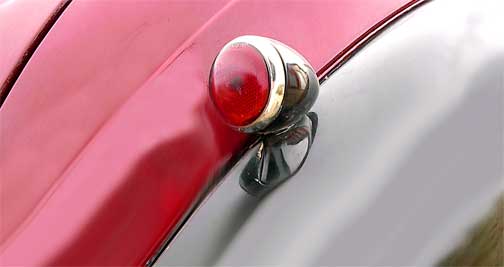 This car came from an estate was part of a large collection which was sold off but a Tisdale man has had this car now for a very long time and enjoys driving it around each summer. The remarkable condition of this car suggests that it could well be still running seventy years from now long after most modern cars have been junked.

Please don't send me e-mail offering to buy this car, it is not mine and it is not for sale.
---
Return to Ensign - Return to Saskatchewan News
This page is a story posted on Ensign and/or Saskatchewan News, both of which are daily web sites offering a variety of material from scenic images, political commentary, information and news. These publications are the work of Faster Than Light Communications . If you would like to comment on this story or you wish to contact the editor of these sites please send us email.
Editor : Timothy W. Shire
Faster Than Light Communication
Box 1776, Tisdale, Saskatchewan, Canada, S0E 1T0
306 873 2004