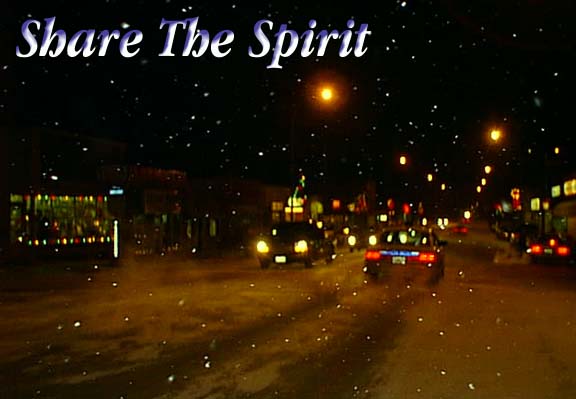 FTLComm - Tisdale - December 17, 1999


With so many wonderful houses to display we will have more then one look around to see the various displays and yards. These pictures were all taken Thursday early evening with a bit of snow and blowing snow in the air as you can see in the picture above.

This year, the trend begun last year with the massed lighting sets being used

has become the standard
leading to truly remarkable displays of bright light but home owners have continued to put their house, landscape and lights together to create individual shows that dazzle the eye and warm the heart with their efforts to show their good spirits.

This display on the right shows the effective use of all three elements to create a striking look while the

simple stringing of these
lights on a backyard fence is remarkable as to what it does to the look of the nearby street.

The duplex below was photographed last year as well and this year's display is even more effective. Especially when you consider that this requires cooperation and coordination to get this project to work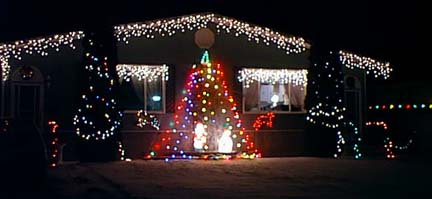 giving the combined effect and
yet preserving some individuality.

The rash of lights is really this year's theme and those many little bulbs really give off an incredible amount of light.

The image below is actually a QuickTime panorama and you can place your mouse on the picture and look around this amazing back yard. This is the third year I have photographed this
remarkable yard and each
year it has


These homes with their garages and driveways contain the light from each house quite well making differences really stand out.

The picture below is a great mix of additions and combinations of various forms of light and displays.

The full width picture below is one you have seen in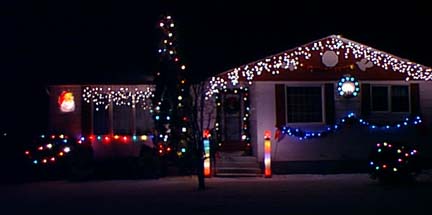 Ensign before as it had a
remarkable halloween display and great flowers before that. The Christmas lighting is so bright that it lights up the whole neighbourhood.

The bottom picture on this page is the effective angels which we featured earlier in a daylight picture and here is how they look in the dark. The connection with Christmas makes this one of the displays that is most meaningful and demonstrates the importance of this event each year.