The Stars of 2000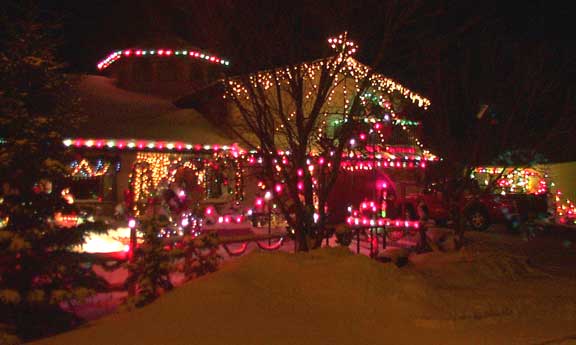 FTLComm - Tisdale - December 19, 2000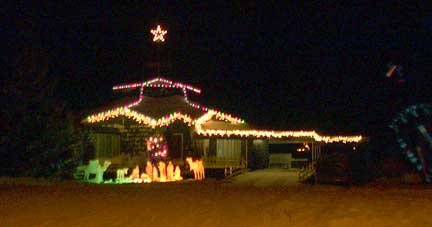 Though one may find one house or yard display more appealling than another each in its own way has a charm and intent of sharing the spirit of Christmas and it almost seems silly to judge that spirit. The ones chosen for this page are some that really stand out and if you were doing a sparkle tour of Tisdale these should be on your list.

The house and yard at the top of the page have been featured in Ensign each Christmas and even the year before Ensign was published
we had pictures of this house on our picture web site. The time effort and simple exuberance of this display is remarkable and each year the various elements are reposition and there are additions.

The house and yard above is at the end of a street and has much space around it allowing its display to fill the street from end to end.

Below is the "Little Castle", Rick Little's beautiful home is bathed in light and sitting atop its own hill over looking the golf course and creek this is a spectacular display.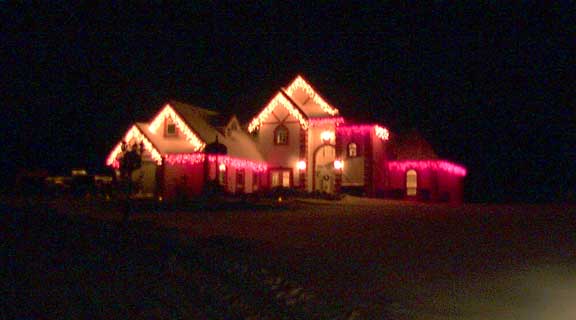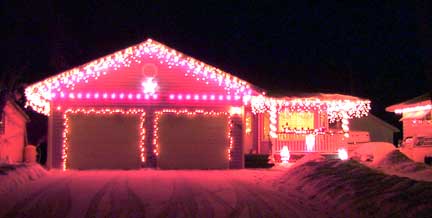 This house close to the St. Teresa hospital park is totally overwhelming. The house is literally dripping with light and seems like mid day around the place as the veranda on the right is totally aglow. This picture only shows the straight on curbside view of the house but this one is a total light show and verges on the extreme.

But asside from these beautiful displays the one at the bottom of the page is my favourite. This is an older
house just West of the Saan store and the lights are tasteful and appropriate and perhaps most important the lights use the features around the house, the snow covered shrubs and the walk all become part of this welcoming scene. Here is a case were less is better.