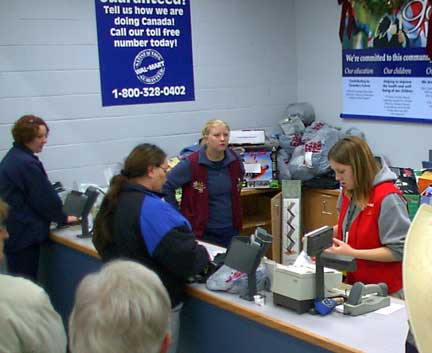 Should have asked, right? We bought some Christmas gifts for some folks who had changing situations and did not realise we were out of touch.

Thursday evening there I was in the exchange line up at Wally's store in Prince Albert. Things were surprisingly orderly as I began and ended my twenty minute wait to exchange the un-needed kettle for the needed blender.

There was the drummer boy, a late thirties guy with great cowboy boots and a cheap straw cowboy hat pounding away on a carboard box of dishes for the whoel twenty minutes, the bubble gum teenie bobber with eight rings in each ear and fabulous green/gray eyes, a little boy with an empty water jug as he held a place in the line up for his dad to come with the full bottle, people with shopping carts people with plastic bags and pleasant patient people working behind the country sorting things out and hauling the returned goods away from their area in shopping carts.

Below is the entrance to the mall in downtown Prince Albert where shoppers were by this time fewer in number but as always in Prince Albert shoppers are pleasant and courteous.

Til another year.