Midnight Madness At the Mall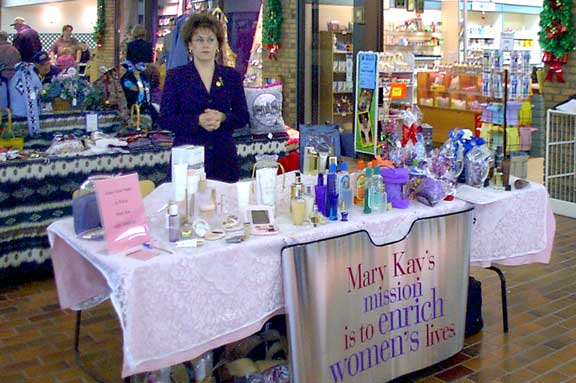 FTLComm - Tisdale - November 25, 2000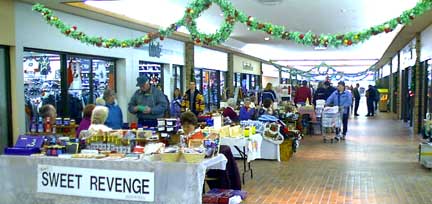 Christmas, for many the high light of every year, the time of. . . Well we all know the clichés by heart and we also know that in the retail world Christmas is the focal point of the year. Products and promotions are designed to deal with the onslaught of customers looking for those special items as gifts or to create the atmosphere that will make this Christmas the most memorable of all. As if the spirit of Christmas were really for sale.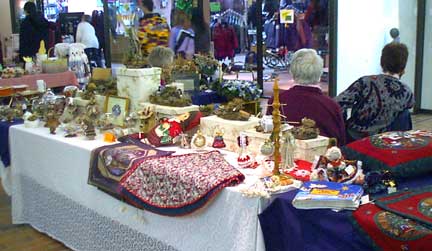 Tisdale gets its Christmas
shopping season underway in the last weekend of November with its Midnight Madness promotion and out in the Tisdale Mall people set up their booths to peddle their crafts and products of all kinds. This year we have a sample of that scene with these pictures shot Friday late afternoon.

The picture at the top of the page is of the local Mary Kay representative who was far more cheerful to talk to than her expression in the picture. True or false question, Mary Kay's mission statement?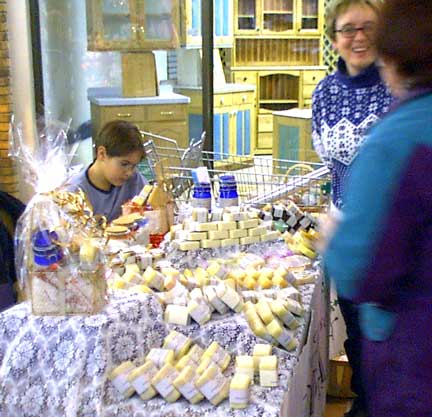 Sweet Revenge had a whole
lot of products produced in Saskatoon with a distinctive and perhaps quirky Saskatchewan flavour. We mean this literally with wheat brittle and chocolate wheat, to Saskatoon berry everything. Very cool stuff.

Just like the picture on the right of the lady with her home made soap, made the way Gramma used to make it.
Home made soap has a lot going for it by the way, and this product has both nostalgia and simple practicality to it.

(My Gramma really did make soap as most Grammas did in the forties and I can vividly recall she and my mother cooking it up over a gas stove in our yard in about 1950. My dad was unimpressed, for two reasons, he thought it was old fashioned and his love for my mother's mother often waned a bit, especially at the stinky time of soap making)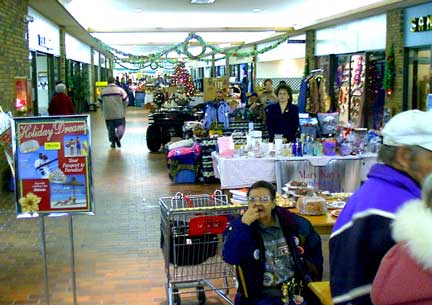 Though you have heard editorials and comments in other years about the rush toward Christmas and the commericalisation of the season this is the first year I can recall open violence developing toward the process. In Montreal stores that began advertising and showed Christmas displays prematurely this year were actually attacked with paint bombs and in some cases broken windows. In other parts of Canada people have been protesting and complaining about the "Christmas shopping Blitz". Many people claim that this commercialisation has cheapened and demeaned the significance of the season and no doubt there is some merit to that argument but on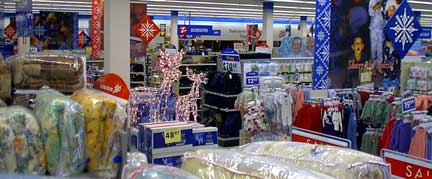 other hand we need to think
through the driving force. Retailers respond directly to demand and though they often would like to think they actually create demand there really is little evidence to suggest that that is the case.

The essence of Christmas is not buried and hallowed in the celestial kingdom of Christianity but is a very old tradition that seems to go hand and hand with the habitation of the Northern

hemisphere, predating
Christianity and found in all Northern Cultures. This retail and financially linked manifestation is really just a present day means that people have developed to celebrate their joy in each other in their own special way.

These last four pictures show the scene inside the Zellers department store and it is a veritable sensory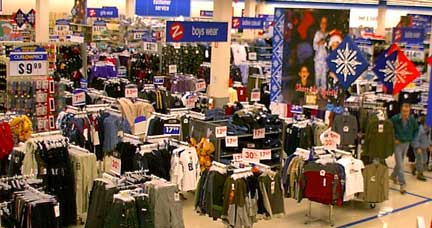 smorgasbord as the eyes and
nose are caught by the sights and smells of a retail frenzy.

Being November the Tisdale retailers have held back on the noise of Christmas music which they will reserve to well into December but in the Urban areas there is no holding back and Christmas music which is so much an emotional kick is poured on the public relentlessly.

But while we see this marketing move to hurry us all to buy, buy, buy it is interesting to note that this year St. Paul's United Church is holding their annual Christmas Concert on December 2 a full three weeks before Christmas.