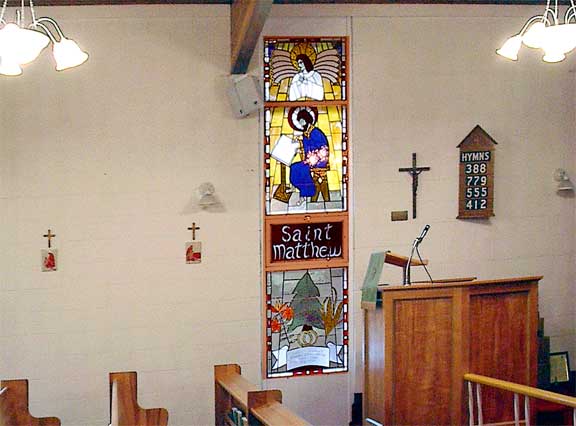 St. Matthew's window
FTLComm - Tisdale - Saturday, November 6, 2004


This fall the St. Matthew's Anglican church installed and dedicated this set of windows in memory of Dorthea and Denis Phillips who were lost in a car accident May 17, 2000.

Wanting to portray in the stained glass the simplicity of this couple the design is one that reflects their approach to life and in harmony with the community in which they spent their lives.

The designers provided some notes on the images and techniques used. The first and uppermost panel is an Angel blowing a horn or clarion. Most of the historical Saint Matthew windows and paintings have an angel interacting with Saint Matthew. Because this is a separate panel the angel is shown leaning downards towards the next panel with Saint Matthew sitting at hsi 'desk' recording; the head and hair are being done in a style called 'faceted' or dalle to verre'. This involves using numerous small pieces rather than tradition silver staining or painting.

The third panel opens and is narrower than the others and is done in red flashed glass with the words 'Saint Matthew' sandblasted. (Flash glass is a mouth blown antique glass. A clear bubble is blown then the clear glass is rolled in a thin layer of colour, then the bubble is flattened out into a sheet. When the glas is sandblasted you are removing the thin layer of colour, leaving the text in white.)

The bottom panel is the memorial one using four symbols: The tree represents the cross and life, the lily (a Prairie Lily) represents innocence, wheat represents bread and the interwoven circles represent unity.

It is planned that in the future the other three windows will have similar windows in the same style for the saints Mark, Luke and John.

The background information included here was provided by Louise Fisher.
Return to Ensign - Return to Saskatchewan News
This page is a story posted on Ensign and/or Saskatchewan News, both of which are daily web sites offering a variety of material from scenic images, political commentary, information and news. These publications are the work of Faster Than Light Communications . If you would like to comment on this story or you wish to contact the editor of these sites please send us e-mail.
Editor : Timothy W. Shire
Faster Than Light Communication
Box 1776, Tisdale, Saskatchewan, Canada, S0E 1T0
306 873 2004