St. Matthew's spring rummage sale
FTLComm - Tisdale - Thursday, April 28, 2005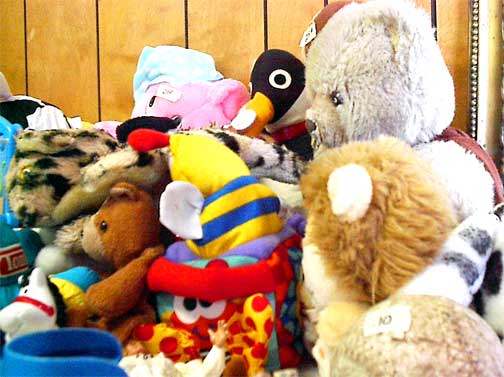 Though a couple of brave winter weary families have had their garage and yard sales the whole garage/yard sale season really does not begin until after the Anglican Church sale this weekend each year. As with other years Cedar Manor had their sale this morning and there are a whole bunch of sales scheduled for Saturday.

Stuffed toys for 25¢ and mugs for the same amount wre not the highlight of this year's sale but definitely caught my eye. I didn't take any stuffed animals home but picked up four mugs for the place I often drop into for coffee once or twice a week. There was a good selection of impressive dishes and table ware.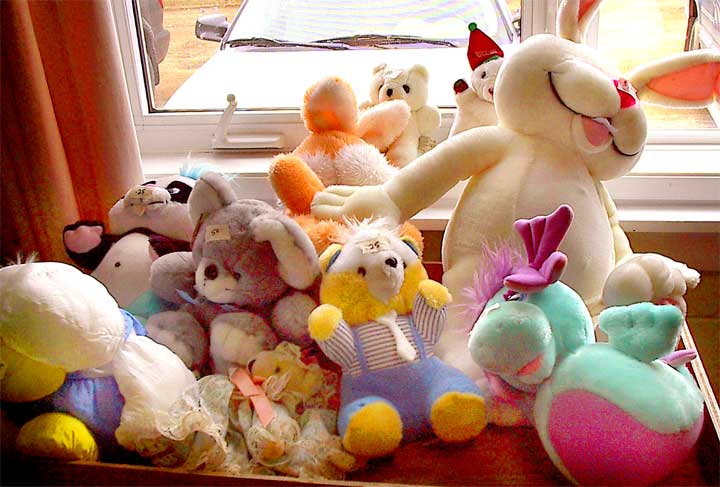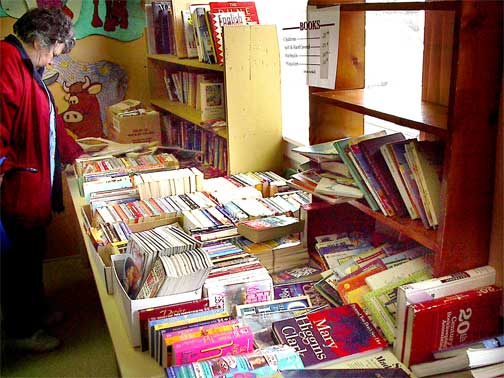 The Anglican Church sale usually has an outstanding book selection and most noteable this sale were several beautiful copies of Mary Higgins Clark novels. There is a really large selection of paper backs most in outstanding condition and pretty new. Might be an ideal time to stock up on your collection for summer reading.

I didn't make it through the door until ten or so this morning and a steady stream of bargain hunters were already on their way with boxes of goodies.

One of the features of this sale, both spring and fall is the amazing variety of clothes. Stacked high here in the main hall but really high end items in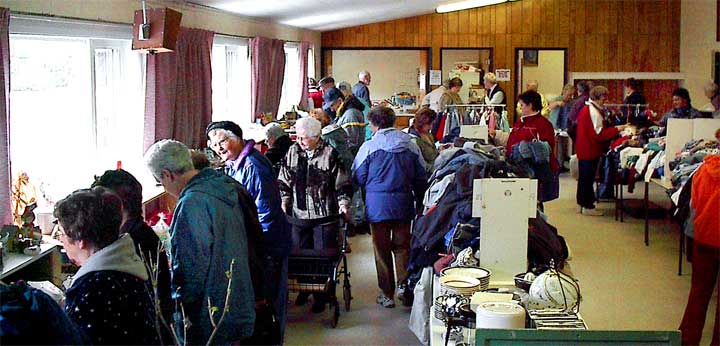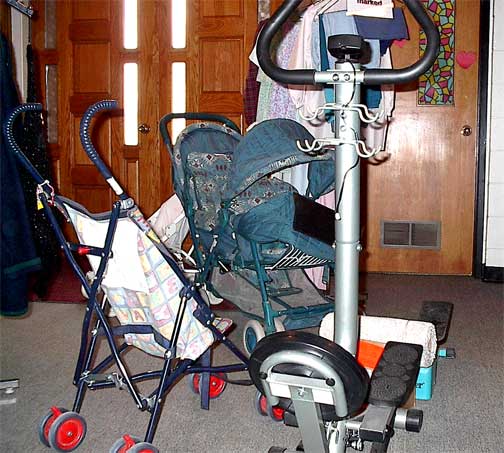 in the main lobby of the church.

Among the eye catchers was a radial arm carpenters saw for $30, several almost new toaster ovens and microwaves and an assortment of strollers.

The sale runs all day Friday and Saturday morning and with the huge stock available you will still find some really amazing items even if you are late Saturday morning.

There are about eight feet of table display space given to greenhouse plants are ready started and a whole bunch of gardening supplies.

Though the items for sale and their very low prices may seem like a good reason to drop by this sale there is a secret weapon. Great coffee, cookies and the cheeriest bunch of sales workers you are going to meet.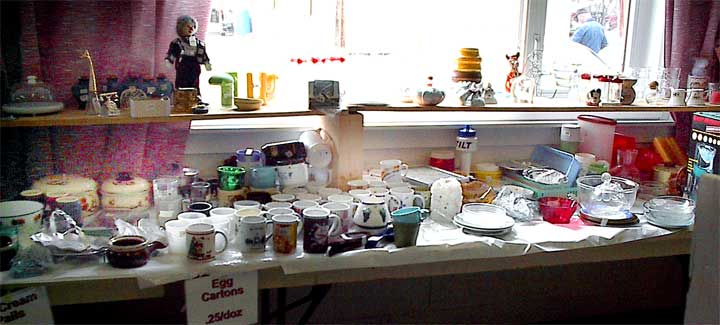 Return to Ensign - Return to Saskatchewan News

This page is a story posted on Ensign and/or Saskatchewan News, both of which are daily web sites offering a variety of material from scenic images, political commentary, information and news. These publications are the work of Faster Than Light Communications . If you would like to comment on this story or you wish to contact the editor of these sites please send us email.

Editor : Timothy W. Shire
Faster Than Light Communication
Box 1776, Tisdale, Saskatchewan, Canada, S0E 1T0
306 873 2004

e