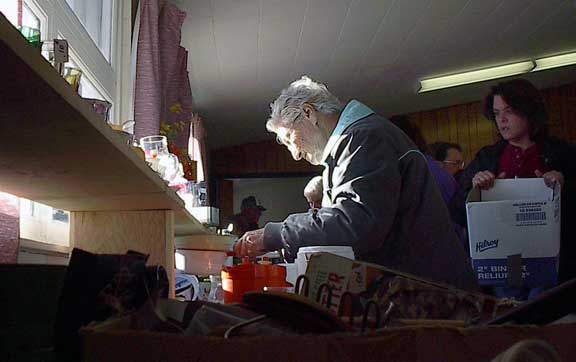 St. Matthew's Fall Sale
FTLComm - Tisdale - Thursday, October 16, 2003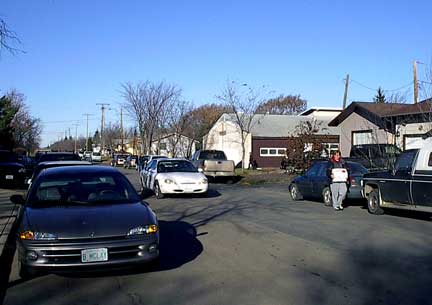 The Lutheran and United Church fall rummage sales are behind us at today it was time for the big one. The people at St. Matthew's Anglican church have the reputation for being able to put on the best displayed rummage sales each year and this year was certainly no exception.

Cars were parked over a block away this morning at 9:30 when I showed up and happy customers were making their way back to their cars with boxes loaded with goodies.

Items were stacked at the back door and there was a whole separate sale in the garage.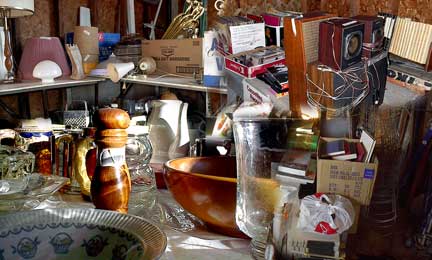 The variety of items boggles the mind from a CB radio to ceiling fans to dishes and a huge assortment of quality clothing.

Customers were elbow to elbow this morning and it is likely they will be joined by others over the course of the sale which runs all day today, all of Friday and until noon on Saturday. This is one of the sales were you don't need to be there when the doors open to get the best buys because the stock on hand is so extensive that there will be treasures to be found throughout the sale.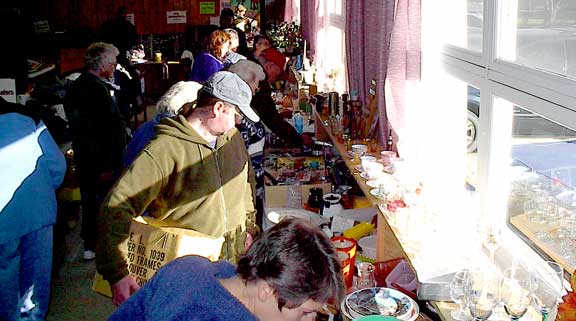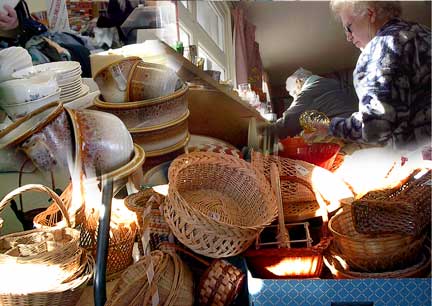 For anyone needing dishes for a student apartment or a staff room these sales are loaded with outstanding values. Stacks of plates for a dollar, cups for 10¢ cook ware and appliances all affordable.

My treasure at this sale was a tiny calculator. It was 25¢, needs a battery but has a brass plate on it, "Tisdale, the land of rape and honey."

The clothing at this sale was as extensive as usual but a lot of other remarkable stuff including a huge selection of wicker baskets and of course the Christmas section (below) and children's toys and books.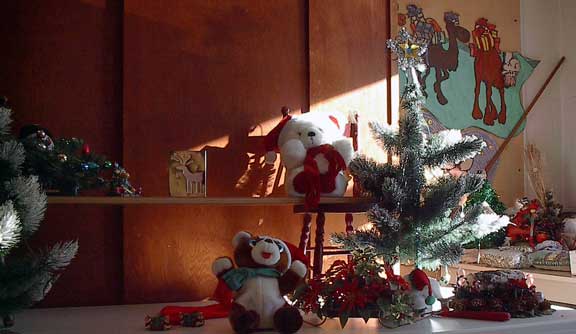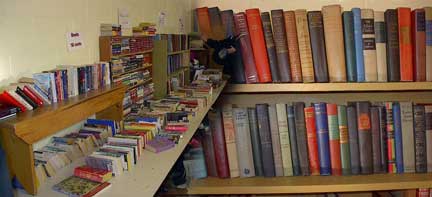 The library was more than I had time to look over but a 1923 edition of Oliver Twist and a similar aged Dickens "Tale of Two Cities" looked to me like keepers.

Like so many sales this one had stuff on the tables but under the table items were interesting as you can see in the composite image below.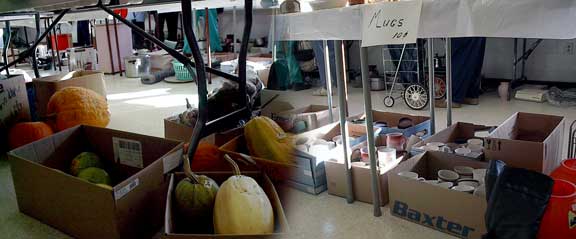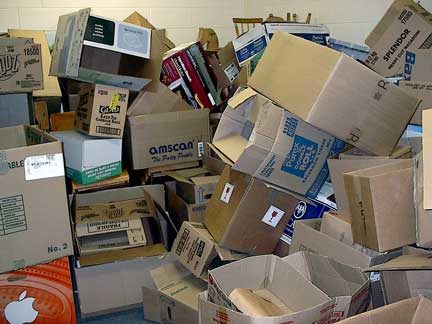 To me this picture says it all. Each of the churches in town have to sort through and price a massive amount of material to do up their sale and it takes time, effort and the good spirits of the volunteers who unpack all these boxes.

There were about eight volunteers on hand this morning and will be there through the three days of the sale, more than anything it is their work and cheer that make this kind of project not only worth while in terms of the funds raised but also by the social context of the experience. After I got my pictures this morning I was able to spend a few minutes with these great people and appreciate why this and the other sales are such a good thing.
---
Return to Ensign - Return to Saskatchewan News
This page is a story posted on Ensign and/or Saskatchewan News, both of which are daily web sites offering a variety of material from scenic images, political commentary, information and news. These publications are the work of Faster Than Light Communications . If you would like to comment on this story or you wish to contact the editor of these sites please send us email.
Editor : Timothy W. Shire
Faster Than Light Communication
Box 1776, Tisdale, Saskatchewan, Canada, S0E 1T0
306 873 2004