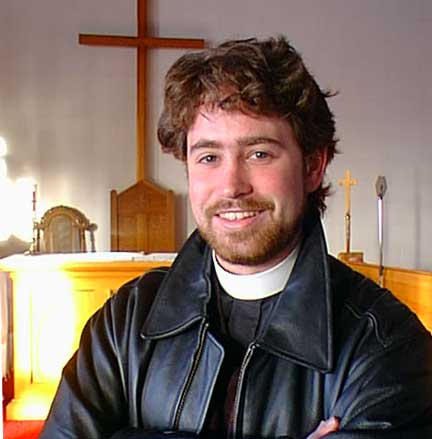 Father Craig O'Brien
FTLComm - Tisdale
February 10, 2000

For the members of St. Matthew's Anglican parish here in Tisdale Father O'Brien needs no introduction as he has been here since Christmas but for the rest of us we have not yet had the chance to meet the Rector of St. Matthew's.
Father O'Brien grew up and went through school in Halifax, Nova Scotia and is now the second Haligonian to serve in the Saskatchewan Archdiocese But he has had the opportunity to work in a wide range of communities having spent several years working in a Parish in the Shaunessy area of Vancouver and spent two years in England.

A week from this coming Sunday, February 20, is a special event for St. Matthew's and for Father Craig O'Brien as his official instatement will take place with the Bishop in attendance.
An Apple Macintosh user and a man proud of his Irish heritage set Craig O'Brien apart from the ordinary. Enthusiastic and acutely aware of the responsibilities of serving such a vibrant parish will make for exciting and progressive times for this church community. St. Matthew's with its combined parishes of Star City and Tisdale is a dynamic and busy society and they will be holding a tea this Saturday so that might be a good time for you to meet this newcomer to Tisdale.