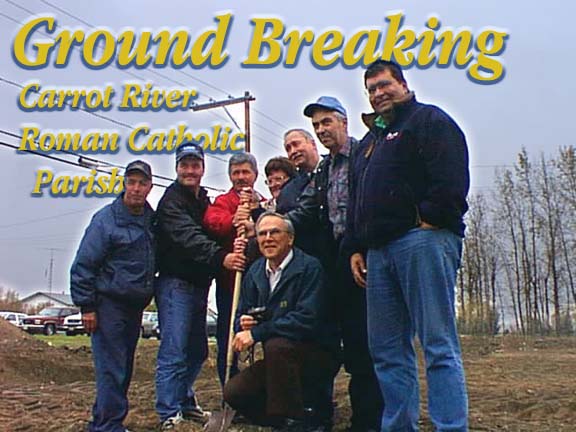 FTLComm - Carrot River - October 5, 1999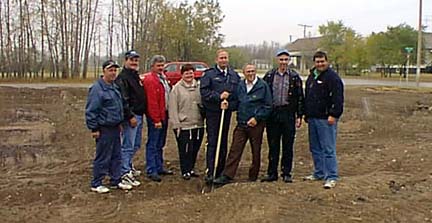 Monday afternoon with the basic excavation having been started the Carrot River Roman Catholic Parish building committee met for an official ceremony to initiate the rebuilding of their church which had been lost in a fire December 24, 1998.

Since the loss of their building and all that was within it the parish has operated out of the Carrot River United Church but this is a large parish and now is the time to get their new building underway.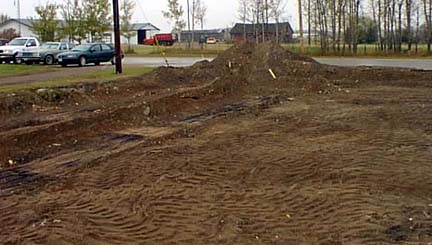 The outline of the new building can be made out in this picture which shows the earth work that will the location of the footings. Work began this morning on setting in place the forms and gravel base for the concrete work and everyone is counting on the project moving forward quickly with the building standing by mid November. This new building will be a very different structure then the one it replaced with a more conventional design.
One could sense the excitement and enthusiasm this group has for the project they are undertaking as they know well the importance of their work and the long lasting effect the new church will have on their community. Father Luc Gaudet is seen below getting a picture of his own for the record and in the lightly falling snow others captured this moment on film to share with generations to come.

Building and furnishing a new church for a small town is a big venture and a very costly one. With the launch of the actual construction work the fund raising campaign kicks into high gear. Though they are on their way with enough funds to start the work they will need continued support and assistance to get their new church up and finished. If you would like to assist in some way you can contact Father Gaudet here in Tisdale and he will direct you to the chairman of the fund raising committee in Carrot River. (In the group to the right of the RCMP officer is Father Gaudet, Mr. Oaks and the man on the end at the right is the chairman of the campaign.)