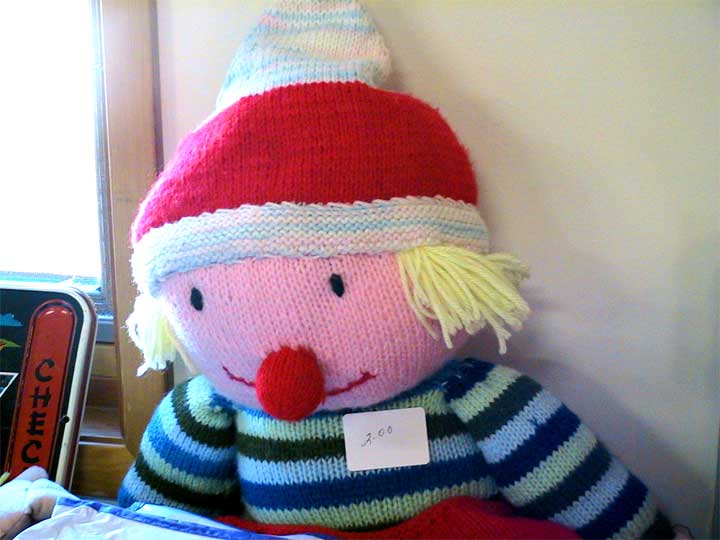 Lutheran Fall Rummage Sale
FTLComm - Tisdale - Friday, September 24, 2004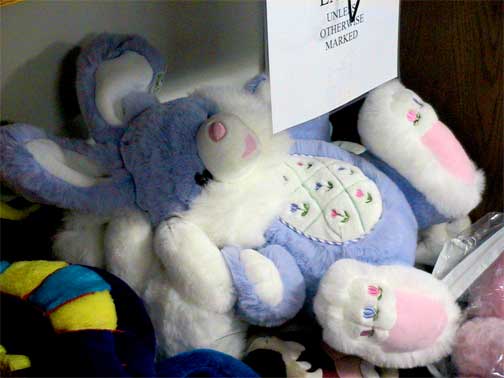 Today and tomorrow the Lutheran Church is holding their fall rummage sale and this is a big sale. Compared with this past spring's sale there are more than twice as many items available.

The huge collection of stuff toys caught my eye and stacks of puzzles. Clearly, a lot of childrens toys are available and all seem to be in excellent condition.

This sale is an interesting mix of used and new hand made products and the shopper needs to take time and look things over carefully because I suspect there are some hidden treasures in this fall sale.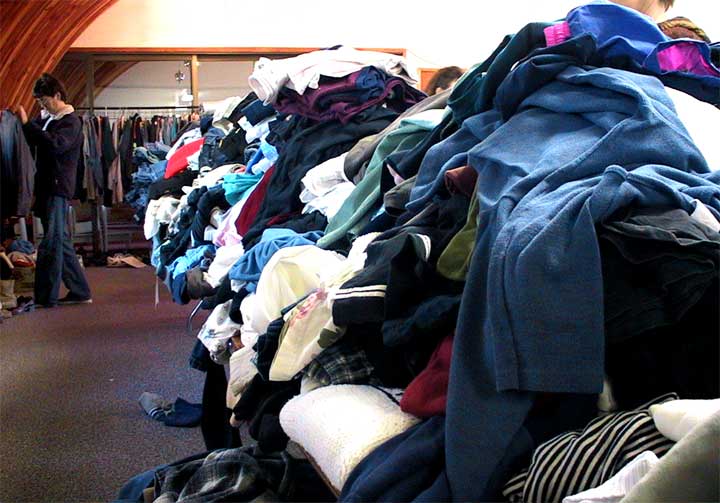 The clothing at this sale is really something. This will be the case with the Anglican sale as well as there seems to be a lot of closet cleaning each spring and fall and these sales really have the "I don't wear that anymore" stuff. This can produce some remarkable bargains.

This sale has a large amount of Christmas decorations and lights many brand new and in original packaging.

The books are quite a collection of both fiction and non-fiction. Mrs. Chupa invited me to get a box full but even at 25¢ a book I would then have to come up with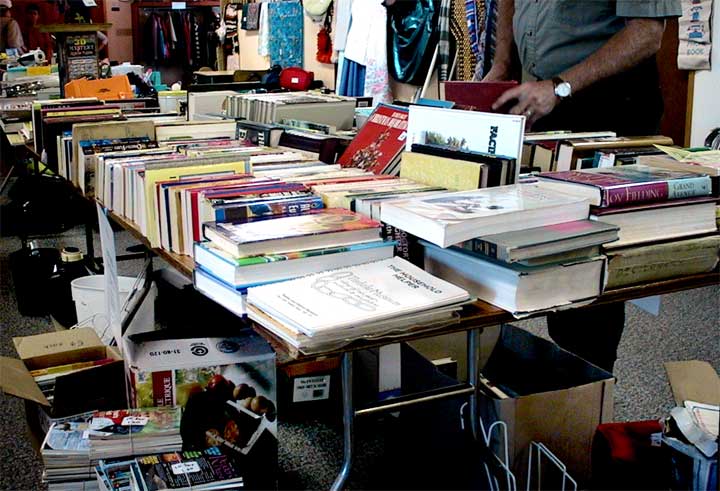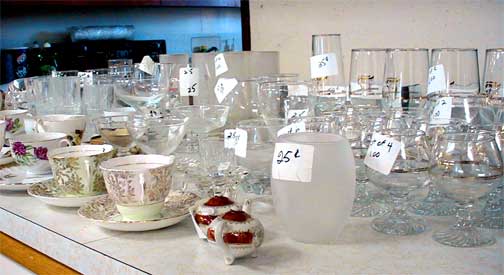 storage space, so I told I would be very selective in my shopping.

In other Lutheran sales there has been a lot of glass ware of excellent quality. This is true at this sale but there are outstanding values in whole sets of dishes as well as a wide selection of electrical appliances from woks to coffee makers and deep friers, waffle irons and a mug for everyone.

You have to look carefully at the items in a sale like this one. On one table was one of the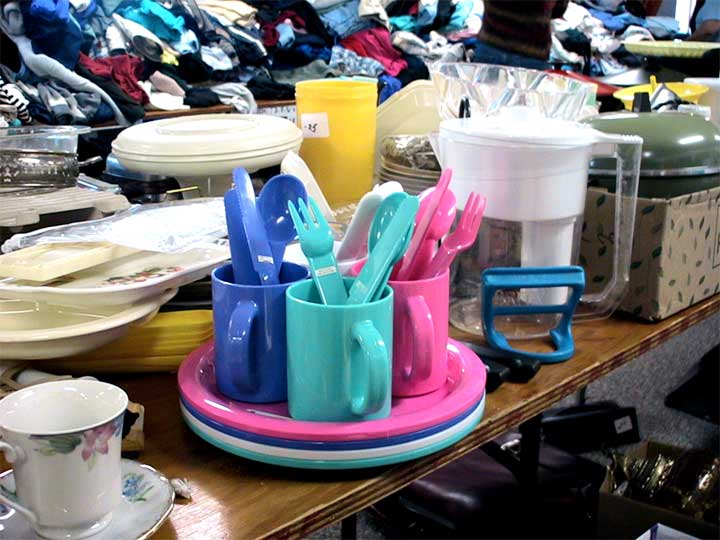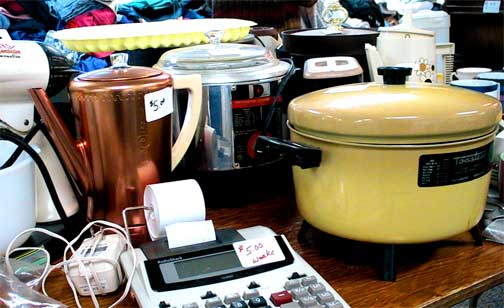 amazing third generation Polaroid cameras that sold for serious money when they were first introduced.

One set of odd items had a sign on them inquiring if anyone had some idea just what it was.

Pictures, picture frames and decorative materials have always been a main feature of the Lutheran sales and this is certainly the case (below) this year. One of the things about this sale is that its prices are very reasonable and everyone who drops by will find a bargain that was meant just for them.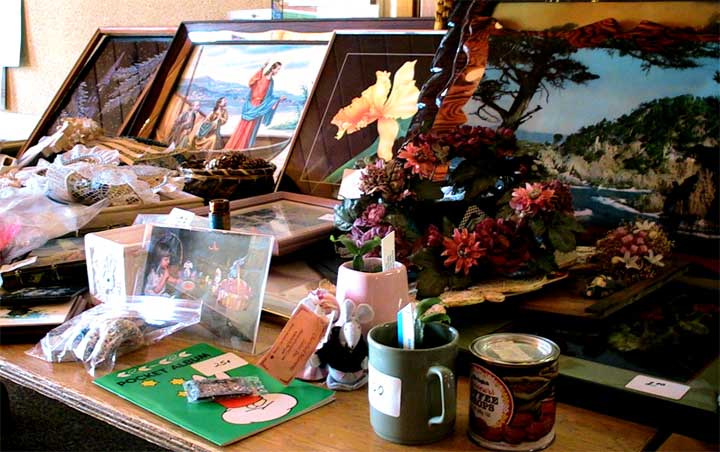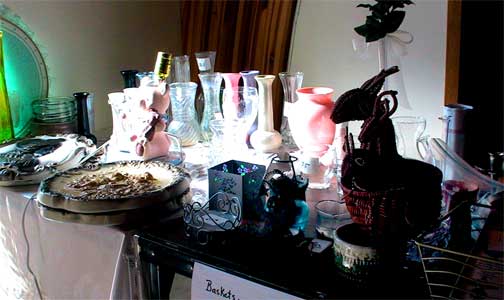 A barbeque, basket collection and vases are right at the door and there's a good looking bicyle for $15 at the end of the hall. In between there are items like a computer desk, a bathroom molded sink, swag lights, drapes and much, much more.

The fall and spring sales bring in much needed revenue for the church and besides being a source of unique and interesting items the money goes to a good cause.
Return to Ensign - Return to Saskatchewan News
This page is a story posted on Ensign and/or Saskatchewan News, both of which are daily web sites offering a variety of material from scenic images, political commentary, information and news. These publications are the work of Faster Than Light Communications . If you would like to comment on this story or you wish to contact the editor of these sites please send us e-mail.
Editor : Timothy W. Shire
Faster Than Light Communication
Box 1776, Tisdale, Saskatchewan, Canada, S0E 1T0
306 873 2004