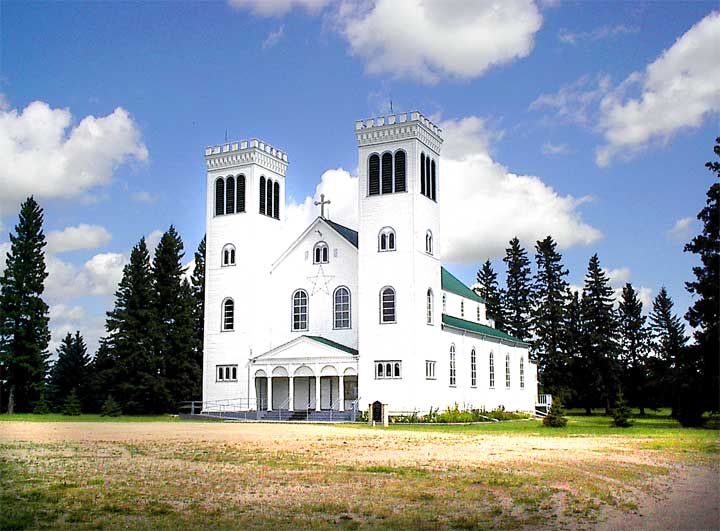 St. Peter's Cathedral
Muenster
FTLComm - Muenster - Sunday, August 13, 2006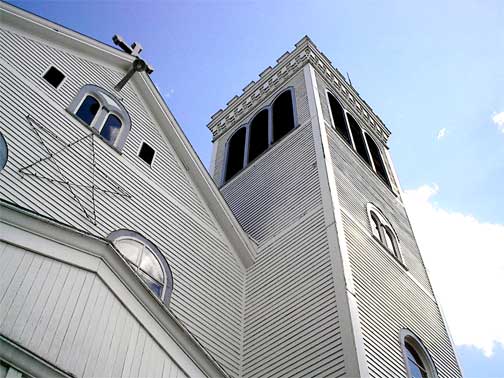 The settlement of St. Peter's German colony at Muenster took place in the spring of 1903 with the newcomers from Minnesota putting up a log church with a group of monks establishing a monastery that fall. Between 1908 and 1910 this wood structure, the cathedral was built on the site and in 1919, the year after the great war, Berthold Imhoff began the decoration of the cathedral's interior.
Clearly the inclusion of artwork in a religious setting is perhaps even more of a cultural significance than a religious one. Especially after the furious this year over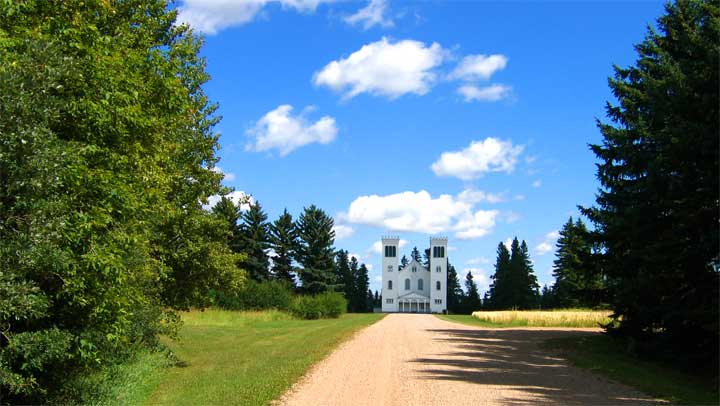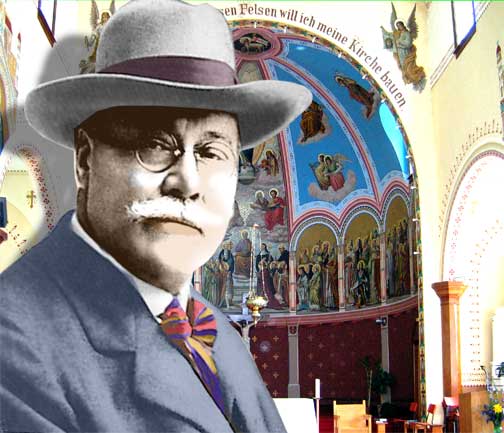 cartoons about Islam causes riots and death one wonders what is important and looking the wonders in this church it is astonishingly certain that the people who paid Berthold Imhoff $3,000 for his efforts and the way he included members of the Muenster religious community into the images of the paintings that this was and remains something very important. The paintings, done on canvas are remarkable and through the years have been maintained so that they remain bright and vibrant more than eight years after they were originally produced.
The eighty life size statutes in the church were a gift and donation by Imhoff and not
part of the commission.
I wanted to show you the remarkable images around the alter but they just don't look right on a flat screen.
I took more than eighty images of the church from it's centre and assembled them into this QuickTime VR cube presentation. In order to see this image you must have a recent version of QuickTime installed in your computer. This version shown here is just over one megabyte but is even more spectacular in a larger 6.3MG rendition. If you want to wait for the download click here to go to a page with the large version displayed.
If you just want to look at some of the pictures and not bother with QuickTime we have fifteen images that show some of the glory of this marvelous place. Just click on the thumbnail below to see the image in a larger size. The pictures below were taken by Judy Shire
---
Return to Ensign
This page is a story posted on Ensign and/or Saskatchewan News, both of which are daily web sites offering a variety of material from scenic images, political commentary, information and news. These publications are the work of Faster Than Light Communications . If you would like to comment on this story or you wish to contact the editor of these sites please send us email.
Editor : Timothy W. Shire
Faster Than Light Communication
Box 1776, Tisdale, Saskatchewan, Canada, S0E 1T0
306 873 2004