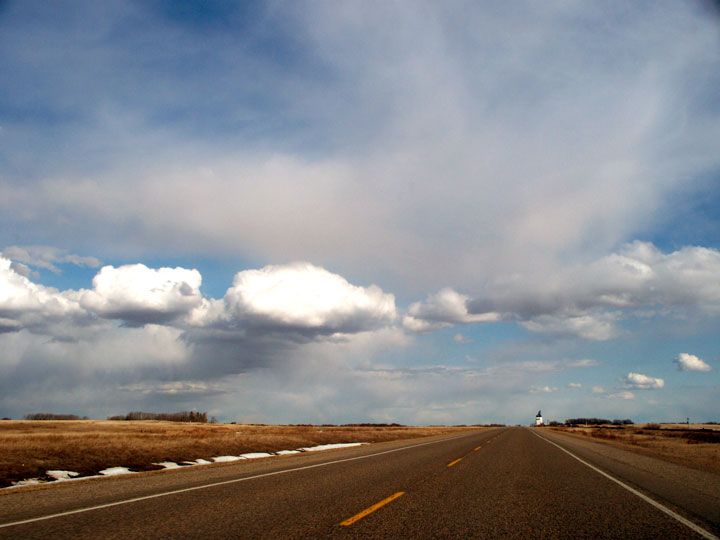 about half an hour west of Minadosa heading east on the Yellowhead at 3:43 Monday April 5th
Spring overhead
---
FTLComm - Tisdale - Wednesday, April 7, 2010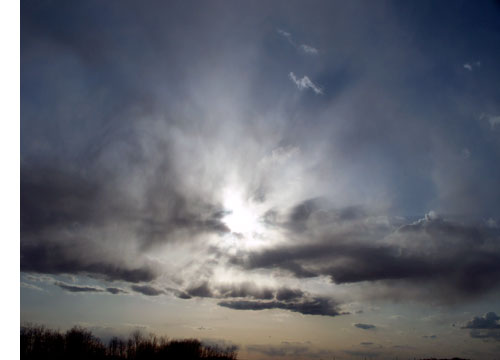 Though the weatherman was predicting showers Monday when we left Winnipeg to head home all we saw of showers was a few trailing virga and nothing that prompted turning on the whipers. Both the image above and the one on the right were taken along the Yellowhead highway. The one on the right was taken at 5:38 well to the east of Russell.
Tuesday the sky was almost clear of clouds in the late afternoon when I was out and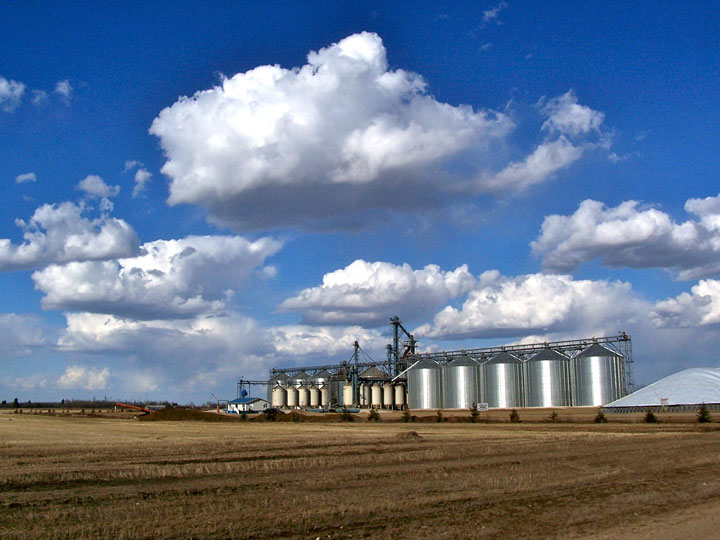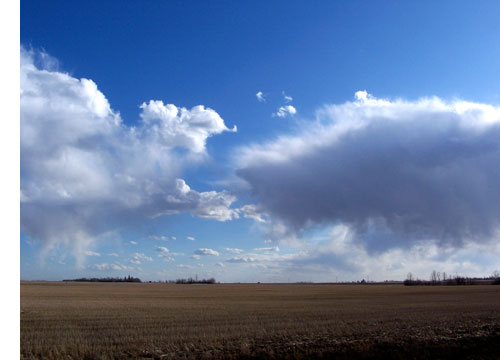 about but today certainly made up for it. It was 4:52 when I caught these immature cumulus drifting over Louis Dreyfus (above) while the cumulus with virga (right) were seen at 5:15 just east of Tisdale. The authentic looking rain cloud below was seen five minutes earlier Northeast of Tisdale but though they look substantial they are just not big enough to carry anything more than a light spray of mist and rain that evapourates before reaching the surface. (virga)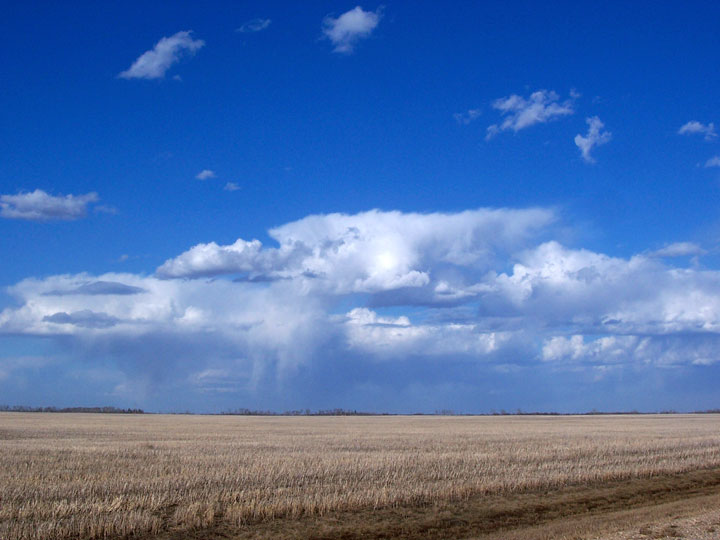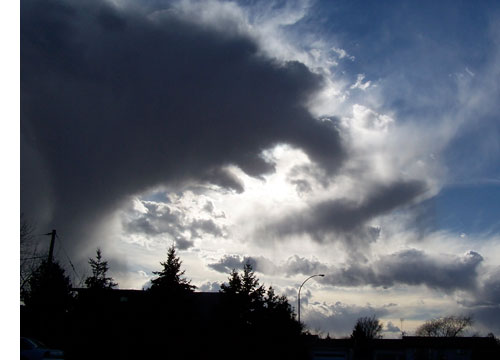 This picture (right) rather over dramatisizes the cloud formation because it has the sun behind it as we look toward the west at 5:20. It is apparent in both this image and the one below taken five minutes earlier that this is a complicated spring sky with fragments of cirrus, some strato-cumulus and what if the air was hot and wet enough would be towering cumulus. The most important thing is that this is typical of spring clouds. They are related to the temperature aloft.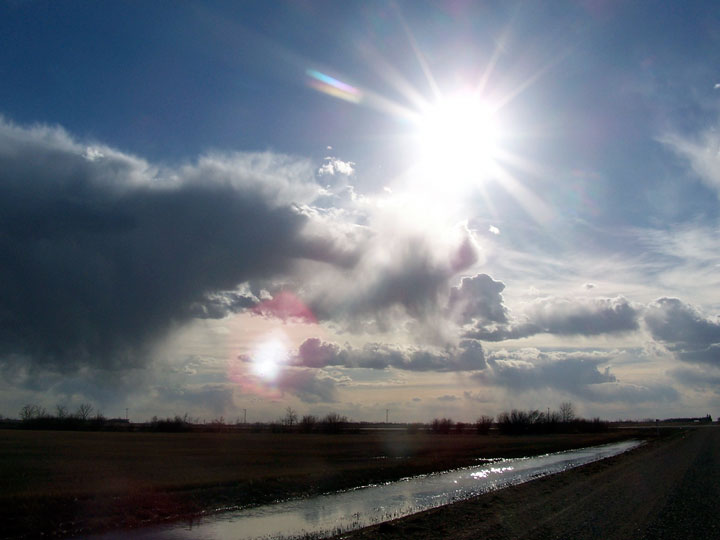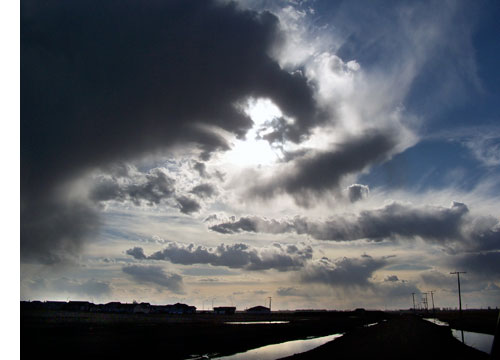 This picture (right) is just a different view of the similar picture taken at 5:20 only this is only two minutes laer and shows the stratus layers a ittle better.
The piture below is a cumulo-fractus cloud that in the summer is associated with rain but in this case it is isolated from the other system clouds associated with a shower. The interesting thing about this cloud is that it is about four thousand feet from the whispy bottom to its top.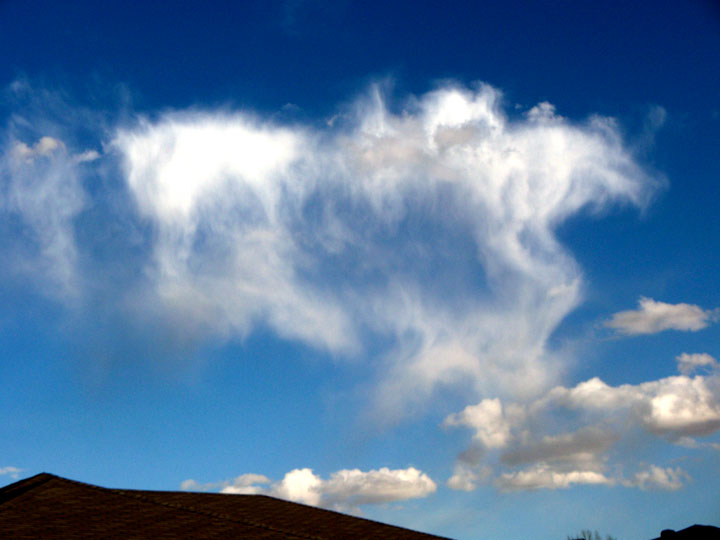 ---
Return to Ensign
This page is a story posted on
Ensign,
a daily web site offering a variety of material from scenic images, political commentary, information and news. This publication is the work of
Faster Than Light Communications
. If you would like to comment on this story or you wish to contact the editor of these sites please send us
email.
Editor : Timothy W. Shire
Faster Than Light Communication
Box 1776, Tisdale, Saskatchewan, Canada, S0E 1T0
306 873 2004