It has been quite a while since this application was available for Windows based computers but only in the last month has it been downloadable for the Macintosh OS X. We have been using Google Map as a web based application for some time but this takes world imaging to a whole new level.
The people at Google have realised that maps, which are essentially charrts are pretty difficult for most people to read. By combining GPS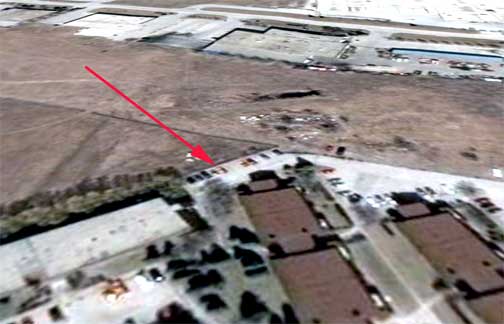 locations with satellite imagery and some animation software for good measure to help out in cityscape settings, Google has produced a product that lets you do with your computer what was up until a short while ago pure science fiction.
With its navigation you can type in a street address and in those cities with high resolutions images available you can pick out your car or the trampline in your neighbours back yard. In the image on the right I have added an arrow pointing to Andrew's parking spot at his Winnipeg apartment.
As a former pilot I am over whelmed with the ability to fly approaches to familiar runways and navigate cross country as though being there in the air with the elevation shown right on the screen and the ability to turn direction and . . . well you get the idea, it is pretty exciting. No game on the market matches this free downloadable tool that brings you and your family the world.
When the ferry sunk south of Prince Rupert (Prince Rupert is at the very top of the picture at the top of the page) the CBC used Google Earth representations to show the location and that same night with several American tourists killed on a tour in South America CNN used Google Earth to illustrate the dangers of bus travel on the narrow roads in the Andeas mountains.
Much of the earth is not available free in high resolution but even the low resolution for this area is truly remarkable. The image below shows our part of the world from 45,000 feet, cruise altitude for most commerical aircraft.