GPS surveying
FTLComm - Tisdale - Friday, May 14, 2004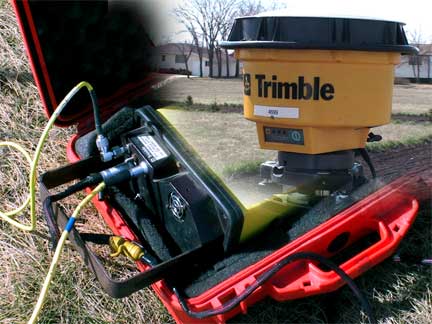 The global positioning satellite system has been in place for almost a decade. Designed primarily as a military system it was originally designed to be inaccurate but a few years ago the military restrictions on the system were lifted and these orbiting beepers whip around our planet on very precise orbits. With three of them and the computer processing power available in small hand held gadgets it is possible to know exactly where you are.

This technology simply relies on a timed signal and will soon be in most cars and trucks and is already in all new cell phones. Agriculture has taken advantage of this precise system of placement and farm tractors, combines and sprayers are routinely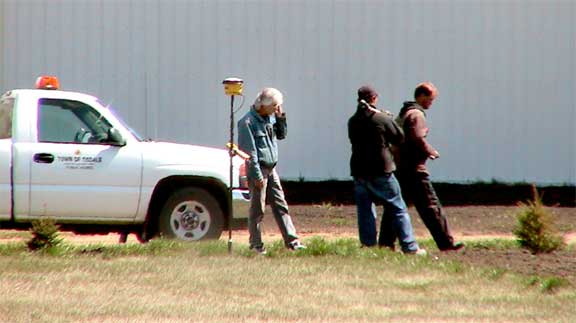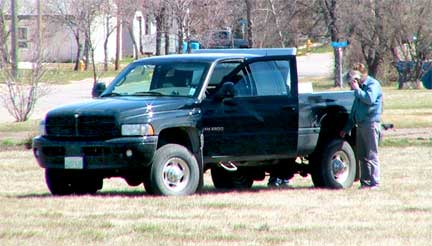 being fitted with GPS receivers that will reduce chemical waste and improve efficiency.

With the refinement of the signal and computing power in the receiver this now is the convention method for surveying land. No fooling around with chains, tape measures, transits and slide rules, surveyors now set up their equipment, use their pick up as an office and then mark out their points with accuracy of a centimetre or two. Then back to the office where software downloads the data and converts the information directly into design and plotting software so that error free diagrams are generated. Outstanding tools in the hands of a skilled engineer and like all forms of computer technology, just a little better than manual, just a little faster but still demanding a trained and competent engineer to get the results needed.

This crew had done up the lines for Forester Crescent and were working in the old TUCs field to refine the accuracy of the block, establish the corners of the individual dwelling lots and possible future condominium development.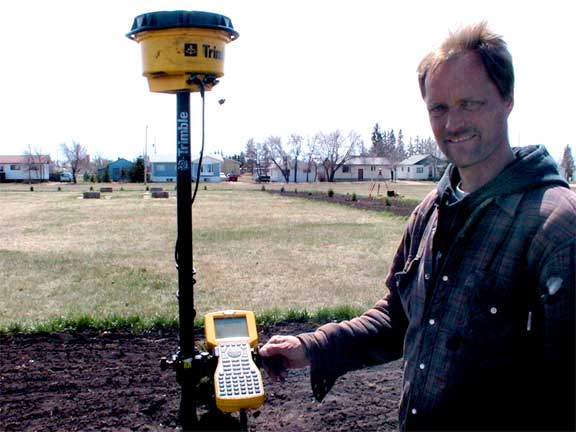 Return to Ensign - Return to Saskatchewan News
This page is a story posted on Ensign and/or Saskatchewan News, both of which are daily web sites offering a variety of material from scenic images, political commentary, information and news. These publications are the work of Faster Than Light Communications . If you would like to comment on this story or you wish to contact the editor of these sites please send us e-mail.
Editor : Timothy W. Shire
Faster Than Light Communication
Box 1776, Tisdale, Saskatchewan, Canada, S0E 1T0
306 873 2004