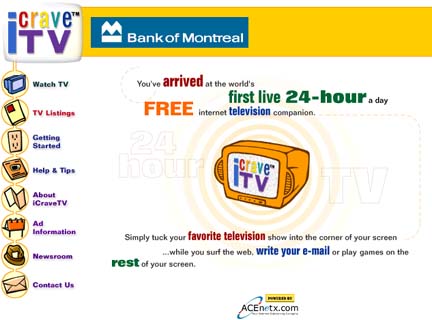 Watch Television On Your Computer
FTLComm - Tisdale
December 4, 1999

The merging of various forms of mass media continues to occur, mostly unsuccessfully but the efforts are certainly going in to making it hard to distinguish what is really happening. The first of these transitions was developed by Phillips/Magnavox then purchased by Microsoft and that of course was "WebTV". This inexpensive device allows you to use a modem connection to show web
and access E-mail using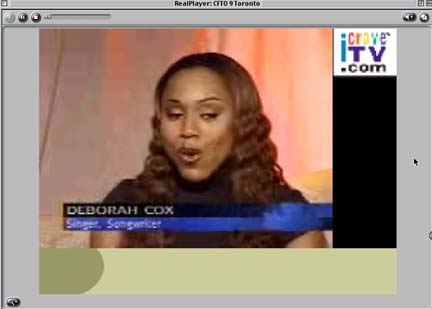 your television. We first tried this out at a Mac World conference in San Francisco in January of 1997. This blend of Internet experience and the low quality image of a television is not all that bad. The web pages look terrible and the material is hard to read but it does permit access to the Internet and its services for reasonable money.

But the opposite migration has been less then successful. If you have high speed access or have a cable Internet connect your experience with using television on your computer will be much better but for those of us using telephone connections to access the Internet it is going to be a while before you sell our TV set and just watch the computer screen.

iCraveTV is a Canadian service and is completely
legal as far as I can determine. The web site provides access to a bunch of television channels from Toronto, including CTV, City, CBC and the American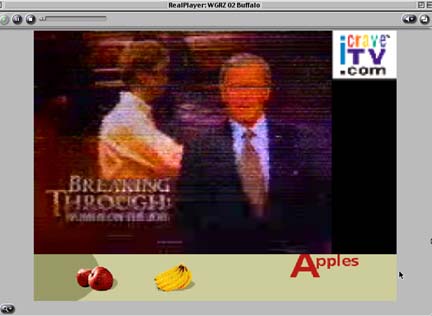 channels that are viewed in Metro Toronto. Using "RealVideo" developed by the folks who made "RealAudio" the picture is either still or jerky but the sound is acceptable. After someone told me about it I thought I would give it a fair try and as far as Tom Brocha that's about as good as he got (as seen on the right) but the sound portion of the broadcast was keeping pace and allowed me to follow the story he was telling though the pictures were hopeless.

I use two screens on my system so I could have the RealVideo window open on one screen while I had a web page or other material going on the other but I think it would be more then a little confusing to have all of this on a single screen.

To set up the service and make it work on your system you need the latest version of "RealVideo" in your machine and the iCraveTV site has direct links to that site and after about fifteen minutes I had the correct software installed (5.6MB download). Though I fiddled with it I was not able to get the television picture to automatically load up into the RealVideo viewer and would have to take the downloaded file and drop it manually into the RealVideo viewer. Though this was an inconvenience it did not pose that much of a problem. For most of us it would be a lot easier just to turn on a television set then go to this extent of frigging around. However, in the case of some world crisis and if you wanted to see what they were saying about the topic in Toronto this service might be just what you need. But to use it on a regular basis, not worth the effort.
Last spring Steve Jobs of Apple computers launched a television Internet project that held great promise.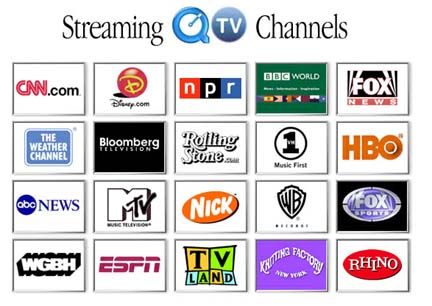 The idea being that you could click on one of these buttons and using Apples QuickTime streaming capability that television signal would show up on your screen in the QuickTime player. The great thing about this technology was that it worked beautifully. The picture quality is excellent, more then double the quality of RealVideo and the sound though occasionally interrupted was high quality. The problem has been that QuickTime TV has been used by the television providers to draw traffic to their web sites rather then provide online television. Of all these channels listed here I could not get a live signal from any of them. I could get video clips and access to their web sites with clips embedded but direct live broadcast could not be found. When Jobs first announced the project it worked and the BBC was there all the time for viewing but now it is just hype.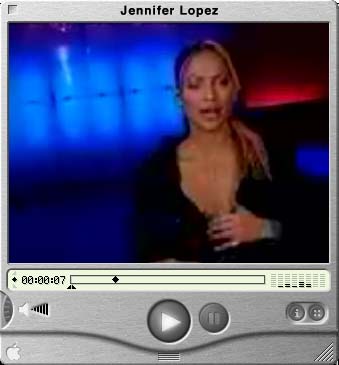 The real issue with television on the Internet is the problem of commercialisation. The clip on the right is a still image taken from the little clip of an interview with Jennifer Lopez and as you can see the picture quality is pretty good but you will also notice that all you are seeing is the content. If you look at the iCraveTV screen captures you will discover that they edge around the screen is a commercial background for sales media.

ICraveTV loads you up with commercials, the regular commercials on the networks plus their adds running on the outside of the picture. This clip on the right was from VH1 and there is no one paying for the presentation. So, QuickTime TV though a great idea did not have the advertising money to go with it to make it a success.

There is no doubt that in time both QuickTime and other means of sending media along a telephone Internet connection will come along and the signal will get better and there will be all sorts of material to choose from. It is unfortunate that iCraveTV did not choose QuickTime instead of RealVideo because of the better quality but in December 1999 neither are really mature enough to bother with.

It took me just as long to get the QuickTime player and browser to work together as it did to unsuccessfully do the same thing with RealVideo. For now if you want to want television do so on your TV and save your $1,800 computer for access the Internet and playing video games, ah, now that's another story.