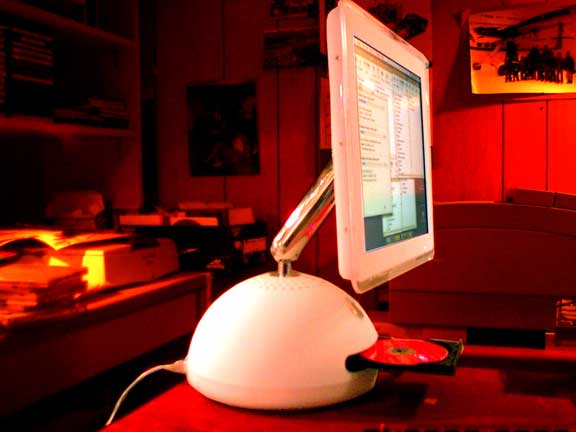 The iMac revisited
FTLComm - Tisdale - Wednesday, December 4, 2002

It is a long time in the computer industry since the Apple Macintosh iMac was first introduced and we got our hands on one in November of 1998.

The very first ones we sold are still humming along some with hard drives five time the original and all but those first year ones are able to run the most up to date operating system (Jaguar 10.2.2). Those people who bought those cool little plastic eggs are still happily surfing the web, churning out desktop publishing products, editing video and doing graphics in the blink of an eye.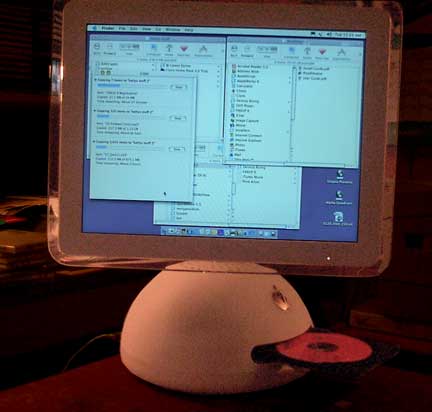 The flat screen iMacs were introduce last January but really were not available until spring. Now the second generation of these wonders with a base only 10.5 inches across are in stores with their seventeen inch screens. This one is the standard 15 inch screen model and you can see at the top of the page the miraculous feature of this screen. This is not a doctored picture as there is no scan line or bar on the flicker free LCD screen. Notice the image at this extreme angle.

I took the pictures of this one with the CD-RW drawer open because with it closed it is virtually invisible. It can read a CD or DVD and can make CDs. Options include DVD writing capability.

Able to jack a digital video camera with built in editing software into one of its Firewire ports or handle a periphery in one of its three USB ports, it comes with satellite speakers and a load of software for $1849 Canadian.

The machine is running Apple's newest operating system which is essentially a version of UNIX with an advanced graphics interface. To us who have used the simple and uncomplicated Macintosh operating system the new OS takes more than a little getting used to, though simpler than Microsoft Windows it lacks the elegance and user dominance of the older Mac systems. However, the new system to the new user is easy to learn and almost everything you will use it for is just a matter of plugging it in with the system doing the sorting out of drivers. The first time it is plugged in it heads off on the Internet and updates itself then on schedule it will keep itself updated.

Unlike Windows machines the iMac is all one company from system to hardware this improves its durability and will keep it running long past the much lower priced Windows machines.

Many people have worried about converting from their Windows based machine because of concerns about compatibility but this really is of no concern whatever. All the major software companies and those applications everyone needs and uses are in Macintosh versions and their files are indistinguishable. The Microsoft Office software is considerably more elegant and designed specifically to take advantage of the flexible graphics capability of the Mac. While Adobe software was all developed on and for Macintosh.

Almost every daily newspaper and most weeklies are constructed on Macintosh computers and 60% of the web pages you see online were created and maintained using these machines. These UNIX based machines are completely network integrated and work as work stations in networks were everything can be PC and the iMac will connect and transfer files without software other than its own operating system.
Computers are really such a small part of the technology the envelop. If you take any computer no matter what operating system its value is a fraction of the total expenditure. The average software that a person will install will often exceed the machines value but even then with those two things you have only touched the actual cost. The single most valuable thing to you is your time and with an iMac your time will be treated much better than any other computer on the market. The ease of operation, the ease to learn the applications, the trouble free built in e-mail, surfing the web, all the things you might do with that computer will be so much less time consuming and complex that the bargain price of a Microsoft Windows machine is really a waste of time.

For those people who already know Windows or have to trudge along with them at work the use of a Windows machine at home is no big chore. But I can tell you from experience with senior citizens who smile wisely, shake their heads and lament what their friends who do not have Macs who struggle hopelessly with a Windows machine and eventually just give up because even when everything on a Windows machine works perfectly it is really a misnomer to call it a computer when most of the work is being performed by the user.

Oh yes, and if you have someone around your house who wants you to get a Windows machine because there are "soooo" many games that they can play on it. Give the kid a break and buy a Sony play station or whatever, don't put a great computer to work for that function, a waste of money pure and simple.
The crazy little sketch movie was created using an interesting Mac piece of software called "iChalk" that lets you doodle and sketch collaboratively on a network or over the Internet. Ideal for planning projects.
---
Return to Ensign - Return to Saskatchewan News
This page is a story posted on Ensign and/or Saskatchewan News, both of which are daily web sites offering a variety of material from scenic images, political commentary, information and news. These publications are the work of Faster Than Light Communications . If you would like to comment on this story or you wish to contact the editor of these sites please send us email.
Editor : Timothy W. Shire
Faster Than Light Communication
Box 1776, Tisdale, Saskatchewan, Canada, S0E 1T0
306 873 2004