War Child Concert Live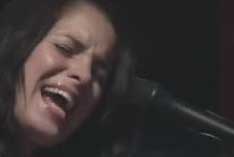 FTLComm - Winnipeg - September 16, 2000

Being able to write about a concert while you are at it is a remarkable thing. I am sorry I could not have alerted you to this event before it actually took place but we did not know about it until half an hour after it started. Andrew had told us about the concert and the appearance of the Tragically Hip almost two weeks ago but up until today we did not know if any corporation had picked up the sponsorship of the broadcast.

CBC had originally agreed to

broadcast the concert from the Forks in Winnipeg today but pulled out when it conflicted with another event they were involved in and other networks are juggling Olympic coverage. Winnipeg's MidCan productions had been contracted to provide video coverage of the event for the big screens on the site but it was very late when the music story company HMV picked up the project and it is being streamed live through their web site.
Chantal Kreviazuk is the you woman in this picture as she presented her great set of original songs to a huge audiance estimated to be more than 60, 000 strong at the Forks concert stage.



This concert is being presented as a fund raiser and promotional concert to emphasis and focus on the plight of the thousands and thousands of children who are drawn into wars often as participants and always as victims. The Tragically Hip cancelled an important concert so that they could participate in this Winnipeg show as they feel committed to the issue and wanted to put their efforts and music behind the momentum that will build from the Winnipeg conference and the concert to promote the issue to the world.

Tune in to the show http://www.hmv.com
Tragically Hip seen below.