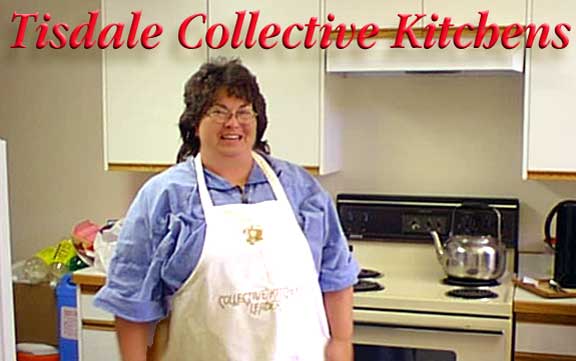 FTLComm - Tisdale - March 23, 2000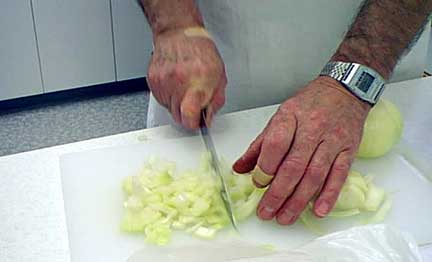 Tuesday and Wednesday afternoons two groups meet each week to share in cooking up some hearty meals for their families and providing them with some excellent interaction with each other.

Jacki Abraham provides the groups with leadership and does the background hustling to have the materials on hand and line up the projects for each week. Each participant contributes one dollar per individual they are cooking for and base funding for the project has been provided through a short term agreement with several provincial agencies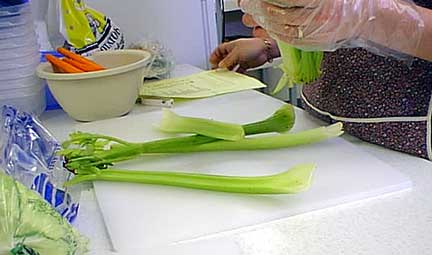 including Social Services,
Department of Health, and Education.

The participants are a mixture of people who are low income earners, part-time workers, some represent families who just like to help out. Together they whip up a couple of major meals using the Salvation Army's fine kitchen in the church basement. Wednesday's meals were a veggie stew and a meatty spaggetti dish. Jacki had the groceries on hand and after a discussion about the project and plants to develop community garden plots it was time to cook and the group went into action with enthusiasm and a common sense of positive collaboration. Following restaurant health protocols the projects were quickly undertaken and the aroma of food preparation filled the kitchen and everyones spirits.

Jacki Abraham and her cooking friends have established the Tisdale and Area Community Action Co-operative Ltd. to establish longer term funding for the Collective Kitchens projects and other self help initiatives. Grant applications to get the funding in place for a full twelve month period is one of the main objectives but the community garden project is equally exciting. Many of the participants of this group were involved last year in working on gardens and things look good this year for the establishment of a serious and well coordinated effort to get an effective community garden project underway. Many families in Tisdale could really help themselves by having a garden plot of their own so if you have garden space in your yard and do not intend to plant a garden this year give Jacki a call (873-2299) and she will make the connection with some family who could put that garden plot to good use.
More on the Garden Project
------This morning's article that appears above was posted at around 9:00 this morning yet since then (it is now 11:00) there have been some interesting developments with the community garden project and the Salvation Army will be coordinating and handling this project. Jacki Abraham and the Community Action Co-operative will still be a resource in this project providing a canning and preserving kitchen for successful gardeners.
------Jacki also reports that there is another project underway and that is the Young Chef's Kitchen designed for young people living on their own and needed some help to figure out some sensible ways around the kitchen. The Community Action Co-operative is holding a public meeting April 3rd when this and other projects will be discussed.