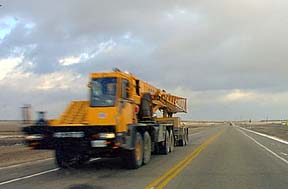 FTLComm - Wakaw - November 15, 1998

Saturday must have been Crane Day in this part of Saskatchewan. The one shown above and below is a fifty ton lifter on its way home to Saskatoon after topping off the Louis Dreyfus inland terminal at Tisdale.(In the image below left, you can see it's mast above the distribution system) Able to extend one hundred forty-three feet up this Kentucky built unit is a new one having just completed its first mission.

Can't tell you anything about the one on the left but it was heading for Saskatoon only minutes after seeing the one below at Wakaw. And, as all of us know, things come in threes, and another was sited working on the upgrading of Melforts Wheat Pool inland terminal.