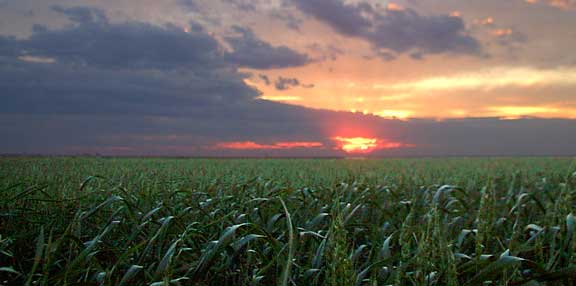 So, How's It Growin'?
FTLComm - Tisdale - Saturday, July 7, 2001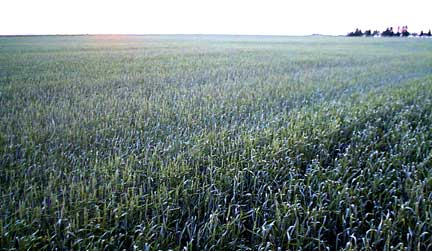 The 2001 crop has definitely been a troubled one with growers able to get on the land early in the Tisdale area then having to cope with high winds and very dry conditions.

This is a good time to check and see how things are moving along.

In general these conditions seem relatively common to the area from just East of Tisdale all the way to Saskatoon with crops fairly uniform in this whole general area.
Conditions are considerably different West of Melfort in the Kinistino and Birch Hills area. They were slightly later in planting and the high winds really took their toll leaving many fields devoid of growth and the crops thin and much further behind in development.

The wheat crop at the top of the page (pictures taken Thursday night) and above right is in flower and around knee high, this is because of low moisture levels and as the heads develop this is also causing the development of small heads. Farmers in the area worry that without rain this will produce a low yield and even if these heads fill out the crop will be certainly closer to an average crop, unlike the huge bumper crop seen in each of the past two years. Yields are predicted to run about two thirds of last year.

One of the things you can see in these pictures, including the somewhat taller crop below which is a couple miles South West of town, is that the farming practices are really paying off with few weeds to be seen and despite these very stressful growing conditions there is the prospect of a reasonable crop in these fields.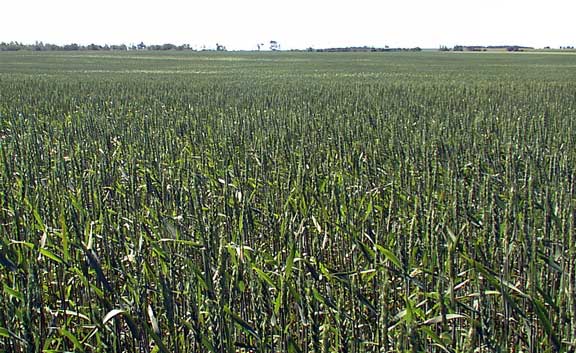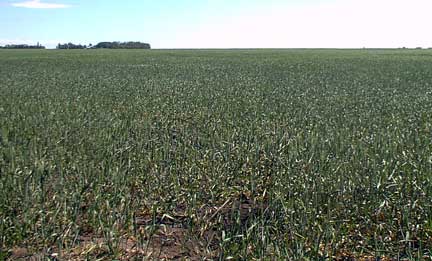 Barley is very similar to wheat this year but this particular crop West of town seems a bit thin compared with other years. Like the wheat the straw is short and the barley is heading out now and in flower. But I noticed in this field that the heads were average to better in size than other years.

One thing is for certain the cereal crops this year are going to be ready for harvest by early to mid August.

The critical factor is moisture, these crops need water to fill those heads.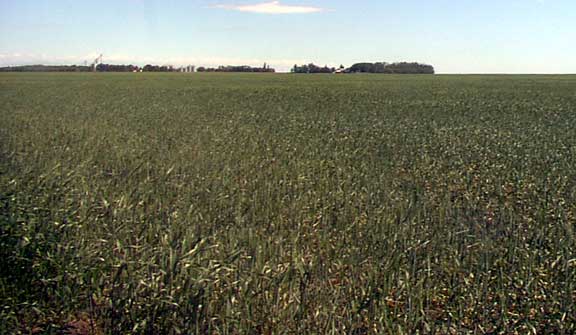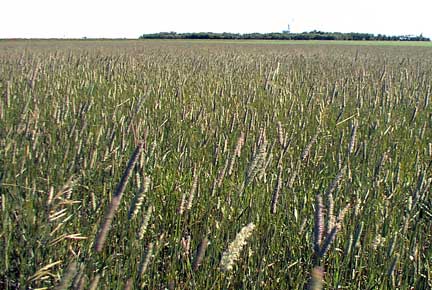 This is a pretty good looking hay crop for seed however I am unable to put a name on it. I was surprised at its quality because without a doubt hay is the poorest performer this year.

From Melfort to Wakaw a lot of fields are in the process of being baled and in most it is a long way from one bale to another. This morning a farmer making broom bales with a square baler South West of town in a country road ditch was getting a bale about every two hundred feet.

Alfalfa crops are light but pretty high in quality.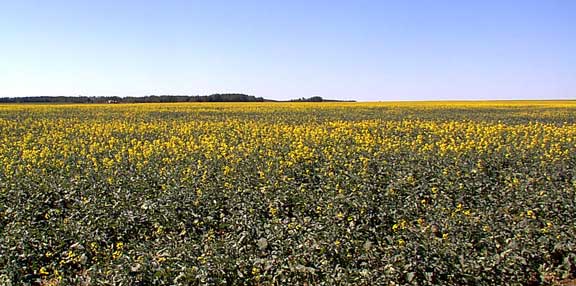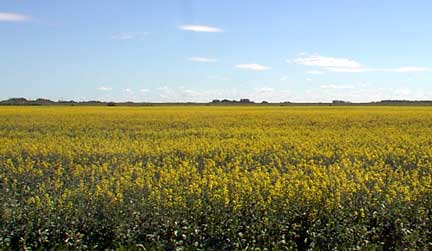 You will notice that there are no flax crops shown in this look at crops. I saw several flax crops non in bloom and all about ankle length.

Canola is blooming now and like the cereal crops is consistent from here to Saskatoon. The stocks are thin and about two thirds as tall as they were last year. However, if these pods fill out there should be an average crop in these fields. The one above is South of town and the one below is North of town.