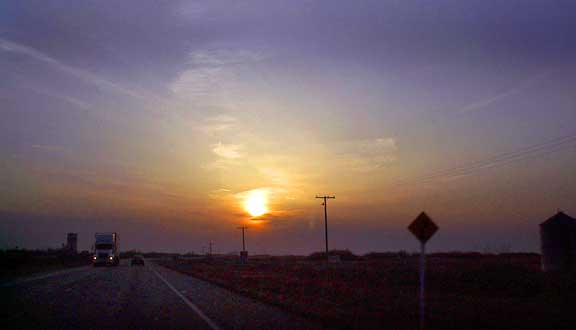 To begin once again: crop 2003
FTLComm - Portage La Prairie - Saturday, April 26, 2003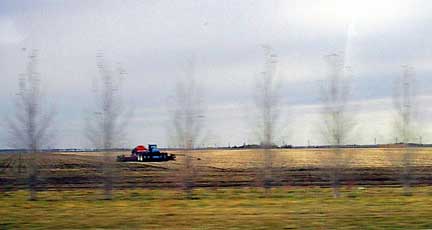 Just East of Winnipeg crop seeding is in full swing, the soil conditions are ideal and farmers are on the land. The pictures on this page were taken between Winnipeg and Brandon where mile after mile the process was clearly underway. In one case I spotted a field of peas or lentils freshly planted and the huge rollers at work packing the soil.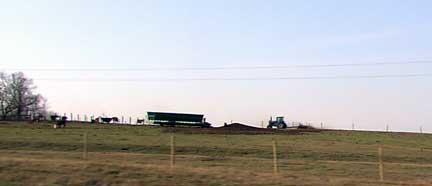 But as you head West from Brandon the equipment is obviously ready but the fields are still a bit wet and by the time you cross over into Saskatchewan (Friday afternoon) the puddles and damp conditions will soon be drying up and planting will begin. It wasn't far past Wapella that I spotted a snow drift still tucked away in some deep shadows.

The new crop year will definitely delayed from the Yellowhead highway (#16) North as the first order of business this year is to pick up last year's crop. Few fields are harvested between Rose Valley and Elfros. From Foam Lake to Yorkton we had seen few fields left out and South of the #16 everything is ready for planting.
One definite positive sign is the large amount of feed that looks to be available throughout the South Eastern portion of Saskatchewan. Farmers put up a lot of feed last fall and much of that remains available. However pastures from Tisdale to Winnipeg are all about the same, they could use rain, and lots of sunlight to get them into shape for the livestock this year. Cattle producers in general are feeling very positive about this year as caving in the South East was good and we saw many fields of happy caves enjoying their first spring.
One of the remaining issues that was a surprise to me is that despite reasonable crops in the Southeastern portion of Saskatchewan and Southwestern Manitoba the farmers there are very concerned about the prices. Once again they are seeing production costs in fertiliser, fuel and chemicals rising rapidly quickly consuming any gains that were made in grain prices while Canola is showing weakness in the market and wheat is not moving upward as expected. One factor that would make a huge difference for Western Canadian farmers would be the continued rise in the Canadian dollar. This would definitely affect the bottom line in the coming crop year.
---
Return to Ensign - Return to Saskatchewan News
This page is a story posted on Ensign and/or Saskatchewan News, both of which are daily web sites offering a variety of material from scenic images, political commentary, information and news. These publications are the work of Faster Than Light Communications . If you would like to comment on this story or you wish to contact the editor of these sites please send us email.
Editor : Timothy W. Shire
Faster Than Light Communication
Box 1776, Tisdale, Saskatchewan, Canada, S0E 1T0
306 873 2004