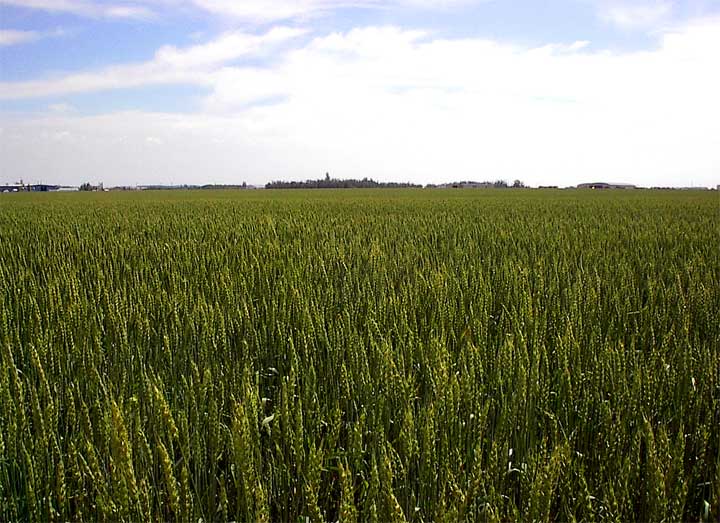 Better than good
FTLComm - Tisdale - Friday, August 6, 2004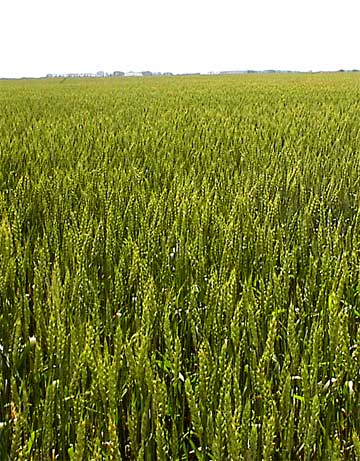 This wheat crop sits just west of Tisdale is a typical example of the resilience of the crop of 2004. The heads of this crop are now filling out under the full heat of 25º temperatures with more than enough moisture to mature. Despite the very cold spring and early summer the crops have come along well largely due to the abundance of rain that changed a bleak cold dry spring into a fairly wet early summer.

Tisdale, Melfort and Nipawin farmers were able to get their crops planted this year early enough to take advantage of the growing conditions. In the area along the Yellowhead and the eastern portion of the province seed was seriously delayed forcing farmers to adapt planting crops that would mature in a shortened growing season.

One crop that has done well province wide is hay. This year's production is very high as one farmer in the Gravelbourg area reported that the price for outstanding hay is falling but he will take between $45 and $50 a ton for his crop as there was little input cost and what ever he gets will be fine with him. He has a buyer in the Lethbridge area that he is counting on.

We notice very heavy yields along highway 48 from Montmartre to Kipling with alfalfa broom just two miles west of Kipling saw an oat field providing a banquet for a herd of prime angus cattle.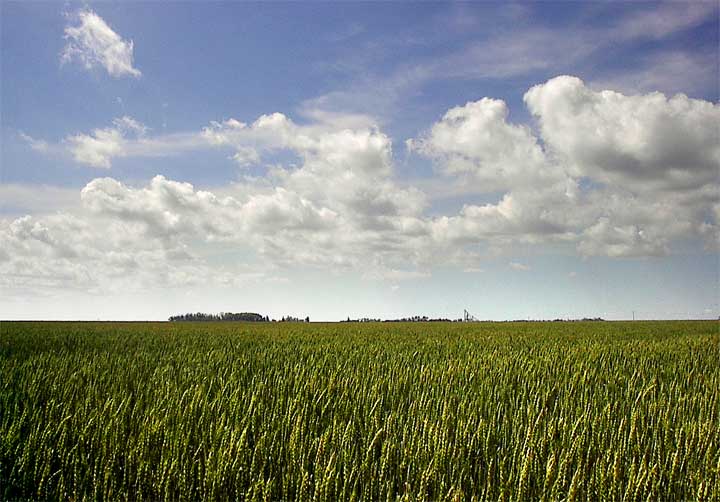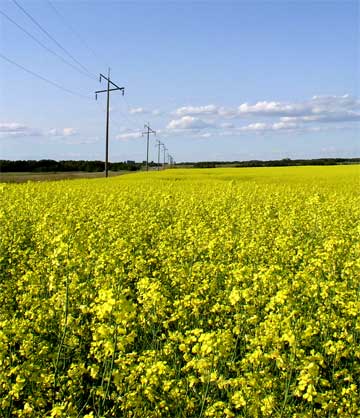 Due to low yields of wheat in Kansas this year wheat prices are expected to be stable and for farmers with wheat crops in the field things are looking good.

Barley crops are excellent in this area though to much rain has damaged yields east of Porcupine Plain. Barley prices are not looking to promising as so much depends upon demand from the feedlot industry and with the border situation there are still problems backing up into the barley fields.

Canola crops throughout the province look exceptional. This crop seen here is about six miles north of Grenfell and Ken Jone, who waded out into the field to get this picture said that the flowers were about five feet above the ground. I noticed a canola field today here at Tisdale only about half that tall but with the flowers all but gone as the pods are filling out. Canola has been planted in almost record amounts this year and even though the soy crop in the US was rather poor the large quantity of Canola and other vegitable oil production will surpress the price so that despite the high yield the value will be just above the break even mark.

Flax (below) on the other hand was planted in much smaller amounts than is often the case and there is a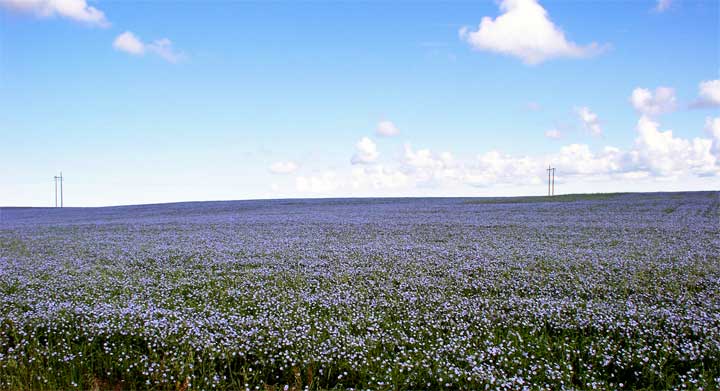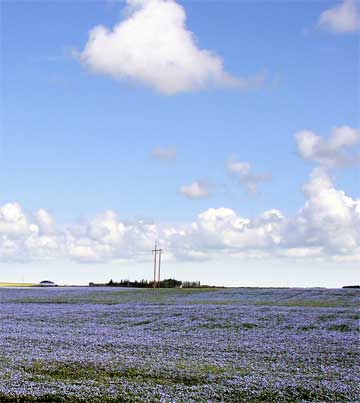 strong and growing demand for flax, especially organically grown flax. Fields like this one, also in the Grenfell area will return a very nice profit in 2004.

Almost all of Saskatchewan's flax production is grown for its seed. It is unfortunate that the fibre produced by this crop is not better utilised in Saskatchewan.

Specialty crops are also doing very well this year with high yields expected from pulse crops. Peas in the Tisdale and Melfort area are taller than seen in recent years and as usual will be the first crops to see combines in a week or two from now.

A farmer north of Swift Current reported that his mustard this year is the best ever and farmers throughout the Southwest all seem to have bigger smiles than usual as they are anticipating a good harvest. Back in July we noticed even then that the wheat crops west of Gull Lake were excellent.

One farmer explained that with regard to non-wheatboard crops that the market place is becoming increasingly dominated by fewer and fewer buyers. Though there are many different agents the pulse crops especially are cornered by Walker Seeds. One farmer explained that he had difficulties getting payment from one smaller company in North Battleford who had promised payment within a specified number of days of delivery but the farmer was forced to hound them for payment.This same farmer said that he and other farmers are at the mercy of the one sided contracts that are part and parcel of the industry.

But the rationalising of Saskatchewan farm land continues almost without slowing a beat despite this good crop year. Today I drove around an auction yard which will hold its sale on August 10 and saw rows and rows of combines and full sets of farm equipment from farmer operations that have gone out of business this summer.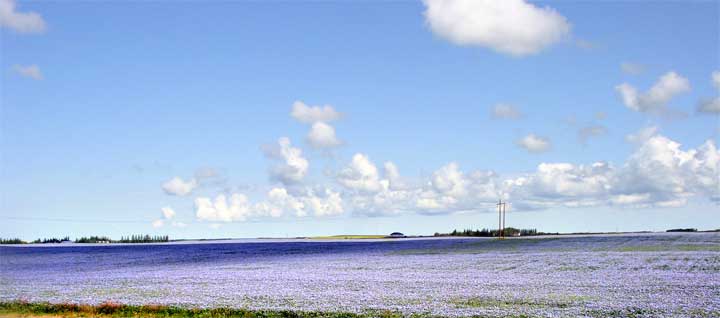 Photo credits: images of canola and flax on this page by Ken Jones
Return to Ensign - Return to Saskatchewan News
This page is a story posted on Ensign and/or Saskatchewan News, both of which are daily web sites offering a variety of material from scenic images, political commentary, information and news. These publications are the work of Faster Than Light Communications . If you would like to comment on this story or you wish to contact the editor of these sites please send us e-mail.
Editor : Timothy W. Shire
Faster Than Light Communication
Box 1776, Tisdale, Saskatchewan, Canada, S0E 1T0
306 873 2004