Tisdale one of Saskatchewan's nine Regional Agriculture Service Centres
FTLComm - Tisdale - Thursday, April 1, 2004
SAFRR's 31 Rural Service Centres will be consolidated into nine regional offices and a new Agriculture Knowledge Centre that can offer clients access to experts in crops, livestock, forages and agribusiness development by phone, fax, e-mail and the Internet. Seventy per cent of existing contact with Extension clients was already taking place in this manner.
The whole "Extension Services Branch" is shut down on April 30. When this was included in the budget yesterday it was not a big surprise to most people as we have watched government contract rapidly and without let up in the past three decades so that services of any kind are limited only to the populated areas of the province which of course excludes all of rural Saskatchewan. The government is laying off 120 full time employees and sixteen position that are now vacant. Immediately one realises that what ever they are doing today will not be done on May first.
At least two of Tisdale's staff are part of the Extension Services including an agronomist and they will be job hunting in thirty days.
The nine regional offices will be located in: Prince Albert, Saskatoon, Yorkton, Regina, Swift Current, Outlook, North Battleford, Tisdale and Weyburn. The new Agriculture Knowledge Centre will be located in Moose Jaw.
The idea of reducing the number of rural offices may have merit as the department does more and more of its work providing support to Saskatchewan's primary industry over the telephone and the Internet, so the new Agriculture Knowledge Centre in Moose Jaw makes sense but with the nine regional centres with the exception of Tisdale and Outlook are in cities. Would it make sense to put urban planning centres in five of Saskatchewan's hundreds of ghost towns? There are more than two-hundred thousand people in Saskatoon, somehow it seems a bit odd to place a regional agricultural office in a metropolitan area. Imagine locating the main headquarters for the Royal Canadian Navy in Brandon or establishing an Inuit culture centre in Missasauga. But wisdom is not an equally shared thing among people so it seems the scorched earth programme of rural Saskatchewan is once more in high gear.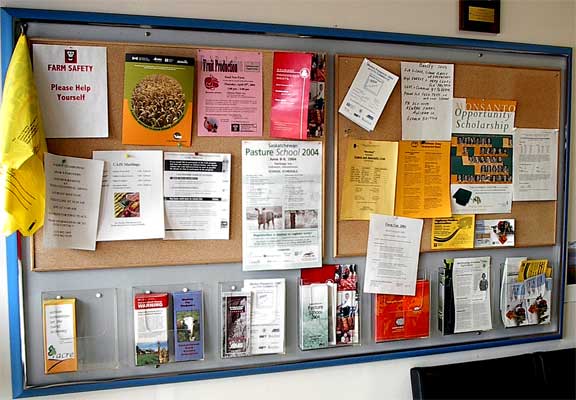 Reference:
2004-05 SAFRR Budget Details,(PDF) Government of Saskatchewan
Return to Ensign - Return to Saskatchewan News
This page is a story posted on Ensign and/or Saskatchewan News, both of which are daily web sites offering a variety of material from scenic images, political commentary, information and news. These publications are the work of Faster Than Light Communications . If you would like to comment on this story or you wish to contact the editor of these sites please send us email.
Editor : Timothy W. Shire
Faster Than Light Communication
Box 1776, Tisdale, Saskatchewan, Canada, S0E 1T0
306 873 2004