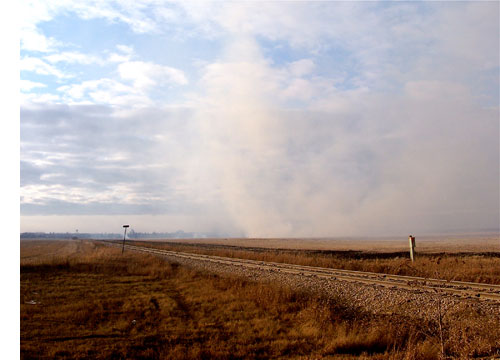 It is something that happens every fall and even some times in the spring, a farmer decides the way to deal with the straw and trash cover on a harvested field is best dispensed with by burning it. As far as I know no agricultural expert recommends this practice it simply does not make sense. The soil needs that trash cover returned as it will serve as mulch preventing soil erosion and will help retain water in a dry year. Very few Tisdale area farmers burn their fields, they know better but the practice is remarkably wide spread in Manitoba.
Manitoba has laws against the practice because of the air polution large numbers of burning fields produces. Yet on November 11th on our way to Winnipeg as soon as we crossed the Manitoba border we could see the haze from burning field after field from Virdon to Brandon and beyond.
It is true that under pressure things that are agriculturally incorrect are done for expedience but that really doesn't excuse the practice.