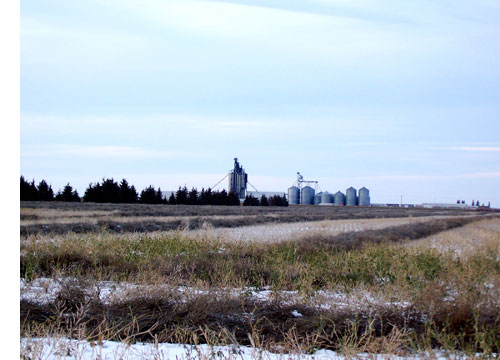 I must admit that I am a deluted optomist holding out hope that somehow the weather would stop its gradual and inevitable transistion to winter and miraculously farms would get to harvest the remaining 25% of this year's crop that is either lying or standing out in the fields of Saskatchewan.
But this afternoon as I looked at the beginning of what is usually a mountain of wheat in the Louis Dreyfus yard I realised that hope is all but gone. One savage thing I also noticed today is that all of this cold and wet has not detered the development of plant life. If you look closely at this image (right) you can see new growth greenly working its way up through the Canola swath. Not a good sign.
The remarkable thing is that the farmers are not grumbling. The quality and value of this years crop, albeit only 75% harvested is enough to pay amply for the expenses this year. With so much Canola and flax out there in the fields instead of in the marketplace it is a wonder that the price of those two products has not climbed much more than it has.