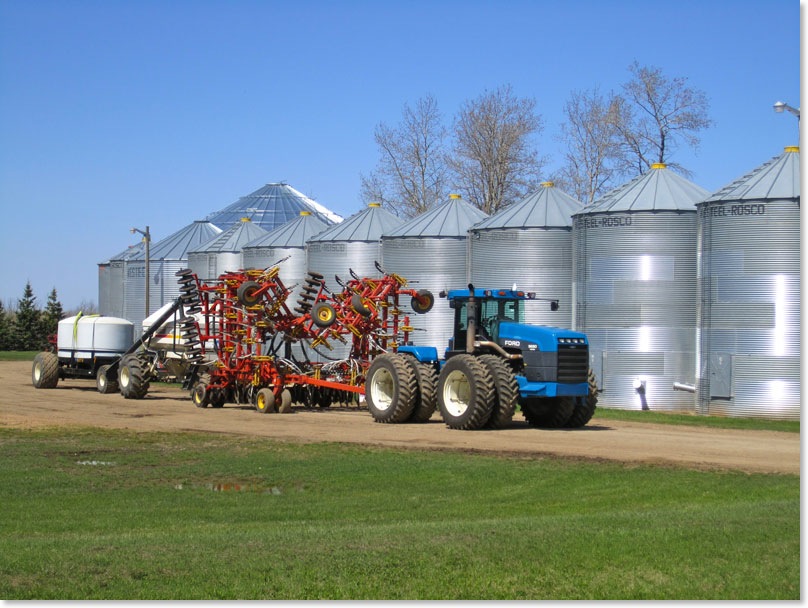 Almost ready to seed
Tisdale - Friday,May 11, 2012

That Easter weekend snow storm put the brakes on this year's early spring. When the storm occurred the fields were almost ready to be tilled but there was a lot of moisture in the snow and since then the cool weather and light rain has even prevented the grass from turning green. But, as you can see in these pictures taken Wednesday, May 9th the grass is green and there is dust coming off the fields and side roads.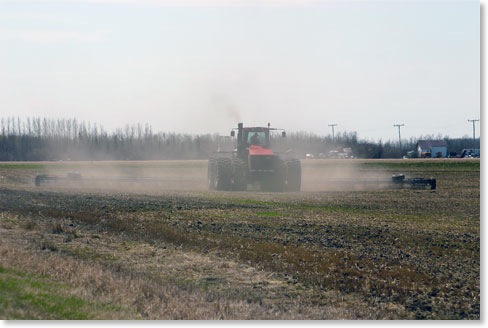 Most farm yards in the Tisdale area have the seeding equipment all hitched up and ready to pull into the field. In this farm's case northwest of Tisdale on Wednesday there was a tractor working up some stubble (bottom of the page) in the field right beside the farm yard.


The picture on the right was taken about five miles north of Tisdale on highway #3 and as you can see this is also a harrowing operation but as you also can see there is plenty of dust. A very good indication that things are ready to get underway.

The warm temperature on Wednesday and the gradual warming of things today and this weekend will move this area toward favourable planting conditions. In the picture below you can see that the leaves on the trees are starting to bud out.

South, and along number One highway west of Moose Jaw seeding was well underway a week ago but it was a pleasant surprise for us to see the green grass in the Swift Current area and in Regina. Up until this week it was to cold in Tisdale for things to start growing and even last night the temperature dipped down to 0ªC. I have noticed that in Tisdale itself no one, not even the really early birds have started work in their gardens. But that's going to change within days as the planting process for 2012 gets underway after Mother's Day.