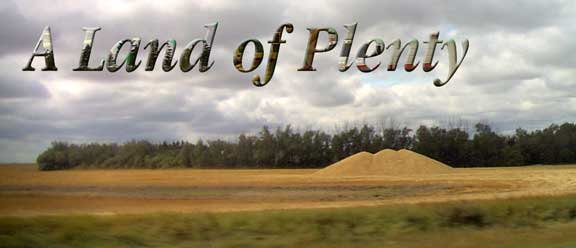 FTLComm - Kinistino - September 7, 2000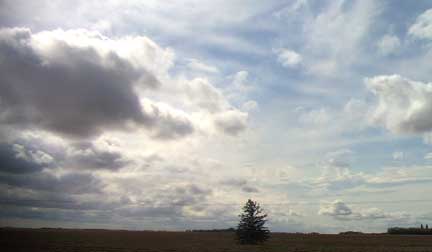 Harvest is the time of year to set aside worry and concerns and replace those emotions with action and long working hours. Yesterday as I drove to and from Prince Albert it was clear from the picture above that is typical of wheat fields throughout this region that for most farmers the wheat crop is either off or nearly finished. This mountain of wheat is in a field near Kinistino and farmers everywhere are simply piling up wheat in monster piles like this everywhere. It would appear that the yield and quality of this year's wheat crop is substantial. Last year in the immediate Tisdale area we saw the best wheat crops ever, this year the results are almost as good but the area of excellence is much larger with a much larger part of the province experiencing superior yields and first quality grain.

Though the showers and lower temperatures have put the brakes on the harvest process even with some rain during the day yesterday. I still saw swathing in the Birch Hills area where it appeared that they were slightly behind the Melfort and Tisdale farmers. Rain here in Tisdale yesterday was five milimetres (quarter inch) that fell in the morning.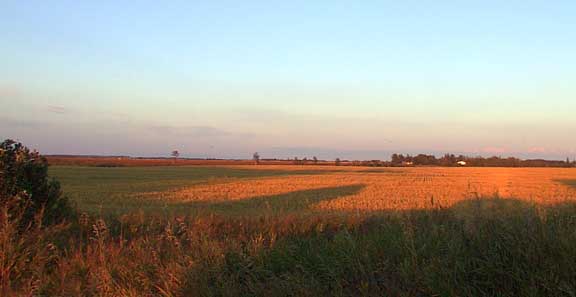 This picture was taken Tuesday evening and shows the evening shadows stretching out over a finished wheat field. All of the cereal crops in the Tisdale area are finished and only a few fields of canola remain swathed ready for some drying weather to permit them to be combined. I was surprised to see peas still in the fields near Weldon and Birch Hills. Peas were the first crops off this year and that was two weeks ago here near Tisdale.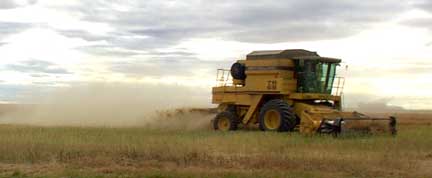 It seems as though Canola is the Cinderella crop this year. From seeding onward amateurs like me were shaking our heads at this year's canola crop but I was wrong. These pictures were taken a week ago today as this canola crop was being harvested. The crop is a dandy. Canola is costly to plant and with a normal crop and normal yield farmers were not expected to show anything but a modest loss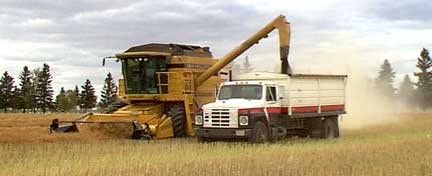 on this year's crop. However,
the yield and quality are excellent and from Tisdale to Birch Hills canola crops are going turn a profit, albeit small. The production level is sufficient to compensate for the low value of the product and farmers may suffer sprained arms and shoulders giving themselves a well deserved pat on the back. Smart farming, efficient use of equipment and resources have combined with acceptable weather to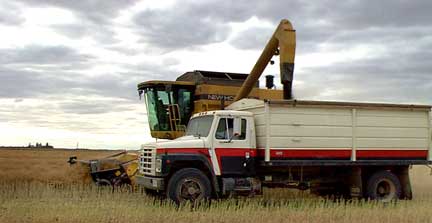 make this year successful.

The folks who are in trouble are the machine dealers. Farmers make sure the combine is top notch and almost nothing else matters. The old tractor can be kept running and the air seeder is the only other farm implement needed. Other equipment is rented or custom keeping costs to a minimum. Clever crop rotation and judicious use of fertilizer has moved the smart remaining farmers into the "make do" column as they have been able to weather rising input costs including higher prices for fertilizer, fuel and trucking. These people are not lucky, they have been creating their own positive conditions despite overwhelming odds. The only farmers who are behind the success curve are those in the marginal areas where transportation costs have placed them outside the profit envelop.

Timothy W. Shire