FTLComm - Wakaw - July 9, 2000
Friday morning as I came West of Melfort through the now colourful world of Saskatchewan's grain belt it struck me that just as in the final words said when at a cemetary the presiding clergyman will say "Into his hands we committ the body of this man may God have mercy on his soul." So it is that the farmer takes the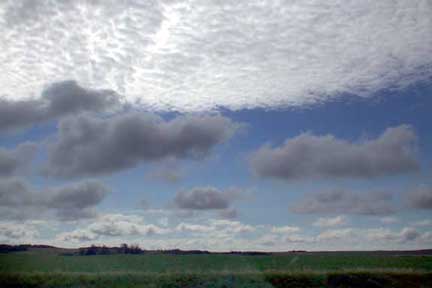 land and prepares it then committs the seeds into the hands of God. Agriculture in what ever form is dependent upon the whims of the elements, draught and flood, frost and ferousious winds all in their turn may visit their infinite wrath on the defenseless fields.

This past week we have seen the extremes of weather rolling by as Ensign has documented the passing storm clouds and the fields have had to endure the rain and in some cases hail. After putting fifteen inches of rain on Vanguard and surrounding area the water simply overwhelmed the village and its inhabitants. The weatherman dug into their enriched vocabulary to come up with the term "plow wind" to describe the devastation of many minutes of hail and tree moving wind that shock up Gronlid and Whitewood.

These pictures on this page depicit the conditions between Melfort and Wakaw as I drove along that highway. About fifteen minutes West of Melfort an area which is flat and often holds a pleasant slough now extends more then two miles of water on both sides of the road as the heavy rainfall has moved from needed moisture to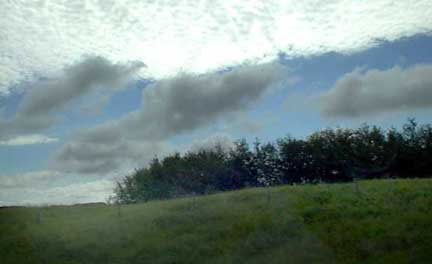 flood.

The beauty of canola crops and their brillant yellow flowers cover the fields in a patchwork pattern and the humidity of the morning began to produce these heavy dark clouds only a few hundred feet above the surface. I turned on the air conditioner in the van to chill the air and dry it out as the sky to the NorthWest continued to bloom into the familiar pattern of each day's system development. A much larger and drier air mass had swept over the prairies and was holding the storm and rain formation to the North of the grain belt for Friday and Friday night as these same clouds would skirt by the North side of Saskatoon but continue on East North East to dump their loads on the boreal forest.

Saturday and Sunday would see conventional warm to hot summer weather and crops like canola would turn on their full factory mode as their leaves convert that sun's energy and the abundant moisture into the miraculous proteins and carbohydrates that will be stored into the seeds that will soon form from these flowers. The heavy rainfall has damaged many areas with crops having to much of a good thing but the majority of fields will relish the sunshine and go on to produce excellent crops. Wheat, Barley and Durham fields will produce large crops if the sun stay in the sky and though retarded by the cool month of June Canola and flax should produce average yields in most areas.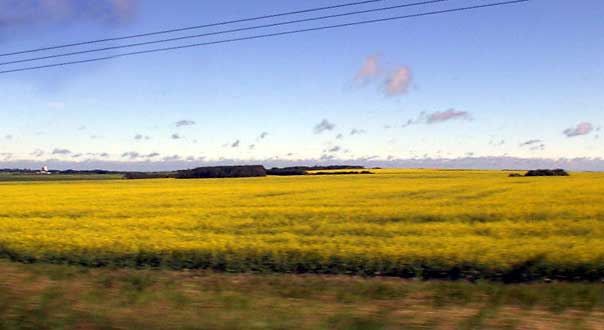 By: Timothy W. Shire