A visit at the University of North Dakota, Grand Forks
Grad Forks, North Dakota, By Mario deSantis, July 20, 1999
The last few months have been very exiting and busy for James. He was very diligent in passing the last university courses, graduated on June 12 with a Bachelor of Administration degree from Athabasca University, and on June 15, he successfully took the General Management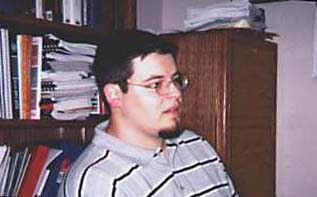 Aptitude Test (GMAT), a prerequisite to enrol into the Management Business Administration (MBA) programs delivered in North America.

His youthful spirit of independence led him to continue his studies by distance education through Athabasca University. Now, after four long years of studying virtually alone, he will have a growing opportunity to continue his education at the University of North Dakota.

Last week, James received the informal news of his acceptance at the MBA Program, and as a result, on Friday July 16, we went to Grand Forks to meet with the MBA program director, Dr. Jacob Wambsganss. As we arrived in Grand Forks, we found a city under construction, public and private works were everywhere in the city, and traffic was being rerouted at many points. Later, we came to know that this feverish construction work was the result of the disastrous flood which hit Winnipeg and Grand Forks in 1997.
On Friday morning, we had a walk through the beautiful campus and we were surprised to see that every college had its own building, that most students live on campus, and that many fraternities have their own old fashioned houses. The university was established in the 1880s and the architecture of its buildings reflects the time past with the J. Lloyd Stone Alumni Center dating back to 1903 and the Center for Aerospace Sciences representing the now and the future. Also, we visited the Memorial Union building and I was impressed about the impeccable cleanliness of the premises and the absolute absence of graffiti. We went on a tour of Gamble Hall, the building which houses the College of Business and Public Administration. We were able to appreciate the semi circular theatrical looking classrooms and visited the studio used by the North Dakota Interactive Video Network to deliver online distance education courses; we were not able to have a look at the leading-edge boardroom refurbished by donations from Cargill, we just stared at the entrance door which was locked.
I expressed my satisfaction in observing the extent of the educational facilities available to students and to their top notch maintenance. Dr. Wambsganss stated that students who come to this university are very diligent and that they are being provided with every possible resource to make their educational stay an enriching living experience. In fact, Dr. Wambsganss mentioned that the university has two Cray super computers, will be using new Internet technologies as they become economically available, and that new donations will be used to build a new hockey arena and an indoor football stadium.
North Dakota and Grand Forks were well known for their silos storing the intercontinental ballistic nuclear missile, today they are enjoying an economic renewal and I am happy that James can be part of it. Bye for now James and have a good work out in your studies.