It was in the fall that the town got to work and created a new cul-de-sac immediately north of Forester Crescent off of New Market. Water and sewer lines were put in place and contractor Chupa Excavation installed back alleys for what will become a new residential development. There are only a few lots let on Forester and many of those may already have been sold.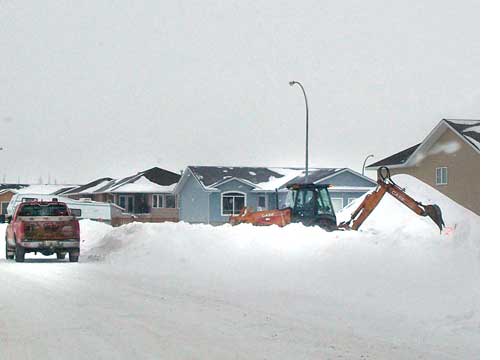 Dagg Construction was on the job today running in the gas mains around the back alleys of the new development.
Fortunately, the ground was not excessively wet when freeze up occurred and it looks like the digging is being accomplished fairly easily.
Meanwhile, today on 95th street the basement was finished up, the forms put in place a the cement poured for a new house. With below freezing temperatures the newly poured foundation has to be heated over night or more so that work can begin immediately on the construction of the basement. We will have pictures of this new house under construction oce the basement is installed. In the meantime if you go to the Ensign webcam it is pointed at the construction site and you can see the work going on in daylight hours.