It is a considered and protracted process of preparing the ground to handle very heavy traffic but that is what has been going on steadily since this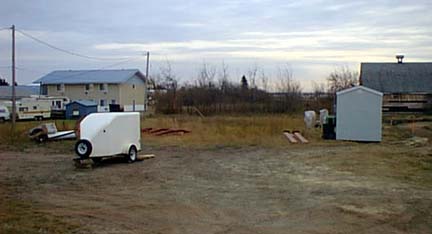 project began. The area has been excavated, fill removed and a mix of clay and gravel prepared just as would be the case in building a highway. The surface has been moved around and packed and repacked. As you can see in the picture above taken late Wednesday afternoon, the first two large horizontal tanks from Northern Steel Industries have been put in place but much of the site still remains to be worked on as more surface work must be completed to prepare for construction.

Meanwhile on the lot beside the cardlock site there are some materials laying around, it is hard to tell if these are Dairy Queen parts or Coop parts set aside until they can be placed in their appropriate location, my guess is the latter.