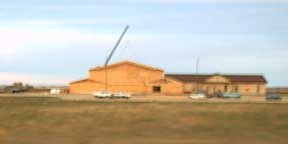 Seems like fall is a good time to build and on the large and ever expanding dairy farm which saw a huge amount of constructon last fall another massive barn is joining the collection in this expanding farm yard.

Up the highway a few minutes North on the edge of the Muskoday Reserve the new church that was build last year is being expanded to include a gym and meeting facility that dwarfs the original building.

In Prince Albert work is progressing on a new Macdonalds restaurant to replace the one three blocks South with this new multi-floored version. The present building seems jammed pack to the point that it really is no place to look if you are looking for fast food. Mind you with the present menu Macdonalds serves its customers one wonders at the point of constructing a new facility where the main food groups are fat, grease and lard.