A year ago today Ensign carried an article on the recycling of the primary school here in Tisdale that was being turned into the offices for the Pasquia Health Regional office. The playground has been left as an open area for the past year, kept clean and usable by the children in the area but a few weeks ago the fence around it came down and survey stakes began to appear around the property.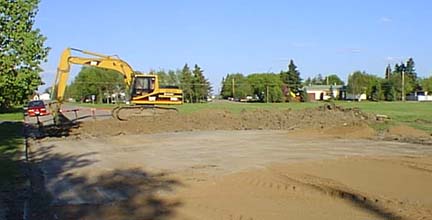 On Wednesday work began as the town dug up the street on the North side of the playground installing water and sewer services into what obviously is intended as addition residential lots for housing. Three have been installed already and it would appear that this process will continue.

In the South East corner of the playground an area is set aside for the construction of a new condominium, although no work will begin on that project until the units are sold. Ultimately the large playground area will be reduces to about one fourth it's original size as there is a green area around the Regional Health Centre office.