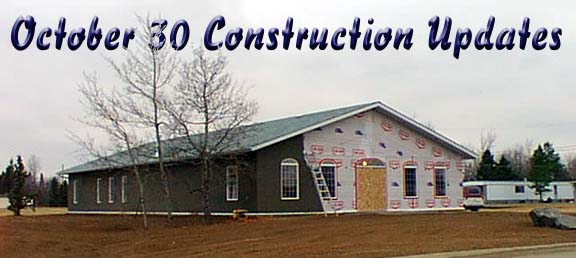 FTLComm - Tisdale - October 30, 1999
The fall construction projects all are moving rapidly to get things closed up before snow begins to settle on the developing structures. The new Tisdale Funeral Home has its roof completed and the stucco process is well underway as electrical and internal work proceeds. This project has gone remarkably swiftly in just over a month of work.

The Coop Cardlock project has involved the massive amount of landfill and road way preparation and that phase of the project is nearing completion as reported earlier this week with cement being poured yesterday around the actual pump installation.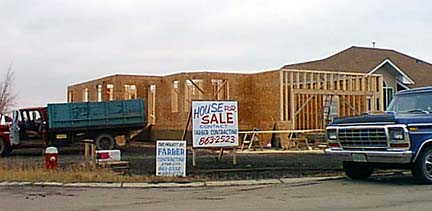 Four new houses are underway with this one on New Market Drive awaiting its truss rafters. Only one or two lots remain on this block unoccupied and then houses will begin popping up on the new subdivision. The new house built by Farber Construction is for sale and includes an attached two car garage and built in one piece shower tub. In the compound picture below you can see the building phase this house is at and with the arrival of the rafters on Monday it will soon be entirely closed in.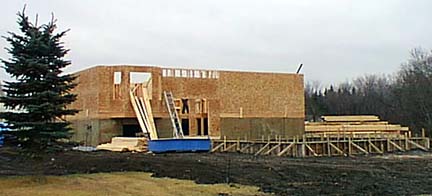 Across from Art's Autobody this new house with its both South and North facing bay windows is taking shape and the forms for the garage have been put in place. This structure has its rafters on the site and will be closed in early next week.

The house being build just North of the McKay Tower is already getting its roof on Friday afternoon as can be seen in the picture below right. Using this existing treed lot this house will look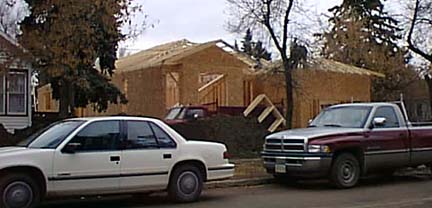 like it was always a part of this neighbourhood and being set back from the main street will have a nice front yard when the present house is removed.

A fourth new house was begun this week with its basement excavated and poured just across the tracks for the old UGG elevator. Adding yet another new house to this neighbourhood is an outstanding location with the open space between the street and the railway track offering a pleasant view and close to the mall and the core of town.

Meanwhile, the Madisson is deep in the process of dry walling and electrical installation. All in all Tisdale is experiencing remarkable growth for a small community and it is interesting to see so much of this new development taking place in the last quart of the last year of the century.