Making A Good Place Better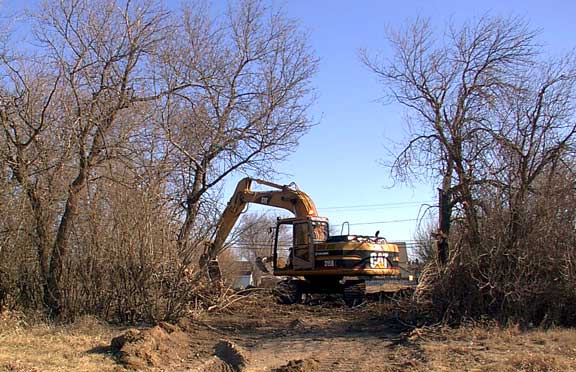 FTLComm - Tisdale - April 24, 2001
Tisdale has come through some remarkable changes in the last five years with the locating of the inland terminals in the area and with it the boost in commerical trucking we have seen a mini housing boom and with it a kind of renewal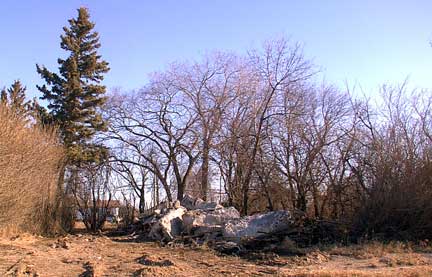 of the town and its infrastructure. Tisdale has become a balanced economy of agricultural service, local manufacturing and a strong trend toward retirement housing. During the last few years we have seen the development of new neighbourhoods but we also have seen a relentless rebuilding of older ones as small older houses have been replaced with modern new houses throughout the town.

This morning the town crew was busy finishing up the clearing of two lots on the Southwest side of town. The two derelict houses had been torn down last year but now it is time for the lots to be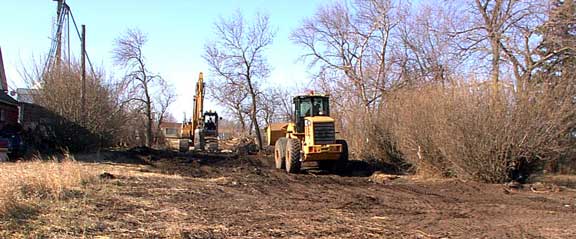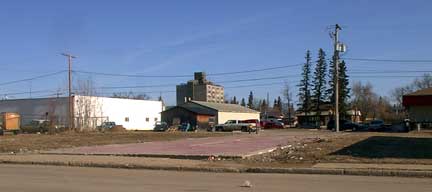 cleaned up ready for development as the old basements were removed and the material hauled away leaving the well treed lots intake for the locating of new homes on these sites.

Last year the old meat market and butcher shop was partly tore down this year the remaining structure has been cleared leaving an excellent commercial site in the downtown core available for furture development.
Town council is to be commended for their foresight and awareness of the need to always move forward and as the Russian Lady is cleaning up the highway this morning (below) the town foreman was out measuring up the site and looking over the survey work that took place yesterday on the Golden Age site as preparations are moving quickly to see this become the focal point for the senior citizens of Tisdale.