This was one of the new houses built last year and this year it is time to finish off the lot. The owner has gone with a professional contractor to install sidewalk and driveway out of toned brick.

Building walks and driveways in Tisdale is not a simple matter since the soil is clay, clay which expands and contracts weekly and definitely seasonally. Concrete walks and drives are cracked within years of installation and then chemical action takes place and they are further damaged as their surface is eaten away.

Some home owners have opted for ashphalt pavement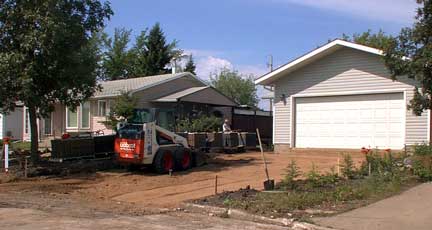 but the growing majority of new homes and businesses have come to rely upon installation of brick. Throughout the town there are some remarkable examples of this work as a number of very skilled contractor tradesmen have developed outstanding skill in laying these piece by piece wonders.

In this yard they have removed a hefty amount of surface material and place gravel then sand in its place. In the top picture you can see they are using a small packer to compact the material in preparation for the bricklaying process.