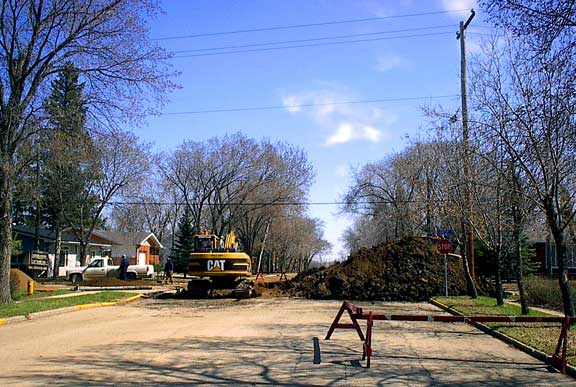 The year of Intersections
FTLComm - Tisdale - Monday, April 28, 2003
In late fall the intersection by the Anglican Church had to be dug up and from then on it seemed like only a week or two between intersection leaks. This first of the series was fairly typical of the problems encountered. Apparently replacement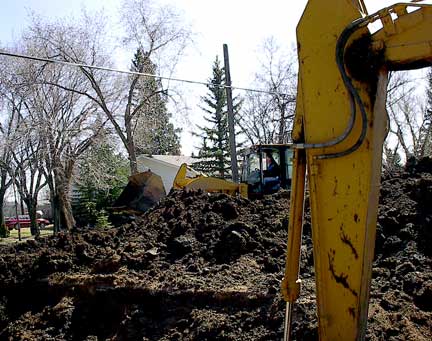 of the older cast water lines had been done only up to the intersection and even though the whole street in both direction had been replaced with plastic lines most of the town's intersections have cast iron lines. Sixty feet of line had to be replaced in the first of these and others were less difficult. The one in front of the elementary school then four on the street East of main street had to be replaced some requiring more than one attempt at repairs.

This one is the second or third time that it has been dug up to solve the problem of old perforated cast lines.

There was one or two in the South part of town and one still remains to be done this summer as it is under highway #35 and will likely involve replacing the line without fully excavating as the traffic on the main street is just so heavy.

Crews encountered about five feet of frost in this dig today and will have it sealed over by the end of the working day.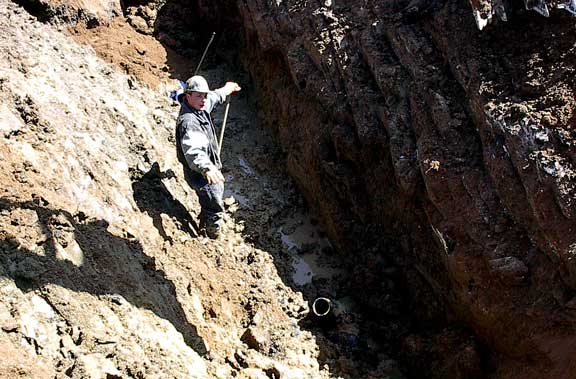 ---
Return to Ensign - Return to Saskatchewan News
This page is a story posted on Ensign and/or Saskatchewan News, both of which are daily web sites offering a variety of material from scenic images, political commentary, information and news. These publications are the work of Faster Than Light Communications . If you would like to comment on this story or you wish to contact the editor of these sites please send us email.
Editor : Timothy W. Shire
Faster Than Light Communication
Box 1776, Tisdale, Saskatchewan, Canada, S0E 1T0
306 873 2004