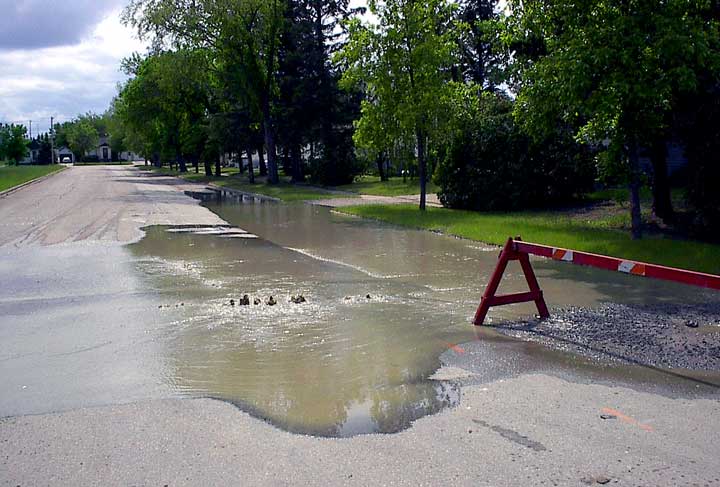 On the street where we live
FTLComm - Tisdale - Tuesday, June 10, 2003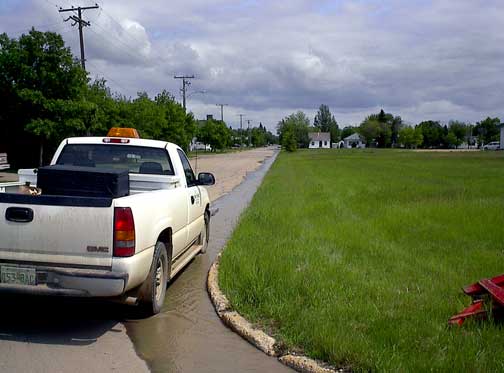 Last Wednesday I told you how the town crew have been pretty busy making repairs to the water system and how they had planned to do a hole by the hospital and then fix a broken valve at this intersection right near our house that was believed to be leaking.

They finished the work on the West side of the park Wednesday and then Thursday morning had to get down to a leak beside the bank of Nova Scotia. This one was unscheduled and they figured it was patched up by noon, the hole was left open while they went to lunch and when they came back to work there was a street level swimming pool beside the bank. So much water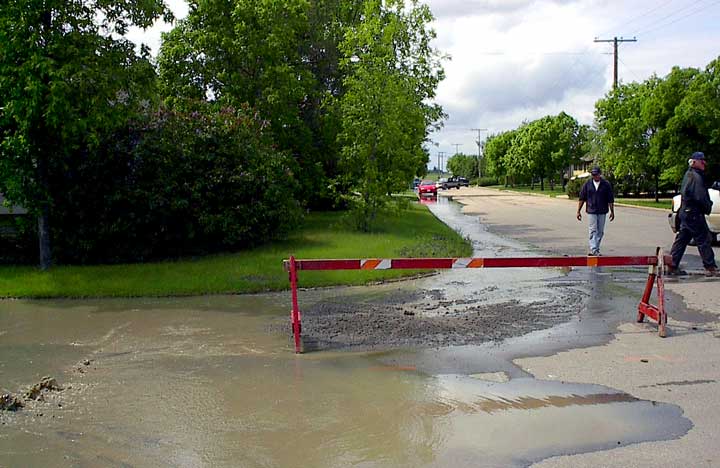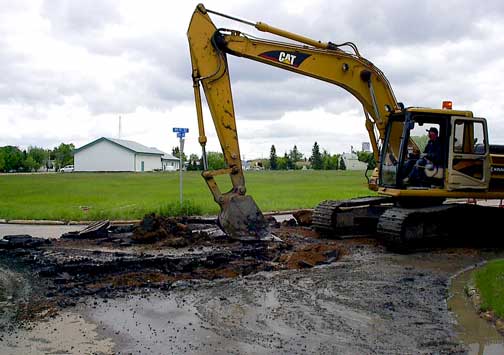 that the fire department had to come and give a hand to pump out the hole.

Monday morning they sorted out a minor problem near the hospital and in the afternoon came over to our corner to get things ready for a dig today. They shut off a valve and with in a minute or two water was blasting from the street. There was no waiting and in to the street went the back hoe as the block was shut off and the flow stopped. Though the valve was jammed it was not the source of the leak, in the picture below as they set up the machine to slice open the cast line under the intersection you can see the water pouring from a baseball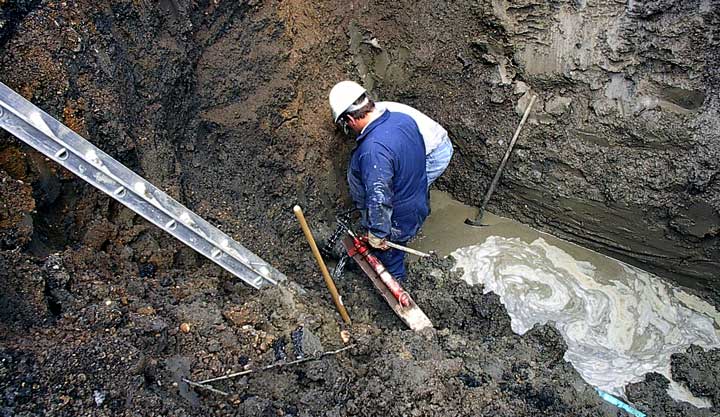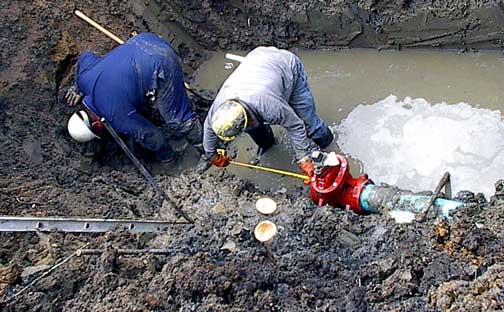 sized hole. The street has plastic lines but through the intersection is a cast section that had through electrolytic action eaten away a large opening that burst open when the pressure was reduced.

A new valve was installed and a piece of plastic pipe cut to length and put into patch the line.

Some believe that the large number of intersection breaks this year was due to the frost going down deeper than usual but one might also theorise that the problem is just related to time. Though plastic lines have been put into replace the old cast lines the process missed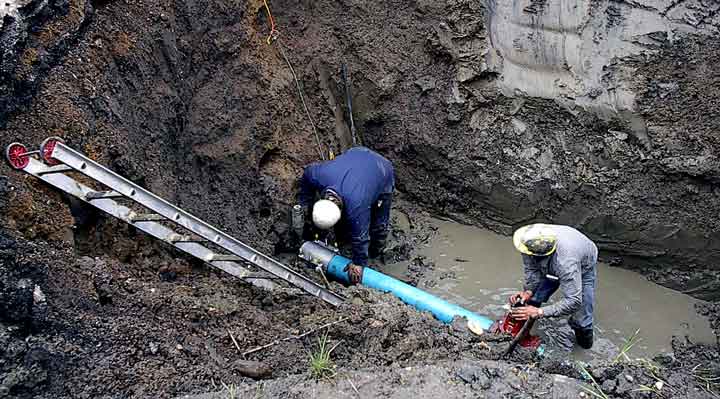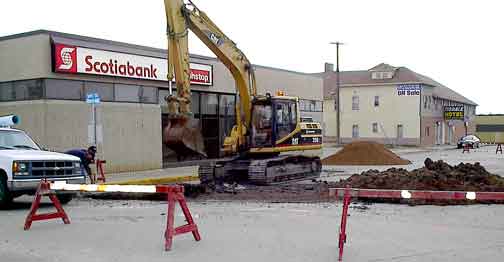 many intersections which still have cast through them and the series of line failures is not likely to subside given the present pattern.

It will take years at the present rate to replace the cast lines still in the ground and even more to discover the large number of intersections that were omitted as the new lines were laid. The costs of a hole like this one are enormous with a crew of seven on hand and the operation of heavy equipment, while at the same time tearing up new pave-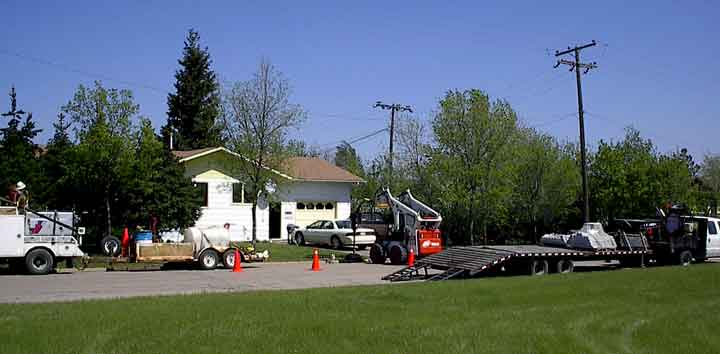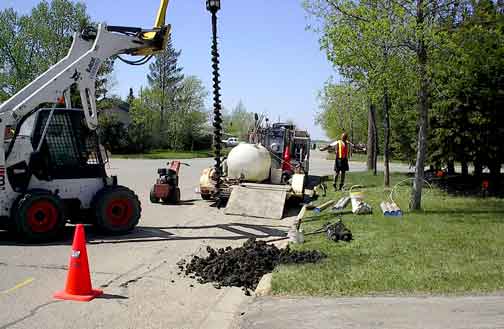 only installed last summer.

One of the long term and scientifically proven means of cutting down on the damage to the old cast lines was the installation of anodes in various parts of town in late May. On the right and above the contractor drilled three deep (24 foot) holes and installed anodes connected to the water system that will bleed off the static charge that builds up between the water line and the surrounding soil attacking the metal like a huge arc welder. These anodes will reduce or nuetralise the charge ending the destruction of the cast iron pipes.
---
Return to Ensign - Return to Saskatchewan News
This page is a story posted on Ensign and/or Saskatchewan News, both of which are daily web sites offering a variety of material from scenic images, political commentary, information and news. These publications are the work of Faster Than Light Communications . If you would like to comment on this story or you wish to contact the editor of these sites please send us email.
Editor : Timothy W. Shire
Faster Than Light Communication
Box 1776, Tisdale, Saskatchewan, Canada, S0E 1T0
306 873 2004