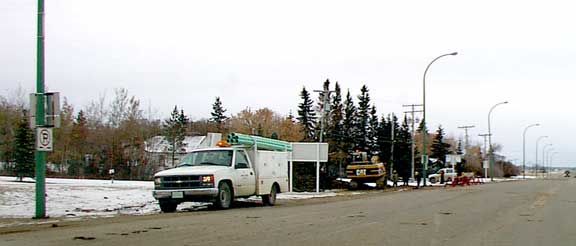 Water break under highway #35
FTLComm -Tisdale - Friday, November 8, 2002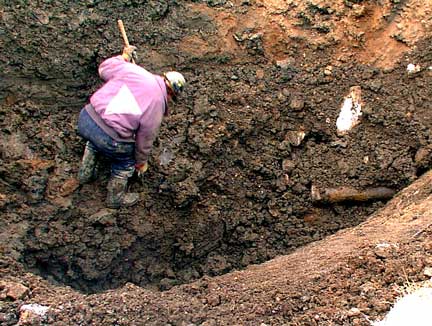 The project that began yesterday morning discovered that the break had not occurred in the line parallel to the highway but was actually under the roadway.

The speculation is that when the highway was widened to include an increased width at the intersection the additional width of the road came down on top of a value. It appears that the traffic and load has affected that valve and a leak has develop near it filling the ditch on the West side of the highway with water.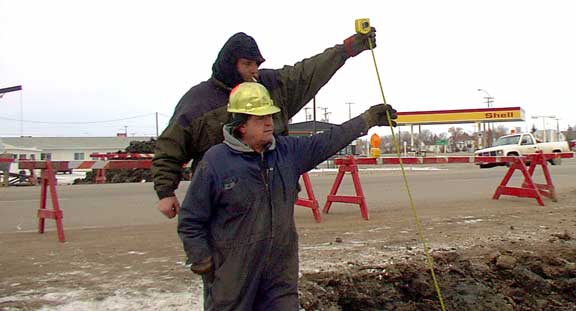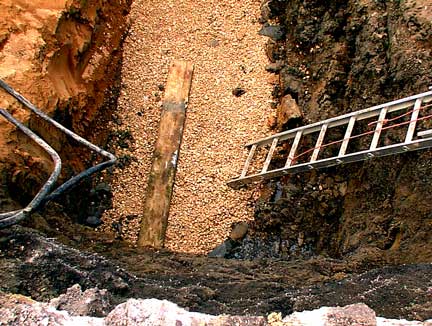 Digging up the highway is just not a very economical thing to do so the solution is a dandy. This large hole has been dug on the West side for a crew from Saskatoon (above) who will then plung a brand new line under the highway the leaking line will be disengaged and the problem solved.

The workers above are holding up a tape measure so that the depth of the excavation can be measured to determine the exact depth to run the new line to so it will come out in the hole shown second on the page.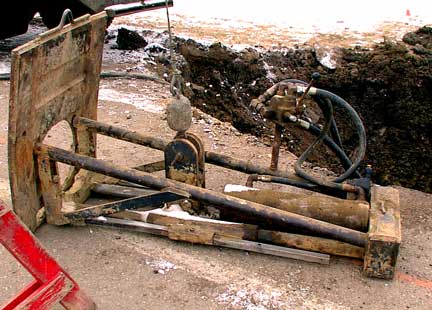 The ram system is simple using hydraullic ram to drive the pipe through the soil the new line can be installed without distrubing the highway above.

A tricky problem with an economical solution that will get the job done.

This area has had problems in the past as you can see in the second picture on this page a piece of cast pipe that once was the water main. The leaking line is a relatively new small size plastic pipe.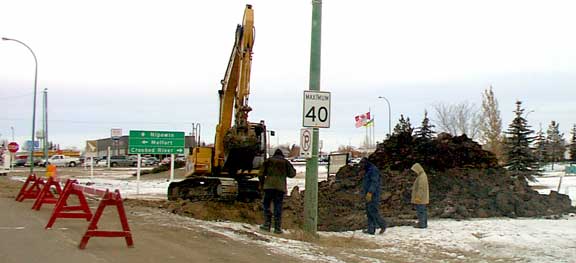 Return to Ensign - Return to Saskatchewan News
This page is a story posted on Ensign and/or Saskatchewan News, both of which are daily web sites offering a variety of material from scenic images, political commentary, information and news. These publications are the work of Faster Than Light Communications . If you would like to comment on this story or you wish to contact the editor of these sites please send us email.
Editor : Timothy W. Shire
Faster Than Light Communication
Box 1776, Tisdale, Saskatchewan, Canada, S0E 1T0
306 873 2004