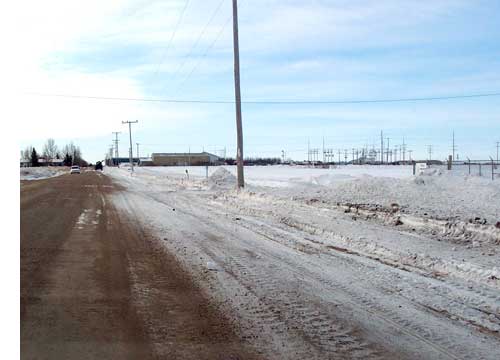 With the expected approach of spring the town clears all of the places that the spring run-off is expected to go. Most years this is done with the front end loader and some years it has even involved using a small bulldozer. It all depends on the amount of snow cover. Take a look at how it was done in April of 2002.
Like 2002 the snow and ice build up this past winter has been relatively light so this year the town's snow blower is being put to the task of clearing these drainage ditches.
When I came along Thursday morning on Heritage Road the task was almost totally complete. Today with the temperature reaching a high of +5ºC there were puddles on the streets and I noticed just a little lightness not only in my own step but in others as well.
I suspect that the town will wait until the melting gets underway before they started clearing the back alleys of the winter's accumulations. Though they clear the back alleys, the process leaves a lot of snow and ice along the sides and most of these alleys double as waterways for spring run off.