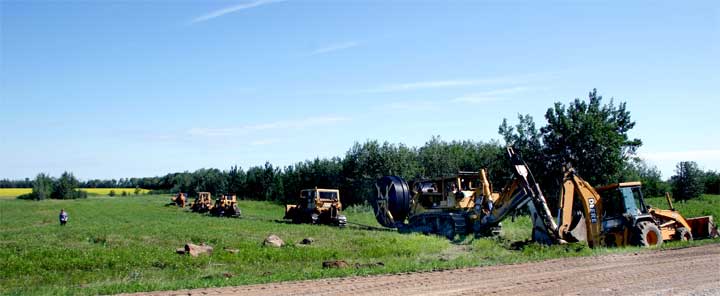 the Melfort Rural Water Line being installed south of Tisdale on the Golburn Road., image by : Lucas Hulsebosch
Melfort rural water line
FTLComm - Tisdale - Tuesday, July 19, 2005
This is a major construction project as this crew and their machines stab a water line into the countryside south of Tisdale. The heavy rains had pretty well stopped the project cold with them unable to do more than a mile of line installation in two straight weeks.

The project involves obtaining water from the South Saskatchewan River and moving it across the country supplying towns and villages along the way. Melfort is now on the system and this part of the project involves running lines to farms. The cost to individual farms is rumoured to be about $16,000 a farm.

From the image above you can see the system being employed. Three large track machines are hitched to a forth which uses a plow to cut into the ground and lay the plastic piple in single operation.

There is a good deal of information online about the financing of the project with annual reports being posted to keep the public informed. In its start up phases the water pipelines are losing from $5 to $8 million dollars a year.

In May the Melfort Rural Pipeline was declared under a bowl water order and that order is still in affect with the chlorine levels being to low to maintain safe water.
References :
Sask H20 , Saskatchewan water authority web site
SaskWater Q1 2004 Interim Report, March 31, 2004
Sask H20 , Advisories and warnings, July 14, 2005, Saskatchewan water authority web site
Return to Ensign - Return to Saskatchewan News
This page is a story posted on Ensign and/or Saskatchewan News, both of which are daily web sites offering a variety of material from scenic images, political commentary, information and news. These publications are the work of Faster Than Light Communications . If you would like to comment on this story or you wish to contact the editor of these sites please send us email.
Editor : Timothy W. Shire
Faster Than Light Communication
Box 1776, Tisdale, Saskatchewan, Canada, S0E 1T0
306 873 2004